One of the most successful coaches in NHL history lost his job on Feb. 1, half a season before he was allegedly going to retire. With an abrupt end to his coaching career, many are wondering if Ken Hitchcock will take one final crack at coaching in the NHL.
My THW colleague Thomas Conroy mused about the possibility of Hitchcock becoming the next head coach of the Vegas Golden Knights. It would be a great challenge for Hitchcock to coach an expansion team, but he's never been one to back down from a challenge.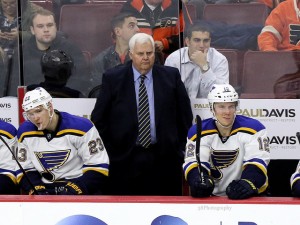 Hitchcock would face a very similar battle with the Vancouver Canucks. The Sedin twins are in rapid decline, and the Canucks have continually struggled to score. They have an uphill battle to get back to respectability. Still, they have some great young talent that surely could benefit from the wealth of experience that Hitchcock has gained.
There's been a ton of chatter surrounding head coach Willie Desjardins, and what his job security with the Canucks is like. Team president Trevor Linden and general manager Jim Benning haven't done much to quench the thirst for a coaching change in Vancouver. Both have admitted the Canucks have flaws, and mentioned that a review of the coaching staff will take place after the season. That's not earth-shattering news, but it's a change of tone from the vote of confidence they gave Desjardins last season.
Gallagher Piques Interest
Long-time Canucks reporter Tony Gallagher was on TSN 1040 last month and speculated about Hitchcock's possible interest in coaching the Canucks. I've transcribed the quote below. For those interested in listening, he starts talking about Hitchcock right around the 12-minute mark of the interview.
Tony G: Hitch said "he'd like to do is be a head coach in Western Canada" "VAN job would really interest him" if mgmt wants him #canucks

— RD (@BuckFoston_) February 17, 2017
"If Ken Hitchcock was still interested in coaching, he would definitely be interested in Vancouver. I've had long chats frequently with Hitch, as many in the media have had. He's such an affable character and I don't know if he was just telling me this because I was from Vancouver, but he said the one thing he would love to do before he retires is coach in Western Canada, and be the head coach in Western Canada, and by that he obviously meant Edmonton, Calgary, or Vancouver. Because being from where he is and being a B.C. guy, I think the Vancouver job would really interest him.
"The question is, are Trevor Linden and Jim Benning, or other General Managers who may end up in that position if [they] don't do well with respect to their futures, if the management people [in Vancouver] want him. A lot of that would depend of what the Aquilini's think of Ken Hitchcock. But I know [Hitchcock] would be interested in that job."
"I know as well, Hitch might have reached the point where he doesn't want to coach anymore. You'd have to talk to him. Most guys I know can never get it out of their system. They're always looking for that one more opportunity, they want to win a Stanley Cup somewhere along the lines of their career. But I know at one point Hitch would have been rabidly interested in a job in Vancouver. I would suggest that still exists, but do the Canucks want him, that's the question."
In case you're wondering why Gallagher referred to Hitchcock as a "B.C. guy," it's because he began his coaching career with the Kamloops Blazers of the Western Hockey League. Hitchcock was born in Edmonton.
Unfortunately, broadcasters Dave Pratt and Bro Jake were unable to prod Gallagher for more information on this topic, as the interview came to a close right after this quote. In fact, Bro Jake's original question was if the Canucks missed out on hiring Julien. Gallagher brushed that aside, saying he wasn't sure if Julien was a fit in Vancouver. He then went on to talk about the connection between Hitchcock and the Canucks.
Hitchcock up Against It in Vancouver
There is no doubt that Hitchcock would be coming in to coach a young, inexperienced team if he came to Vancouver. It would be a different, but not unheard of, situation compared to his four other NHL coaching stops.
With the Dallas Stars in 1995-96, he inherited a team who had made the playoff for two straight seasons. The team did have a sub .500 the year before, but made the playoffs nonetheless. They had a superstar centre in Mike Modano, and some other good pieces such as the Hatcher brothers, Joe Niewendyk, Grant Marshall and Jere Lehtinen. He was able to lead that team to it's first Stanley Cup win just three years later.
In Philadelphia, he took over a strong Flyers team during the 2002-03 season, one that had made the playoffs for nearly a decade straight. Management decided to fire head coach Bill Barber after two straight first round exits. Hitchcock would take this talented team to the Conference Finals in 2003-04, but they weren't able to get past the powerful New Jersey Devils. That was his most successful campaign behind the Flyers bench.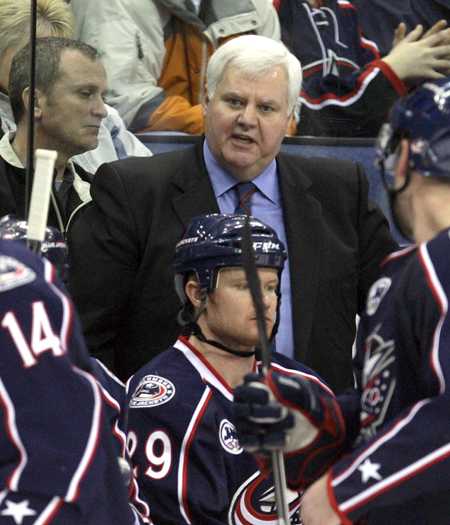 If Hitchcock were to coach the Canucks, the only similar situation he's been in was with the Columbus Blue Jackets. When he took over as head coach in 2006-07, the Blue Jackets had never made the playoffs. They had an incredibly young and talented player in Rick Nash, along with a ragtag group of other players. Sound familiar?
Bo Horvat might not have Nash's potential, but he is the player that the Canucks need to build around. Hitchcock's main job would be to elevate play from the rest of the players around Horvat, while instilling a sound, defensive structure. During his first two years in Columbus, he took a team that had trouble at both ends of the rink, and turned them into a top-10 team in terms of goals against.
He would need to do something similar in Vancouver. With the Blue Jackets, he was credited for helping the team reach it's first ever playoff appearance. The team improved in points during his first three years as coach. They went from 73 in 2006-07, to 80 in 2007-08, and they finally reached the playoffs with 92 in 2008-09.
The St. Louis Blues team he took over was in a better position than Columbus. They had missed the playoffs in five of six seasons prior to 2011-12, but they had a young team on the rise. That team hasn't missed the playoffs since Hitchcock took over as head coach.
https://twitter.com/NHLnumbers/status/838828197361893376
Canucks' Situation & Hitchcock's Options
As alluded to before, Hitchcock does have options if a return to coaching is in his future. Vegas was previously mentioned on as an option, and perhaps a reunion could also be in Hitchcock's future.
Jim Matheson of the Edmonton Sun speculates that Hitchcock's most likely coaching destination would involve reuniting with the Stars. He think that Lindy Ruff looks "tired" behind the Stars bench, and that a shake-up could be in order after their disasterous campaign.
Does Desjardins also look tired behind the bench in Vancouver? After six straight losses, Desjardins is becoming more honest (but not necessarily more reasonable) with the media. John Tortorella was like this right before he was fired. Desjardins seems desperate, and his return to Vancouver seems no better than 50/50. Perhaps the Canucks are already looking Hitchcock's way as a replacement.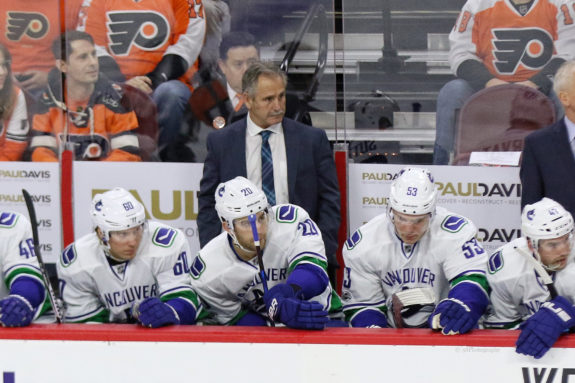 Other than the Western Canada link that Gallagher speculated on, there isn't much else linking Hitchcock to Vancouver. Derek Dorsett was a rookie when Hitchcock led the Blue Jackets to their first ever playoff appearance. He could have some insight on how Hitchcock likes to handle his rookies.
If he did return to the league, he would take over as the oldest coach in the league at 65-years-old. Scotty Bowman did win a Stanley Cup at 69-years-old, so anything is possible.
You would have to think that if Hitchcock returns, he would want to coach a team with legitimate Stanley Cup aspirations. If everything udner the sun goes well for Vancouver, maybe they can contend in three years. Hitchcock will be 68-years-old by then. The question is, does Hitchcock's drive to coach in Western Canada outweigh competing for a Stanley Cup in the next couple of seasons?
It would be a surprise to see Hitchcock coach in Vancouver, considering his age and the Canucks make-up. But, if Gallagher is onto something, perhaps his drive to coach in Western Canada leads him to Vancouver. If there's a coach ready to surpass Bowman as the oldest coach in NHL history, it just might be Hitchcock.