On the night the Vegas Golden Knights unveiled their logo, team owner Bill Foley was asked what type of head coach he was looking to hire. Foley responded by saying he was looking for an individual with plenty of coaching experience and a recognizable name to all.
The recent firings that took place prior to the All-Star break have garnered an impressive list of job candidates, with such names as Claude Julien, Gerald Gallant and Jack Capuano already being linked to the Knights head coaching position. But there should be only one candidate to consider, and that's Ken Hitchcock.
Hitchcock's Age Shouldn't Be an Issue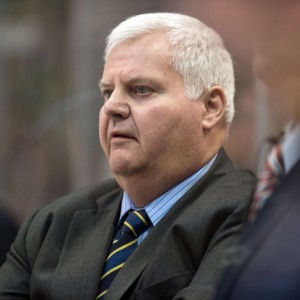 The entire NHL universe was shocked when the St. Louis Blues announced they had relieved Hitchcock of his head coaching duties. It seems like a no-brainer that Las Vegas would be the perfect destination and job opportunity for this decorated coach.
Hitchcock's resume is awfully impressive as he's won a Stanley Cup and has a winning percentage of .606 in 19 years behind an NHL bench. His 781 career wins ranks fourth behind fellow coaching legends Scotty Bowman, Joel Quenneville and Al Arbour.
The roadblock in his hire is that Hitchcock is 65 years old and was expected to retire at season's end. However, if you witnessed him behind the Blues bench this year, Hitchcock showed the fire and passion needed to build an NHL expansion team into a Stanley Cup contender. He's the perfect coach to sell the game of hockey to this desert oasis community.
Winning is Everything
It's important for the Golden Knights to be competitive early in their inaugural season, as this will peak the interest of a novice hockey market. Hitchcock's biggest challenge will be developing a quality defense that is physical enough to protect the front of the crease. This style of play is crucial to building a solid foundation and ultimately contending in the Pacific Division.
Hitchcock's no-nonsense style of coaching is perfect to mold a group of expansion draftees into a competitive squad, as he will create a culture of accountability. His "tough-love" approach will expedite the development of the young players, as he will listen to their concerns without comprising his own coaching principles. You cannot argue with Hitchcock's success to put Ws in the win column.
Building a Quality Organization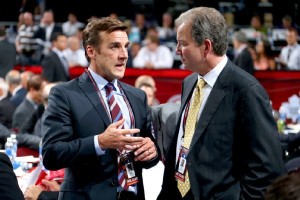 Ideally, Foley and Knights GM George McPhee want to hire a coach before the start of the playoffs. It's hard to imagine that an expansion franchise has a chance to hire a coach of Hitchcock's stature. Having a strong front office already in place could be the deciding factor in him accepting the head coaching position.
The Golden Knights have quietly built a quality organization, with Assistant GM Kelly McCrimmon being a solid long-term hire. McPhee chose him to assist in the process of building an expansion franchise into a perennial Stanley Cup contender, with the intentions of him taking over the head coaching position in due time.
McCrimmon had great coaching success in the juniors with the Brandon Wheat Kings, but he's not ready to lead an NHL expansion franchise. McCrimmon lacks the experience necessary to gain the trust of a disjointed roster and guide them into becoming a cohesive unit on the ice.
Now, he's given time to acclimate himself to the NHL, and there's no better learning experience than working along side McPhee and Hitchcock in a front office capacity. Each will provide meaningful lessons in how to build and nurture an NHL roster. A solid front office working relationship puts the Golden Knights on the short course to becoming a Stanley Cup contender.