Following a week that saw the Calgary Flames win three of four on a mini-home stand, with the lone loss coming against the Boston Bruins on Wednesday night (their first regulation loss in over a month), the team seems to have found its stride at the right time.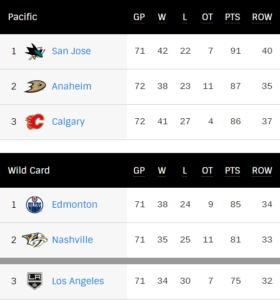 Highlighted by another strong week from Brian Elliott in which he won his 11th consecutive game – tying a franchise record previously held by Mike Vernon – the Flames now find themselves sitting third in the Pacific Division, with an 11-point cushion on a playoff spot.
If the playoffs started today, though, Calgary would be heading to California to face the Anaheim Ducks in the first round. Taking the Flames' history in Anaheim into account, it might be best if things shift around at least a bit between now and mid-April.
Tkachuk's Hearing
Despite the jovial mood in the Flames' dressing room right now, there is a bit of a cloud hanging over the team this morning. Rookie Matthew Tkachuk delivered a nasty elbow to LA Kings' all-star Drew Doughty on Sunday night, and will face a hearing later today with the NHL.
Tkachuk hit on Doughty pic.twitter.com/Y6EfvrdrHf

— steph (@myregularface) March 20, 2017
After receiving a stern warning but no fine following a slew-footing incident with Leafs' defenseman Martin Marincin earlier this season, it's a safe bet that the rookie might be looking at more this time around.
While it's nice to have a player that can get under opponents' skin, and be the type of guy that teams hate to play against, Matthew Tkachuk is quickly building a less-than-savoury reputation around the league as a dirty player. Drew Doughty certainly had some choice words following Sunday's incident:
"He's a pretty dirty player, that kid. To be a rookie and play like that is a little surprising. I don't know exactly what happened because I got hit in the head, but I thought he elbowed me."
Currently sitting in the league's top ten in both penalties and penalty minutes, the young forward needs to realize that he is relied upon to bring more than just edge to this team, and needs to learn to stay out of the box.
Elliott's Dominance
Earlier this season, the numbers were there to suggest that patience was needed with Brian Elliott, and that he would emerge from his funk to become the Flames' unrivaled number one goaltender.
It's safe to say he's done just that, and then some.
Over the past two months, Brian Elliott's 15-3-1 record puts him first in the NHL in wins, second in goals against average (2.06), and seventh in save percentage (.928).
The improvement on the blue line with the addition of Michael Stone, the resurgence of Johnny Gaudreau and Sean Monahan with Michael Ferland on their wing, and the continued success of players like Mikael Backlund and Dougie Hamilton has absolutely helped the team vault themselves into a comfortable playoff position, but it is ultimately the play of Brian Elliott that has made the biggest difference.
Obviously, maintaining consistency between the pipes will be the key for the Flames heading into April. While Elliott can't be expected to continue putting up Carey Price-esque numbers every night, if he can continue to allow the team in front of him to play with confidence, the Flames should be just fine.
Closing in on the Clinch
With only ten games remaining on the schedule, and teams beginning to clinch playoff spots, we can now start keeping an eye on the Flames "magic number" to lock down a postseason berth.
The number as of today: five.
Any combination of five Flames wins or Kings losses, and Calgary will be experiencing playoff hockey for only the second time in the past eight years. Unlike a couple of years ago, when the team snuck in despite a bevy of underlying numbers suggesting they didn't deserve to be there, this edition of the Flames looks the part.
The Week Ahead
With a playoff berth square in the cross-hairs, the Flames head out this week on a tough three game road trip.
Starting with a visit to the league-leading Washington Capitals on Tuesday, the Flames will then face two teams chasing them in the playoff race: the Nashville Predators on Thursday and the St. Louis Blues on Saturday night.
It will be interesting to see if Curtis Lazar sticks in the lineup once Michael Ferland returns, following a solid, simple debut with the team on Sunday night. Beyond that, a win on Tuesday could signal another chance for Chad Johnson to get a start later in the week, giving Brian Elliott a much-deserved rest.
Spring is in the air, and the playoffs are just around the corner. With some tough tests coming up, it's time to see how well the Flames can build up steam over their last ten games.