A strong, physical defenseman with great size, lethal offensive capabilities, and sound defensive instincts.
Does this description match a major need for the Toronto Maple Leafs, whose prospect pool on defense has long been relatively thin? If you answered yes to this question, you soon be pondering why the Leafs have yet to sign Stephen Desrocher to an entry-level contract.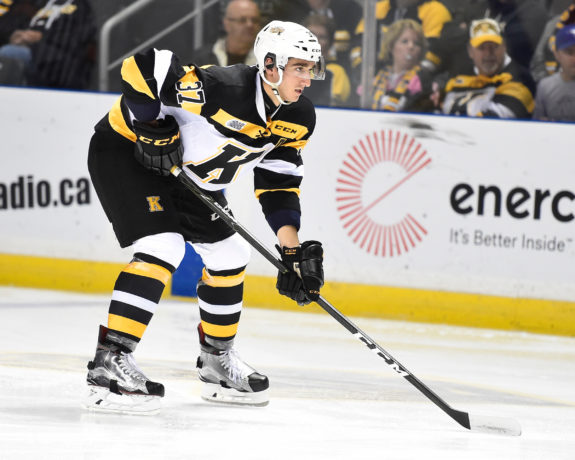 Drafted by Toronto in the sixth round of the 2015 NHL Draft, 155th overall, Desrocher's game has steadily progressed since his selection by the Leafs. As a four-year veteran of the Ontario Hockey League and currently in playing his over-age campaign, Desrocher captains the Kingston Frontenacs and is as reliable as he is consistent.
The Scouting Report
It is no secret that Toronto is in need of major upgrades on their NHL blue line. Although Morgan Rielly, Jake Gardiner, and Nikita Zaitsev appear to be long-term contributors to the team, the Leafs will need additional skill, and depth, defensively if they hope to develop into a legitimate and perennial contender.
Enter Desrocher.
A defender of excellent size at 6'4″ and 205 pounds, Desrocher is an intimidating force whose size, work ethic and determination to improve his game on a daily basis combine to make him one of the Leafs' most promising defense prospects.
Stephen Desrocher crashes the net, makes some room, and scores it. He also added an assist and was named 1st star of the game pic.twitter.com/iXlPGC9EPO

— Future Of The Six (@FutureOfThe6) March 18, 2017
In his own zone is where Desrocher excels most. Given his size, Desrocher uses his body and its strength to protect the puck, or, on the other hand, to knock opposing forwards off of it. Capable of using his frame to protect and skate the puck out of his own zone, Desrocher combines quality puck moving abilities with solid vision and the capability to make crisp first passes in order to facilitate break-outs.
In the opposing zone, Desrocher is equally dangerous, and it is this ability to play a sound two-way game which makes the young defender so impressive.
Offensively, Desrocher, given his strength, has a hard and heavy shot. However, he doesn't simply pound the puck at the net, but instead, looks for a clear shooting lane before firing, and has the ability to get the puck on net through traffic. This ability generates a ton of rebounds and ones which his teammates are able to gobble up and, in most cases, put into the back of the net.
Stephen Desrocher gets his shot through traffic for his 9th goal of the season pic.twitter.com/FzqQDTH5s7

— Future Of The Six (@FutureOfThe6) February 18, 2017
Further, Desrocher's two-way game is, in fact, so solid, that he sees considerable playing time on both the penalty kill and power play. Willing to block shots and battle in front of the net and able to quarterback his team's first power play unit, Descrocher's reliable and consistent game is only emphasized by his incredible versatility on the ice.
However, Desrocher's value doesn't end with his stellar play on the ice, as off of it, Desrocher is also a strong leader. Named as an assistant captain while a member of both the Oshawa Generals and Kingston Frontenacs in 2015-16, Desrocher was selected as the team captain of the Frontenacs for the 2016-17 campaign.
Future Projection
As we have seen, Desrocher possesses all of the skills specific to a dependable yet lethal two-way defender.
What's more is that he is already of NHL size and intelligence.
#Leafs prospect Stephen Desrocher finished his season with huge career highs. 51 points in 65 games. Closed out year with 10 in his last 8.

— Scott Wheeler (@scottcwheeler) March 19, 2017
In the long-term, after some seasoning in the American Hockey League, Desrocher projects to develop into a sound top-4, minute eating defenseman at the NHL level. Although Desrocher will have to prove himself in the professional ranks before seeing considerable time with the Leafs, doing so will likely ensure he sticks at hockey's highest level once promoted, rather than punching a ticket on the Leafs-Marlies rollercoaster.
Why Haven't the Leafs Inked Desrocher?
So, given Desrocher's impressive skill-set, why have the Leafs not signed him to an entry-level contract?
Well, there are two specific factors which need to be highlighted before we can accurately answer this question.
Prospect Flexibility
Firstly, there is the simple fact that Desrocher was, in fact, a sixth-round selection by Toronto in the 2015 NHL Draft. The 155th overall choice in the event, Desrocher was fresh off of, arguably, a  solid campaign with the Generals at the time he was drafted, having netted 23 points in 66 regular season games alongside another 12 in 21 playoff games en route to a Memorial Cup Championship.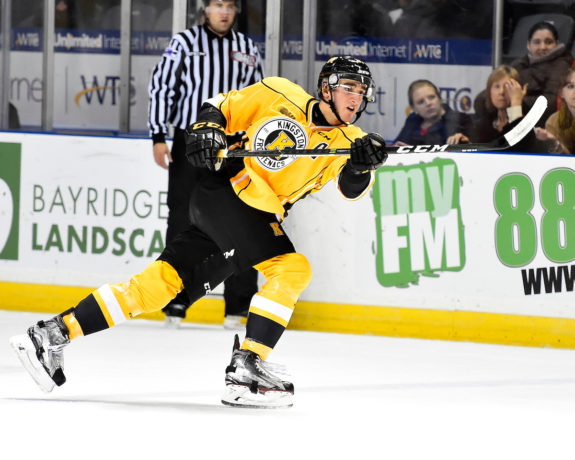 As a sixth-round selection, the Leafs were, quite clearly, in no rush to sign Desrocher despite his success, and as such chose to let Desrocher further develop his individual game in the OHL. With, according to the NHL, two years from the time Desrocher was drafted to sign him to an entry-level deal, Toronto elected to allow Desrocher to progress into a legitimate NHL prospect before potentially offering him a deal – an intelligent decision by the Leafs.
Secondly, there is the Leafs' current contract situation.
Contract Crunch
When the club dealt Frank Corrado in exchange for Steve Oleksy and Eric Fehr, it pushed the organization to its 50th and final contract. As such, lacking the capability to sign any additional players to a Standard Player Contract, Toronto will be unable to sign a contract, with the exception of an extension, until Jul. 1, 2017, pending any unforeseen trades or contract terminations.
As such, it has become literally impossible for the Leafs to sign Desrocher until this coming summer, at which point he will become an unrestricted free agent. The decision to prioritize signing others before Desrocher is a risky move given his value as a prospect, however, it is more likely than not that the native of Toronto, Ontario, will consider any offer from his hometown team before looking elsewhere.
Unsigned Leafs pick Stephen Desrocher loves being overage leader in OHL https://t.co/pNtELLEKFu

— TMLeafsaholics (@TMLeafsaholics) January 12, 2017
Further, with 20 contracts potentially off of their roster come Jul. 1st, the Leafs will possess plenty of room to sign any deserving players or prospects to a contract, such as Desrocher.
However, despite these two technicalities, it goes without saying that the Leafs should have inked Desrocher to a contract long ago. With a glaring organizational deficiency on the blue line and an NHL roster lacking both size and depth on the back-end, Desrocher is an ideal prospect for the Leafs given his skill set and potential for accelerated development at the professional level.
Stephen Desrocher with a bullet from the point. 1 G, 1 A, 8 SOG from the captain as they beat Barrie 4-3 pic.twitter.com/4n5BlsPSBM

— Future Of The Six (@FutureOfThe6) February 3, 2017
Possessing the size, offensive capabilities and defensive instincts of a strong, two-way defenseman, Desrocher has the potential to develop into a truly special, and important, player for the Leafs in the long-term. Although he remains unsigned, Toronto must prioritize inking Desrocher to an entry-level contract as soon as possible, and especially so if they hope to generate a strong, versatile blue line for years to come.
Brett Slawson is a four-year veteran of The Hockey Writers who covers the Toronto Maple Leafs, NHL prospects, and the OHL's Mississauga Steelheads.
Contact Brett on Twitter @brettslawson92, or by email at brett_slawson@hotmail.com.