When you have worked in hockey for as long as Kerry Fraser has, you're bound to know a thing or two about the game. However, an NHL referee not only understands and masters the sport's rules, he also learns to see it through a very unique set of lenses. Having worked as a referee in three unique decades, Fraser was fortunate enough to witness the evolution of stars like Wayne Gretzky and Mario Lemieux in the 1980s, the Joe Sakics and Steve Yzermans in the 1990s, as well as current stars like Sidney Crosby and Alex Ovechkin in the 21st century.
Kerry Fraser And The Habs
If you're a fan of the Montreal Canadiens, this might help you put Fraser's lengthy career into perspective. When he broke in as an NHL official, Fraser skated alongside Habs legends like Guy Lafleur and Bob Gainey during the 1980s.  This exact same Kerry Fraser was still in the league when Scott Gomez was a Montreal Canadien in 2009-10. Yes, two very different eras indeed.
"I got to watch some of the best players in the game from very close range. Rubbing shoulders, elbows, watching their moves, anticipating their moves, and I became immersed in the game enough so that I could read the play in advance of it actually happening. Having seen all that, and lived it, it becomes a reflex, and it becomes an instinct. And while players develop certain instincts to play the game at a high level, I had to do that very same thing."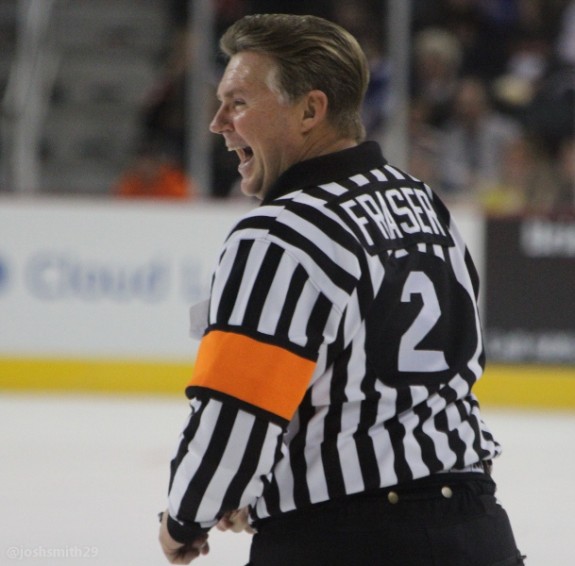 Fraser further accentuates that there's a lot more to the job of a referee than the average fan realizes.
"It's not just about seeing a penalty and raising your arm, or deciding to raise your arm, it's about really understanding how the game is played so that I could function in 285 feet of ice space with a dozen players on the ice at once. While this is knowledge that I can share, I am a fan of the game. But I also look at the game from a very different perspective. I have the benefit of understanding what a player would typically do or think or what I an official would think or do in a given situation."
Although Kerry Fraser is no longer a referee in the National Hockey League, the experience that he acquired during his career has even influenced his philosophical approach to life. When he wore his black and white striped uniform, Fraser believed that being in control was the most important ingredient to being successful.

"If I was expected to control the game, and to control the situation, I needed to be in control of myself. I couldn't let my emotion rise in a negative way and become embattled and engaged in the fight. I had to use my voice, I had to use my body posture in a positive way, to take control of the situation so I could bring the temperature down with the person on the other side that was yelling and screaming. And then, we could have a conversation."
Now, as a part-time hockey analyst, Fraser believes that he must continue to follow through with this mantra, whether it be in his own life, or as a personality in the media.

"That's part of my philosophical approach, and not just to officiating but in trying to deal with any situation that I may be called into."
Since joining TSN preceding his career as a referee, his blog C'Mon Ref has grown immensely popular. Along with his involvement at TSN, his dealings with hockey fans on twitter have especially reflected his ability to be in control of every situation. Like his on-ice philosophy, Fraser believes that he must stay in control and maintain a certain personal relationship with people at the other end of a twitter conversation that is as intimate as possible.
"Previous to my involvement with twitter, I've never really been a social media guy. I think that there is certainly an upside to it, but there's definitely a downside because people can say whatever they want. There is a certain standard of decorum that I like to maintain, and I find that people sometimes go way below the line because they feel safe in blasting something out under a fictitious name."
As my conversation with Fraser shifted exclusively to hockey, he spoke at length about the passion and energy that spectators at the Bell Centre have for the home team.
"Every venue had it's own unique flavor. I loved Montreal. I loved the knowledge that the fans have, but I also loved the emotion that they demonstrate. The energy in the Bell Centre is a different crowd than when I first started in the Montreal Forum. In the Bell Centre, a younger crowd came about and the energy level raised on the other side of the glass."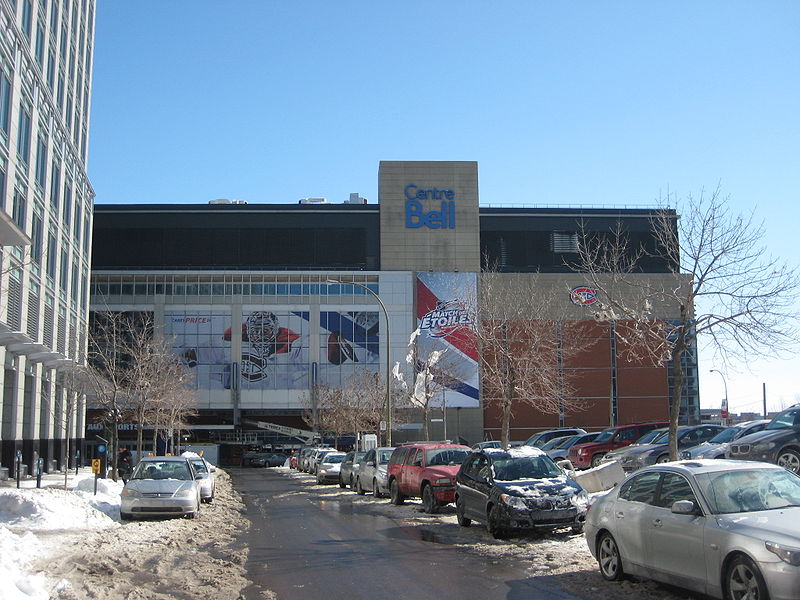 Fraser believes that the 2013-14 Montreal Canadiens have a lot going for them as they enter the second half of the regular season. He singled out Brian Gionta, Carey Price, PK Subban, and Michel Therrien as major contributors to the team's success.
"I think Brian Gionta is a great leader. I've always admired him as a player. He plays bigger than his size and he's a gritty guy but also skilled and really does a great job from a leadership perspective. They have a good combination of grit and talent on that team. Michel Therrien has really learned an awful lot through his experiences that weren't so positive coaching the Canadiens as well as the Penguins. He's developed to be a little less emotional and to prepare his players a little bit better with the skill sets that they have. Obviously their goaltending is terrific, and PK Subban has developed into more of a complete player. We always knew he had offensive skills but he was often times a liability by trying to do too much individually. I think he has matured as a player, and that gives them a real solid weapon at the blue line.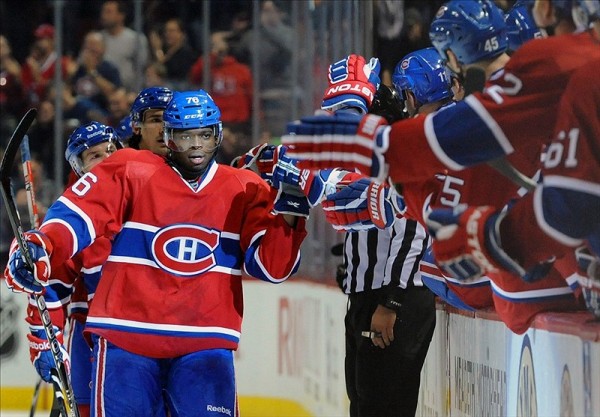 As my final question to Kerry, I felt it was my duty to ask him something that everyone's been dying to know for years. How did he get such a full head of hair? The last NHL referee to officiate games without a helmet on had the following to say.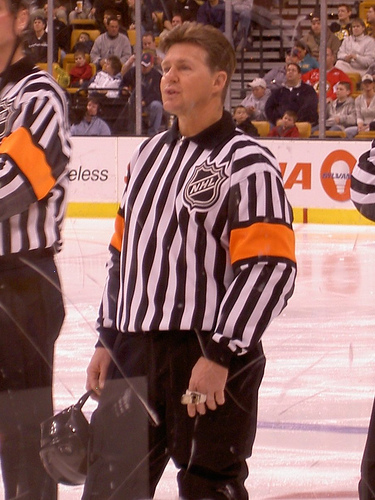 "I went to Florida with my wife. We run into Mike Keenan and his wife, and Dave Brown who was playing for the Flyers at the time. We were doing some drinking around the pool and my wife says to me 'we gotta do something about your hair. This beetle cut that you have, is really getting old.' So there was a salon at the mriotte marco-siland florida and they blew it back and gelled it and that was that. So that was the new look me, and I went with a couple of different versions of it and it became sort of my mantra and my mojo."
Kerry Fraser finally puts on a helmet. This was a tough reality for him to accept!
In the end, you could say that really caps his career and this interview.
David is currently a second year Arts student at McGill University and aspires to have a career as a sports journalist one day. When he's not covering the Montreal Canadiens for THW, he is the sports producer for TVMcGill and the host of his very own show called "On The Line with David Stein." He is also a frequent contributor to the McGill Tribune.