In the 2020 NHL Entry Level Draft, the Los Angeles Kings selected Alex Laferriere (not to be confused with Alexis Lafrenière), 83rd overall in the third round of the draft. The Chatham, New Jersey native was poised to play for the Harvard Crimson (Harvard University's) hockey team in 2020-21, however, the Ivy League school canceled their season, resulting in him staying in the United States Hockey League (USHL). Playing for the Des Moines Buccaneers, he has been on fire as of late.
His Recent Point Streak
Laferriere is currently on a seven-game point streak with Des Moines in the USHL, where he has produced eight points. His most recent point was both a game-winning goal (GWG) and a power-play goal (PPG), which occurred on Feb. 5. This also marked his 10th goal of the season.
Laferriere hasn't just been showing off his offensive talents during this seven-game point streak, as he has also demonstrated his ability to be a wrecking ball on the ice.
In this clip, after dishing a brutal hit, Laferriere knocks the puck out of the Buccaneers zone, preventing any more scoring opportunities to occur. This is something he is known for, as he is a gritty forward who plays a physical game.
An Impressive Campaign All-Around
Laferriere's season hasn't just been impressive due to his point streak because in-general, he's had a spectacular year offensively. In 24 games played, he has potted 10 goals and nine apples, for a total of 19 points (ranks 30th in the league). He is second on the Buccaneers in goals and third in assists. He has three PPG, three GWG and three short-handed goals, highlighting his ability to be effective on both special teams units and to score in big moments. He is known for possessing a hard shot and his ability to score no matter the situation demonstrates his knack for finding the back of the net.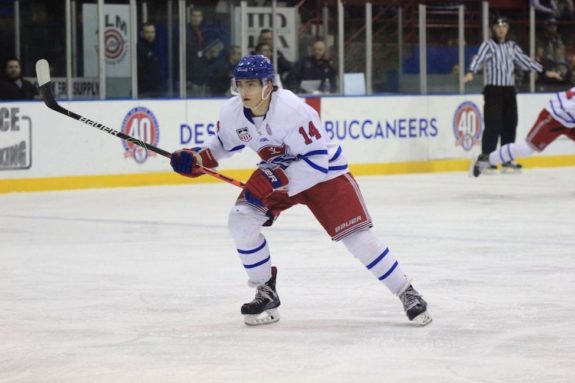 Laferriere has a 10.6 shooting percentage (S%) this season, which is comparable to a current NHL player's USHL numbers. The aforementioned player is Nick Schmaltz of the Arizona Coyotes, who has cemented himself as a top six forward in the NHL. In his three-season USHL career with the Green Bay Gamblers, Schmaltz had a career S% of 13.7. Although this is higher than Laferriere's, it is still comparable to Laferriere's this season. Schmaltz is a former 20-goal scorer, which shows that Laferriere should be able to chip in goals in the NHL someday.
What Kings' Fans Should Expect
Laferriere has been great this season, and Kings fans should expect him to one day become an NHL player. He doesn't have as high of a ceiling as a number of the team's prospects, such as Quinton Byfield, but he should fit into a roster spot. Here are some quotes about his playing style:
"He gains the line and creates room for himself to make plays. Alex is a true dual-threat scorer and likes to play a real power game, even at a modest 6-feet-even and 179 pounds. Think a scoring forward with some grit, not the second coming of Cam Neely."

EliteProspects 2020 NHL Draft Guide
"The New Jersey native is a sturdy 200-foot winger with a heavy shot and strong work ethic."

Steve Kournianos/Sporting News
"A good skating forward with a good shot. He plays a physical style game."

Tony Ferrari
Overall, these quotes paint a very similar story. Laferriere is a hardworking, gritty forward who isn't afraid to throw the body and possesses a heavy shot. Kings fans should be excited to see his development, as he has the potential to be a good player for the team in the future.
Stats per: QuantHockey, USHL, and HockeyDB
---
---
I am a lifelong hockey fan who will be covering the Los Angeles Kings and Vancouver Canucks here at The Hockey Writers. Before joining The Hockey Writers I spent two years blogging about hockey.
Feel free to follow my Twitter @TheRoyalQuinn or on Insta @thw_quinn for updates on when my newest articles are published.