While these past few months have been nothing short of awful, the return of hockey has been a welcome sight for many people, myself included. With the NHL coming back in early January, we have been treated to a great few weeks of hockey so far. Another exciting piece of news was announced a few weeks back as well and that was that the American Hockey League was going to return on February 5.
While the Canadian Division will not be starting on time, Toronto Marlies fans should still be excited to see what the 2020-21 season will bring. With many players returning and players who will see their roles expanded, it is an exciting time for AHL hockey in Toronto. Looking to bounce back after finishing seventh in the North Division last season, the Marlies will look to start the season off on the right foot. Here is the 2020-21 season preview for the Marlies.
Forwards
While the Marlies lost some players in the offseason such as Nicholas Baptiste and Pontus Aberg, there are still some great players who will don the blue and white this upcoming season. With some new additions as well, this team will still be able to ice some talent up front. Here are a few players that I expect will make a big impact.
Rourke Chartier
Having not played a game since the 2018-19 season due to concussion problems, Chartier is someone who I think will make his impact felt. In 2018-19, while playing as a member of the San Jose Barracuda, he scored six goals and added 12 assists for 18 points in 24 games. He also saw 13 games with the San Jose Sharks where he scored one goal.
What impresses me the most about Chartier is the fact that his feet as always moving. He gets in hard on the forecheck and battle shard in the corners. He does not shy down from physicality and is more than willing to battle larger opponents in and around the net. When the puck transitions the other way, he makes sure to skate back and help out his defenders. He has good defensive positioning and is good in transition.
With the puck on his stick, he has good vision and is able to find his teammates in the slot for a scoring chance. While I don't know how the Marlies lines will look like at this moment, I imagine Chartier will see significant ice time and will be used on the power play and penalty kill. He was a great signing for the Marlies and I would not be surprised to see him being a serious contributor when it comes to offense.
Kenny Agostino
The leading scorer for the Marlies last season, Agostino will be a key cog for the Marlies this upcoming season. Having collected 27 goals and 22 assists for 49 points in 52 games last season, I would not be surprised to see him lead the Marlies in points once again.
What impresses me the most about Agostino is how versatile he is. Whether the coach needs someone to kill a penalty, defend a late lead, or score the go-ahead goal, he can a little bit of everything. He is a great skater who is able to use his great edge work to pick up speed through the neutral zone and attack open lanes in the offensive end. He is great at driving the net and goes to the dirty areas of the team without hesitation.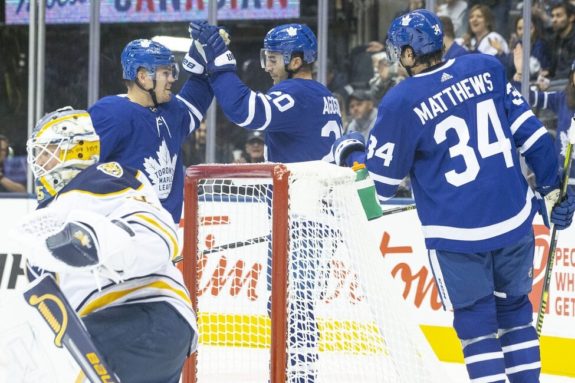 Agostino is a great leader and will work wonders for the younger guys in the dressing room. He is the definition of a true professional and will be relied upon on and off the ice. Going into a contract season, he is mostly going to want to how what he is capable of. I hope the Marlies can re-sign him at the end of the season but that is an issue that can be revisited in a few months time.
Scott Pooley
A player who may not be as well known as other players on the roster, Pooley made his impact felt last season. In 30 games with the Marlies, he scored eight goals and added four assists for 12 points. He also suited up in 17 games with the Newfoundland Growlers of the ECHL where he collected 22 points.
While he may not get you a ton of points, Pooley is still a reliable player. He works hard down low and is effective in and around the net. Given time and space, he has a great shot and is able to pick and choose where he wants to shoot it. He is great at battling for position in front of the net and is often rewarded if there is a big rebound that happens to pop out from the crease.
Pooley is one of the players that I expect will be given an expanded role this upcoming season. He did not get a ton of playing time last season but he did well in a limited role. He has continued to defy expectations at every level of hockey he has played at and I don't see any reason why he would stop now.
Tyler Gaudet
Another player who made his impact with the Marlies last season, Gaudet is another player who I expect to contribute on a nightly basis. Having played in 58 games with the Marlies last season, he scored four goals and added 17 assists for 21 points.
What impresses me the most about Gaudet is similar to what I like in Chartier. He always moves his feet and is great at getting in on the forecheck and applying pressure to the opposition. He may not be a player who is going to get you a lot of goals but he battles hard in front of the net and is good at generating scoring chances in front.
Along with Agostino, Gaudet is going to be a guy that is relied upon on and off the ice. He is a great leader and will be a great mentor for the younger guys on the team. He will most likely not be atop the leaderboard in points this upcoming season but his impact will be felt in numerous other ways.
Defense
The defense core for the Marlies this upcoming season is going to look pretty similar to last season. While players like Kevin Gravel may have departed for other teams, the Marlies will still see a lot of familiar faces on the blue line when the puck does drop. There may be some growing pains to start but I expect this core to make their impact felt. Here are some defensemen to watch for.
Timothy Liljegren
Like I mentioned in my previous article looking at Marlies players to watch for, Liljegren is a player who I expect to take another massive leap in his game. He had a spectacular season last year with the Marlies, notching five goals and adding 25 assists for 30 points in 40 games, and I expect him to see a ton of playing time.
While he has received some criticism in the past for his decision making, he did a good job last season at making plays under pressure and look comfortable with the puck on his stick. He loves to jump into the rush and is good at getting back if need be. He is good at getting his shot on the net and is more than capable of quarterbacking a power play.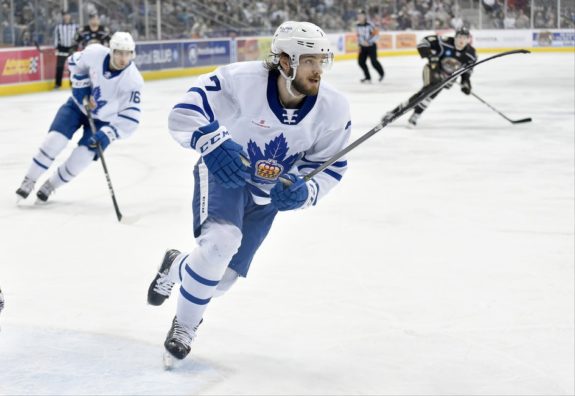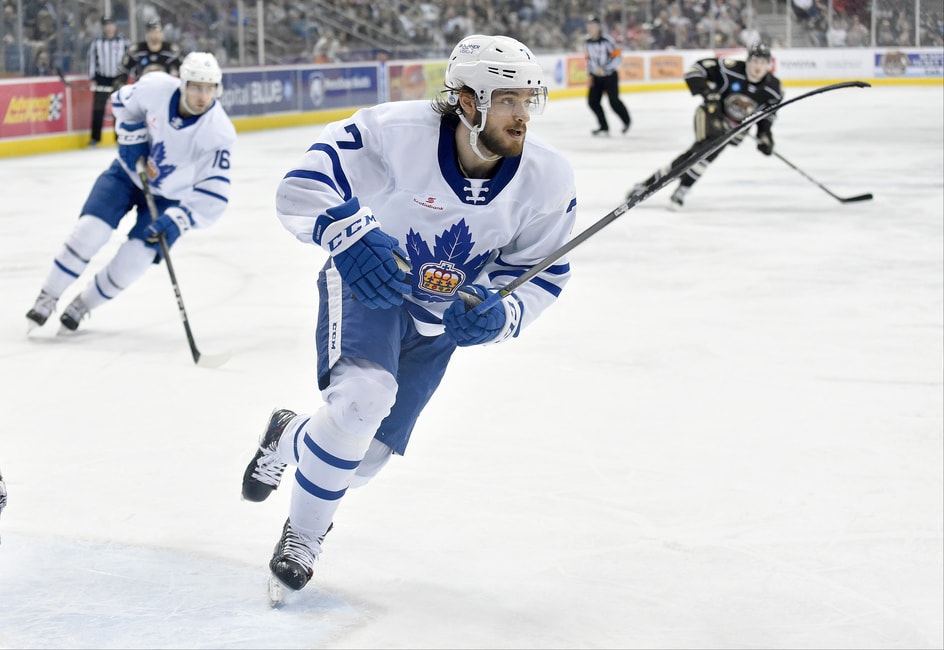 Liljegren will almost certainly be on the first pairing when the season starts and I expect him to be one of the leaders in ice time for the Marlies. He has been taking great steps in his development over the past few seasons and I expect coach Greg Moore to rely on him a lot. I don't know if he makes the Maple Leafs out of camp next season giving the players in front of him on the depth chart but it will not be long until Liljegren is a regular with the NHL.
Mac Hollowell
Another player who will see his role expand this upcoming season, I think Hollowell has a great chance to make an impact. Having suited up in 34 games with the Marlies last season, he scored three goals and added nine assists for 12 points. He also played 19 games with the Growlers and collected 13 points.
What impresses me the most about Hollowell is his skating and vision. In the offensive zone, he is able to open up passing lanes with his shiftiness and can find his teammates in the slot for a scoring chance frequently. He has a great low stride perfect for getting to top speed quickly and can quickly get back to defend should the puck transition the other way.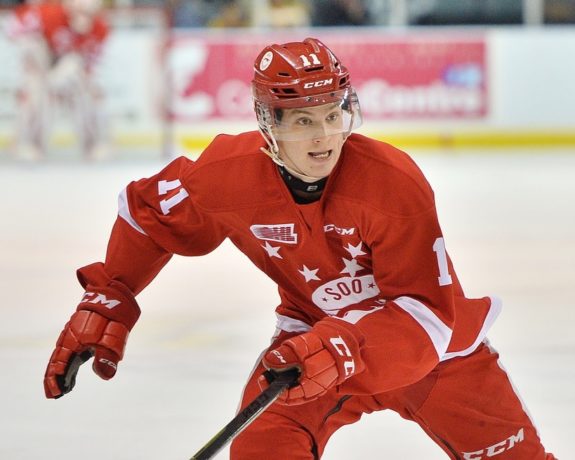 I think Hollowell starts on the second or third pairing to start the season but he could very easily move up the lineup as the season progresses. He is still young and is in no rush to jump to the Maple Leafs. He has still yet to play a full season of AHL hockey and has a ton of great skills to work with. It will be exciting to see him take another step forward in his development.
Joseph Duszak
Before the pandemic caused the season to be canceled, Duszak was one of the better players on the Marlies. In 23 games, he scored three goals and added 15 assists for 18 points. He also collected 35 points in 34 games with the Growlers.
Similar to Hollowell and Liljegren, Duszak is a great skater who loves to jump into the rush. He has a great shot and knows how to use it. He makes heads-up plays under pressure and is great at finding his forwards breaking through the neutral zone. Defensive, his positioning is pretty good. He works hard to clear the front of the net from any danger and battles hard in the corners.
Duszak will most likely start out on the second pairing when the puck drops. He made an impression last season and I think he will see his role expanded. Having gone from undrafted free agent to important contributor on the Marlies is no small feat and there is nowhere but up for him from here on out.
Goalies
This is the one area that may be of concern for the Marlies. Not that those who will see time in the pipes lack talent, it's that they lack experience. If the Marlies want to find success early in the season, their goalies will have to give them a chance to win on a nightly basis. Here is the likely tandem for the Marlies.
Joseph Woll
The starter in my eyes, Woll had a rough start to his pro career last season. In 32 games, he posted a record of 11-16-4 to go along with a 3.75 goals-against average (GAA) and a .880 save percentage (SV%). He does however have a lot of potential.
What I like most about Woll is his ability to track the puck through traffic. Although there were games last season where he let out some big rebounds, he more often than not is able to hold onto the puck. He has great size, standing at 6-foot-4 and covers a ton of net. He is not afraid to play the puck and makes good plays when under pressure.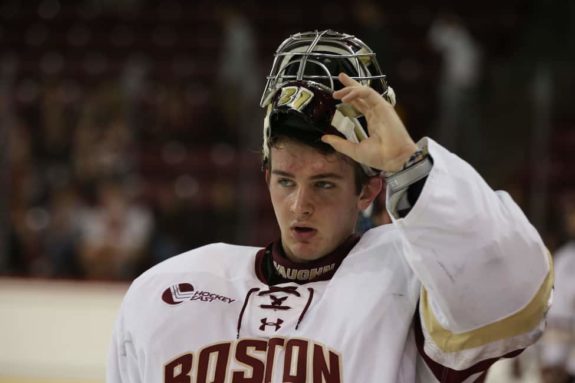 With the departure of Aaron Dell on waivers, Michael Hutchinson is going to be the goalie who stays on the taxi squad when Campbell returns from injury. With Woll most likely taking the starting reins, this is going to be a great opportunity to see him grow his game. He has a ton of talent and I'm excited to see what he can do with an expanded role.
Ian Scott
Coming off hip surgery that kept him out all of last season, it will be interesting to see how Scott handles his first season of pro hockey. While this season is pretty much a developmental season for the AHL, I am still looking forward to what Scott can bring to the table.
Scott has good size, standing at 6-foot-3 and moves really well in his net. He is good at tracking the puck and rarely gives out bad rebounds. Like Woll, he is good at playing the puck and is good at making plays under pressure. He is great at remaining calm when the game is on the line and makes acrobatic saves look easy.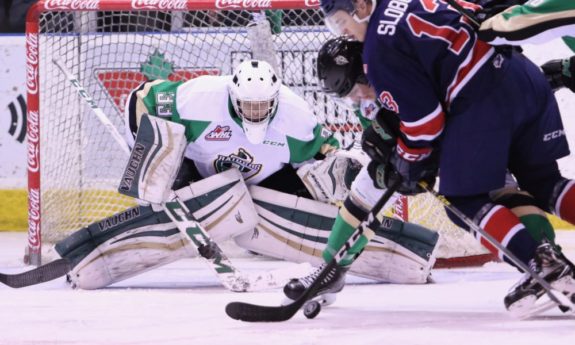 Scott will most likely only see around ten games given the length of the season but he still has a chance to make an impact for the Marlies. He had one of the most impressive seasons by a goalie in juniors that I can remember in 2018-19 and I am sure many Maple Leafs fans are excited to see another prospect make his jump to professional hockey in the near future.
A Good Start Is Important
With a great division consisting of the Manitoba Moose, the Stockton Heat, the Belleville Senators and the Laval Rocket, the Marlies are going to have to have a good start to the season if they have any hopes of being near the top of the standings. They have a good team but they will need to have everyone contributing if they want to maximize their potential. All in all, after almost a year hiatus for the AHL and the Marlies, I along with many others am excited to see that AHL hockey is back.
---
---
My name is Mathieu Sheridan. I am a writer here at THW who covers the OHL and prospects in general.