Heading into the 2021 World Junior Championship, LA Kings' prospect Quinton Byfield had the potential to be a dominant force for team Canada. In Team Canada's first two games, he didn't receive much playing time. However, in Canada's third game of the tournament, which came on Dec. 29, he had lots of ice time and subsequently had a breakout performance.
Related: Kings' Quinton Byfield Could be Great for Canada at 2021 WJC
He scored two goals and added four apples in Canada's 10-0 victory over Switzerland, resulting in him being named team Canada's player of the game. Byfield didn't just light up the scoresheet, as he also did tons of "the little things" right.
Goal Scoring
Byfield scored two goals for Team Canada. Scoring twice in a single game is impressive on its own, but the different ways he scored are impressive. His first goal was due to his silky mitts, while his second was a pure snipe.
This was Byfield's first goal in the game. He used his 6-foot-4 frame to power his way in front of Switzerland's net. He then parked right in the dirty area in front of the net and waited to deflect a shot into the twine. This highlights his ability to both drive towards the net and to use his skilled hands to score off of deflections.
His second goal was a stark contrast to his first. Through his speed he managed to get open on a two-on-one, where he received a pass and quickly shot it into the net, demonstrating his ability to use his speed to get open and to use his lightning-fast shot release to great effect.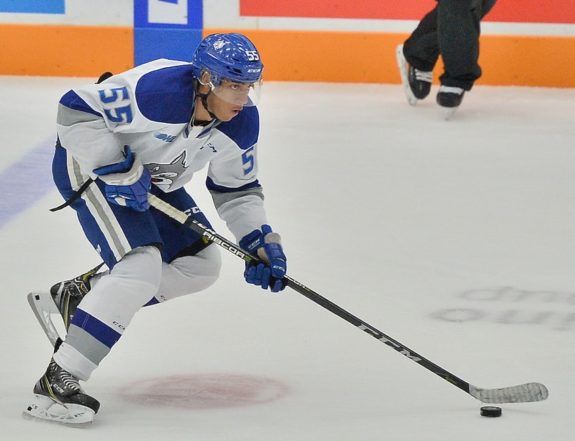 If Byfield can bring this toolbox of unique skills to LA, he could become a great scoring center for the Kings because he has the ability to both power his way to high-scoring areas and to use his speed to get open. A current player with a similar skill set is Joe Pavelski. Pavelski is known for being one of the NHL's best at deflections, but he can also snipe the puck – this was evidenced by his hat-trick in Game 4 of the Dallas Stars' playoff series against the Calgary Flames in the 2020 playoffs.
"The Little Things"
In Game 3, Byfield excelled at various aspects of the game – he went 10-for-14 on face-offs, giving him a win percentage of 71%. Possessing the puck is important for winning hockey games, as you can't score if you never have the puck. Face-offs aren't fancy, but they are important – Byfield showed that he can give his team an advantage through them.
Byfield doesn't just gift his team the puck from face-offs. The most glaring example of this came in the first period, where he had two shifts in a row that saw him have a neutral zone breakup.
Breaking up plays in the neutral zone is important as it stops opposing teams from getting into the offensive zone, effectively eliminating a potential scoring chance.
Another skillset he demonstrated in the game was his ability to exit the defensive zone with the puck (zone exits) and his ability to enter the offensive zone with it (zone entries).
At one point in the game, Byfield brought the puck out of his own zone with minimal pressure. However, he faced defensive pressure upon trying to enter the offensive zone. He lost control of the puck for a second, but kicked it forward, getting into the zone before passing it to his teammate. One of his zone entries even led to Jakob Pelletier's first goal of the game (more on that later).
Zone exits and entries are very important as exits allow a team to give their defence a break, and entries begin the process of cycling the puck around the offensive zone.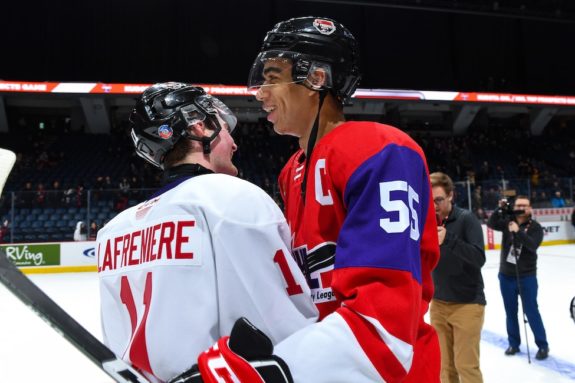 Some of the NHL's best defencemen, such as Roman Josi and Erik Karlsson, excel in this regard. Many of the NHL's top two-way forwards are also good at this aspect of the game. 2019 Selke Trophy winner Ryan O'Reilly is fantastic at zone exits, while Mark Stone is strong in both regards.
Related: Ryan O'Reilly's Incredible Year
The way Byfield did the little things against Switzerland looks very promising. Face-offs, breaking up plays in the neutral zone, and zone exits and entries are all underappreciated, but important parts of hockey. If he can bring these skills to the NHL, it would make him one of the league's smartest players.
Play-Making
The most impressive part of Byfield's performance against Switzerland was his play-making. He posted four apples in the game – definitely enough to keep the doctor away. Just like his two goals, his assists came through a variety of different ways.
Byfield's third assist of the game was due to a spectacular cross-ice pass that he sent to Ryan Suzuki (click the link in TSN's tweet to watch it). If Byfield can bring the ability to pass like this into the NHL, he could definitely contribute on the power play where there's more room on the ice.
His first assist of the game came from his ability to forecheck. Team Canada puts pressure on Switzerland's defence in this clip, resulting in a turn-over, allowing Byfield to dish the puck to Philip Tomasino, who I previously said was one of the tournament's sleeper players. The LA Kings tend to play dump-and-chase hockey since Todd McLellan was named coach. Forechecking is an important aspect of this style, and Byfield can clearly create offence through it.
Related: Kings: Todd McLellan's First Season Behind Bench Showed Great Potential
Byfield's other two assists showcased his ability to hold the puck under pressure and turn it into scoring opportunities.
Despite being pressured for the puck, Byfield gets a pass to Pelletier, milliseconds before getting checked.
Although this is a secondary assist, Byfield used his hands to maintain possession of the puck and pass it to his teammate.
Promising Signs
Byfield's six-point effort showcased his ability to generate offence in numerous different ways and to do so while facing tremendous pressure. It also showcased his ability to excel at areas of the game that don't appear on the scoresheet. Overall, this game showed plenty of promise for Byfield's future, and Kings fans should definitely be looking forward to watching him play for them.
All the 2021 World Junior Championship Team Information:
Austria — Team Preview — Roster
Canada — Team Preview — Roster
Czech Republic — Team Preview — Roster
Finland — Team Preview — Roster
Germany — Team Preview — Roster
Russia — Team Preview — Roster
Slovakia — Team Preview — Roster
Sweden — Team Preview — Roster
Switzerland — Team Preview — Roster
USA — Team Preview — Roster
Selection Camp Invites by NHL Team
Draft Eligible Players to Watch
One Player to Watch for Each World Junior Team
7 Predictions for the 2021 World Junior Championship
---
---