The World Junior Championship is set to begin on Christmas Day, and the tournament's warm-up games have already started. The warm-ups have already seen highlights, such as Montreal Canadiens' prospect Cole Caufield's nasty backhander against Finland.
This article won't focus on snazzy players who are known top talents such as Caufield, but it will take a look at the tournament's under-the-radar, sleeper players.
Yegor Chinakhov (Right Wing, Russia)
Yegor Chinakhov was selected 21st overall by the Columbus Blue Jackets in the 2020 NHL Entry Draft. This was the shocker of the draft, as he was un-ranked on many lists and was nowhere near the first round on lists where he was ranked. But this move already seems to have paid off in spades for Columbus. In the 2020-21 KHL season, he has scored eight goals and added seven assists in 27 games played. His 15 points rank sixth on his team, Omsk Avangard, and ranks first in the KHL among U-20 players.
Chinakhov isn't just known for his offensive ability, as he is a 200-foot player who forechecks. Basically, he's a perfect fit for a team coached by John Tortorella.
"While on the forecheck, Chinakhov understands how to efficiently spin away from the opponent's pressure along the boards and keep plays alive. He often prefers to serve as a playmaker at the right half-wall, and on the Avangard powerplay, he is usually stationed on the right side of the team's set-up. He spent time in this role with Team Russia at the Karjala Cup last month. His positioning, 200-ft game, and ability to positively influence his team's pressure in the offensive zone are impressive for a 19-year-old rookie in the KHL. He has averaged 13:36 of ice time per game this season but has played as much as 21:34. This is a high-IQ player who has turned many heads since his selection at the NHL Draft earlier this year."

Kevin Wong, Dobber Prospects
Surprisingly, Chinakhov is still flying under the radar. He wasn't among The Hockey Writers Top 3 Russians to watch, despite being more prominent offensively than either Vasily Podkolzin or Rodion Amirov. Both Podkolzin and Amirov are prospects for big hockey markets (Toronto and Vancouver), and both overshadow Chinakhov.
Chinakhov has been the most impressive KHL player on the squad (minus goaltender Yaroslav Askarov) and should turn heads in the tournament with his offensive prowess and two-way play.
Philip Tomasino (Center/Right Wing, Canada)
Canada, as per the norm, has a star-studded roster and are a gold medal favourites. Some of the players on the team include Bowen Byram (2019 fourth overall pick); Quinton Byfield (second overall pick in 2020); Dylan Cozens (2019 seventh overall pick); Jamie Drysdale (2020 sixth overall pick); and this is without Kirby Dach, who'll miss the tournament after suffering a fractured wrist during a warm-up game. But even with all their talent, that doesn't mean you should overlook Philip Tomasino.
Related: Team Canada Players to Watch at the 2021 World Juniors
19-year-old Tomasino will want to make the most of his first and final U-20 World Junior Championship. He dominated in the U-18 World Junior Championship in 2019, posting five points in six games. However, this is his first opportunity to play in the tournament that is watched globally.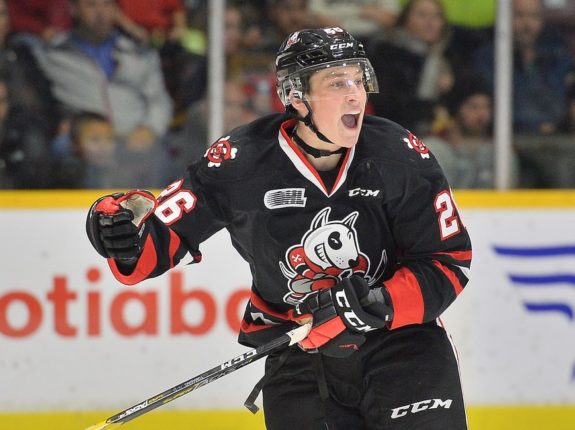 Tomasino spent time on two separate OHL teams in 2019-20. In 36 games played with the Niagara IceDogs, he posted 57 points. But they subsequently dealt him to the Oshawa Generals, where he produced 43 points in 26 games. In total, he racked up 100 points, which ranked fourth in the OHL. This is especially impressive considering he had to adjust to playing for a new team after being traded. Don't be surprised if Tomasino has a stellar tournament.
Tobias Björnfot (Defenceman, Sweden)
One of the few players with NHL experience in this tournament is Tobias Björnfot. He was selected 22nd overall by the LA Kings in the 2019 NHL Entry Draft and immediately made the team's roster out of training camp. He played in the first three games of the 2019-20 season, averaging 12:58 of ice time per game. He posted a plus/minus rating of minus-4, but three of the goals he was on the ice for were in the Vancouver Canucks 8-2 slaughter of LA on October 9th.
Related: 5 Swedes to Watch at the 2021 World Juniors
Following October 9th, the Kings sent Björnfot to the AHL where he seamlessly adjusted to North America's smaller rinks, as he posted 19 points and had a plus-13 rating in 44 games. He competed for Team Sweden in the 2020 World Junior Championship, where he posted no points but was only on the ice for one goal against.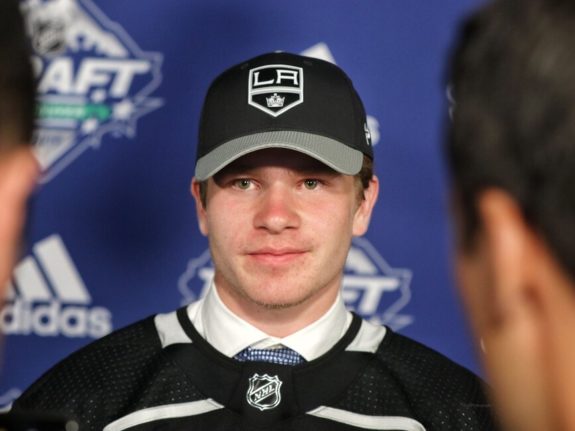 Björnfot is a two-way defenceman who is responsible on both ends of the ice. He should be one of Sweden's most noticeable blueliners whether or not he impacts the scoresheet, as he is very responsible defensively and will play an important role in keeping the puck out of Sweden's net.
Brad Lambert (Center/Right Wing, Finland)
Finnish phenom Brad Lambert is one of the most intriguing potential sleepers in the World Junior Championship. He cracked Team Finland's roster as a 16-year-old, which is quite rare. Although he turned 17 on December 19th, he is still one of the youngest players in the tournament, resulting in The Hockey Writers naming him as one of Finland's top three players to watch. A consensus top-three pick for the 2022 NHL Entry Draft, Lambert could raise his stock with a good performance.
Related: Team Finland: 3 Players to Watch at 2021 World Juniors
He started playing in the Liiga (Finland's top men's league) last season as a 16-year-old. In four games played in 2019-20, he scored zero goals but posted two assists. So far in the 2020-21 season, he has played in 18 games and posted seven points. For a 16-year-old to excel in a men's league such as the Liiga is very impressive. Although he's a well-known player, Lambert is a potential sleeper in the 2021 World Junior Championship, as nobody knows what to expect from him in this tournament.
Don't Sleep on Them
Although star prospects fill this World Junior Championship, as NHL teams are allowing many players to participate in the tournament due to a later than usual training camp, be sure to check out these sleeper picks, as they could stun the hockey world.
All the 2021 World Junior Championship Team Information:
Austria — Team Preview — Roster
Canada — Team Preview — Roster
Czech Republic — Team Preview — Roster
Finland — Team Preview — Roster
Germany — Team Preview — Roster
Russia — Team Preview — Roster
Slovakia — Team Preview — Roster
Sweden — Team Preview — Roster
Switzerland — Team Preview — Roster
USA — Team Preview — Roster
Selection Camp Invites by NHL Team
Draft Eligible Players to Watch
One Player to Watch for Each World Junior Team
7 Predictions for the 2021 World Junior Championship
---
---
I am a lifelong hockey fan who will be covering the Los Angeles Kings and Vancouver Canucks here at The Hockey Writers. Before joining The Hockey Writers I spent two years blogging about hockey.
Feel free to follow my Twitter @TheRoyalQuinn or on Insta @thw_quinn for updates on when my newest articles are published.