With the 66th Pick in the 2020 NHL Entry Draft, the Los Angeles Kings Have Selected Kasper Simontaival From the Tappara U20 Team of the Jr. A SM-liiga.
About Kasper Simontaival
If not for some injuries, Simontaival probably would have been drafted higher. He might have even been a first-round pick. Regardless, he remains an intriguing prospect to follow in the coming seasons. His two-way game is very underrated, as he possesses both a high-end offensive game and an unexpected battle level usually reserved for bottom-six forwards. He could become a high-value pick if he keeps trending in an upward trajectory.
THW Prospect Profile Excerpt
Kasper Simontaival is an extremely intriguing prospect. On one hand, I think he could be one of the best offensive players in this draft class. On the other, he hasn't really developed along as planned. That's largely due to a large number of injuries that have slowed his development.
Related: 2020 NHL Draft Guide
Even with those setbacks, his ceiling remains high. He proved that this season, playing mainly with Tappara U20 in the Jr. A SM-liiga. He put up 25 goals, 32 assists and 57 points in 48 games, finishing fifth in the league in points (first among U18 players). He put up another seven points in three playoff games.
The Finnish forward also dressed for four Liiga games, not recording a point in minimal usage. Prior to the season, he was projected to spend most of his time with the big club, but that didn't happen. Instead, he got the chance to be one of the top players in his league and stand out. While it wasn't in the top league, he was a star.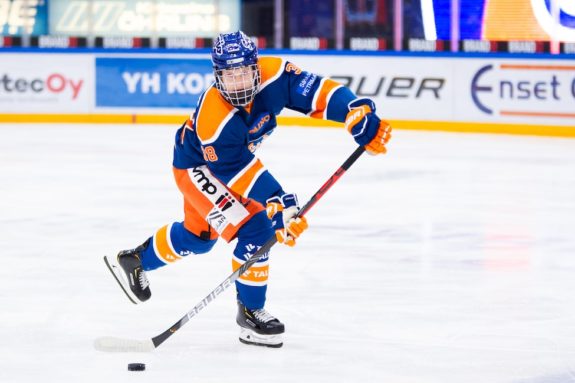 The Tampere, Finland native may have had limited seasons, but that hasn't stopped him from putting together a very promising toolkit. It starts with his offense. Simontaival is a high-end playmaker with a wicked wrist shot. His vision and hockey IQ might just be his best qualities.
Where Simontaival might surprise you is his play off the puck. This season, he was used on the penalty kill and defending leads, on top of his regular offensive shifts. He competes hard for the puck, never giving up and often battling along the boards. All of this is not exactly what you'd expect from a skilled forward.
With his progress to this point, Simontaival is trending in the right direction. I'd expect him to play full-time in the Liiga next season, possibly even the following season, before he comes over to North America. It might take a couple of years, but the winger might just end up being a high-value second-round pick.
Full player profile can be found here
How This Affects the Kings' Plans
The Los Angeles Kings continue to have a solid draft by adding Simontaival to their team. Having already selected Quinton Byfield in the first round and hulking defender Helge Grans in the second round, the Kings managed to get promising player in Simontaival.
---
---
Kings fans should definitely be excited for the future. With Simontaival being able to play with guys like Alex Turcotte, Rasmus Kupari and Byfield, it would not be surprising to see the Kings competing for the Stanley Cup for years to come.