Following the 2017 Expansion Draft, the Vegas Golden Knights took the league by storm. Shockingly, the Knights finished first in the Pacific Division and made the Stanley Cup Final in their inaugural season, far surpassing any previous expansion team's accomplishments. Only the 1968 St. Louis Blues, playing in a conference made up of entirely expansion teams, managed a Stanley Cup Final appearance in their first season.
Vegas' success was obviously a rarity, and dominance to that degree by an expansion team is unlikely to ever occur again. With that said, there are certain pieces of Vegas' inaugural team that can be imitated in order to maximize success. By identifying the types of players that were most instrumental for Vegas, the Seattle Kraken can target similar players and have the best season possible.
Based on Vegas' top players, I selected similar players who could be made available to Seattle. For the purposes of this exercise, I did not include players whom Vegas acquired in trades at the expansion draft, such as Shea Theodore, Alex Tuch, or Reilly Smith. Only players actually selected in the draft itself were considered eligible.
Star Goaltender
Perhaps the most obvious pick for Vegas to make in the 2017 Expansion Draft was Marc-André Fleury of the Pittsburgh Penguins. Having recently been displaced from his starter's role with the emergence of Matt Murray, Fleury was suddenly expendable.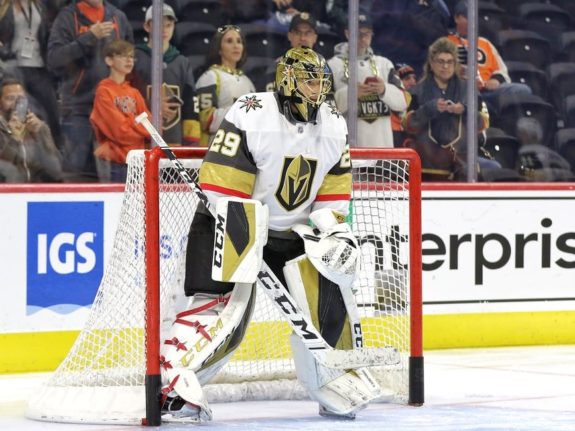 Although Fleury was the likely pick anyway, Pittsburgh offered a second-round pick to ensure that Vegas would leave the rest of their roster alone. With Vegas in 2017-18, Fleury had the best season of his career at age 33, with a 2.24 goals-against average (GAA), .927 save percentage (SV%), and a fantastic 14.3 GSAx (Goals Saved Above expected, courtesy of Evolving Hockey). Fleury was mediocre at best in the two following seasons but has rebounded beautifully in 2021 with a 1.85 GAA, .932 SV%, and 10.52 GSAx thus far. It is safe to say that without Fleury, Vegas would have struggled far more out of the gate.
So who could serve in the same capacity for the Kraken? Many names come to mind, including Vancouver Canucks netminder Braden Holtby and Dallas Stars 1B option Anton Khudobin, who is coming off an excellent 2020 Playoff run. But I believe Seattle's best option is Montreal Canadiens', Jake Allen.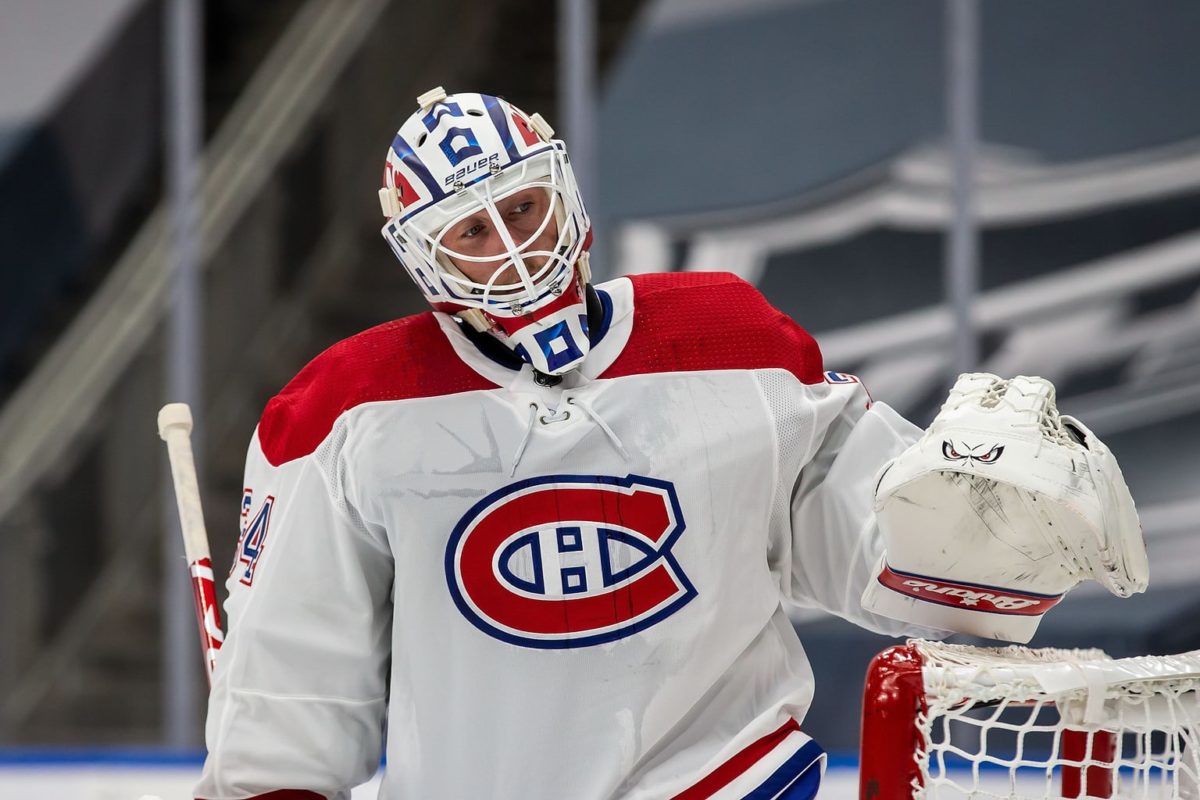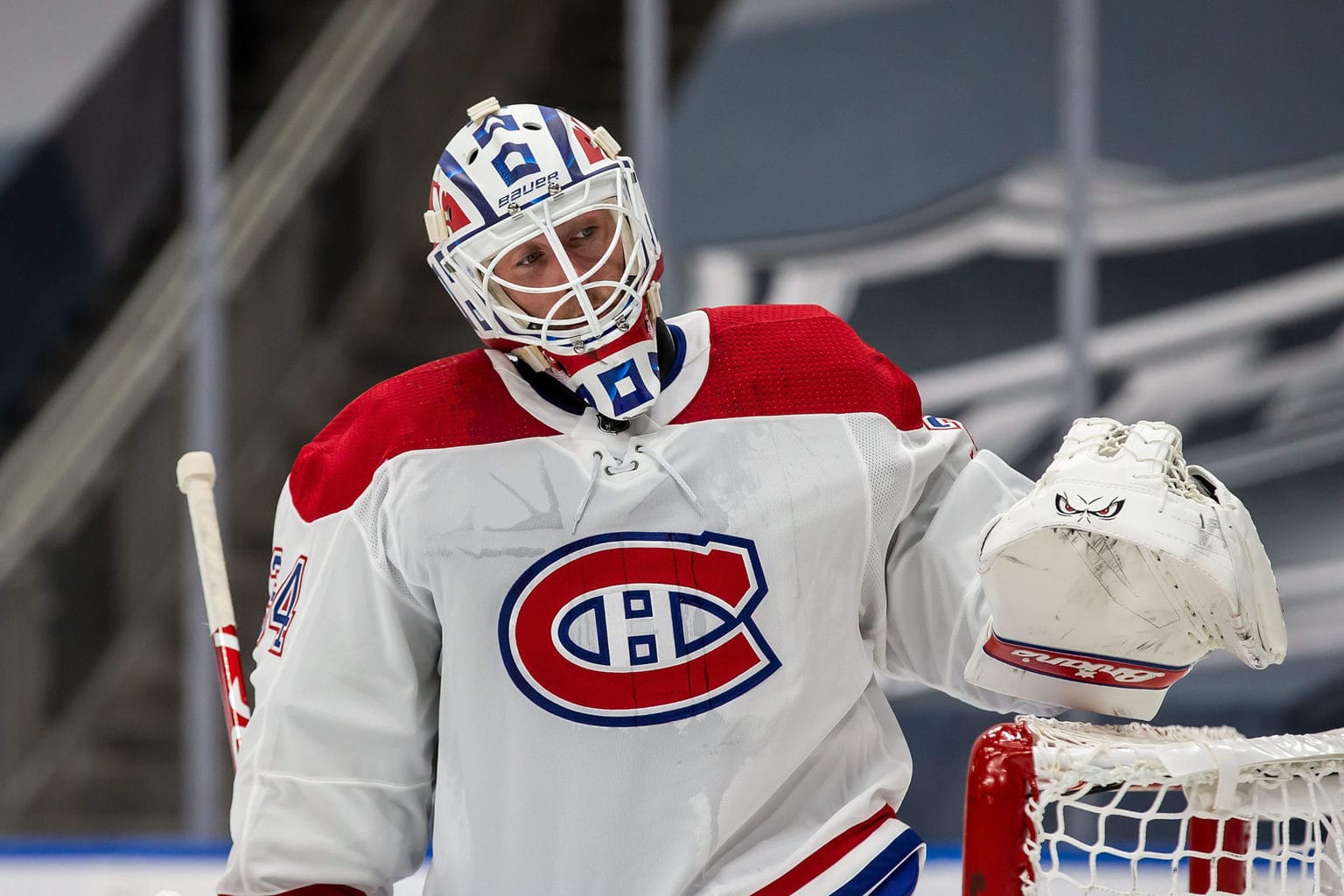 Allen was acquired in the offseason to serve as Carey Price's backup but has outperformed the former MVP with a 2.28 GAA, a .922 SV%, and 4.56 GSAx. Price's no-movement clause leaves Allen vulnerable to the Kraken.
At age 30, Allen is younger than Fleury was at the time of the Vegas expansion draft. He also comes from a similar situation, having been recently displaced as the St. Louis Blues starter by Jordan Binnington. He'll bring a championship pedigree as well as a manageable contract, with an extension kicking in next season for two years at a $2.875 cap hit. If Seattle wants a strong starting goaltender with whom to find success early, Allen is their best bet.
Hometown Leadership Presence
From the Calgary Flames, Vegas selected pending UFA defenseman Deryk Engelland before signing him to a one-year, $1 million pact. Although Engelland was far from a star, he provided an important leadership presence. Having played for the ECHL's Las Vegas Wranglers in 2003-04, Engelland remained an offseason resident of Las Vegas.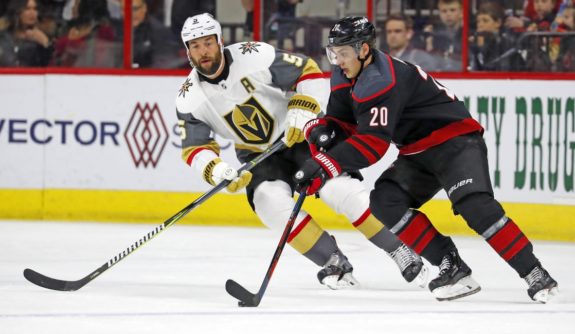 Engelland was not anything special skill-wise in his three seasons with Vegas, offering below replacement-level value over the course of his time with the team. However, his off-ice intangible additions were immeasurable, especially in light of the 2017 Las Vegas Strip shooting. On the Golden Knights' opening night, Engelland made an emotional speech to offer support to first responders and victims of the tragedy.
When beginning an expansion team, very few players on the roster will have played together before, so the importance of a strong leader at the helm cannot be overstated. Engelland's roots in Las Vegas were of great value to the team, and Seattle can find a similar player in that sense in forward T.J. Oshie from the Washington Capitals.
Oshie is a native of Washington, giving him roots close to Seattle. He is also a well-established NHL veteran currently in his thirteenth NHL season and is a former member of Team USA during the 2014 Sochi Olympics. He gained worldwide recognition for his astounding shootout display against Russia in the preliminary round.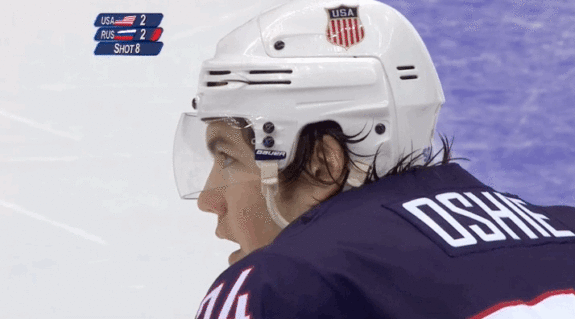 Oshie has tallied six goals and eighteen points, along with 0.7 Wins Above Replacement (WAR, a stat that attempts to quantify how many wins a player adds to his team relative to a replacement-level player, also from Evolving Hockey), through 26 games this season. Although he remains a quality top-six option, I expect Washington to leave him unprotected given his age and contract situation. Oshie is 34 years old and has four years remaining after this one on a contract with a cap hit of $5.75 million. That's a difficult contract for most teams to take on, but an expansion club such as the Kraken could likely handle it.
Oshie can provide the hometown leadership qualities that Engelland did while offering more on-ice value. If available, Oshie should be a no-brainer pick for the Kraken.
Breakout First Liner
In 2017, Vegas selected winger Jonathan Marchessault from the Florida Panthers. Marchessault's availability was surprising given the fact that he had just had the best season of his career, hitting the 30-goal mark for the first time. Even more surprising was how desperate Florida seemed to get rid of him. The Panthers traded Reilly Smith (who would also become a top-six fixture in Vegas) to ensure that Marchessault would be selected.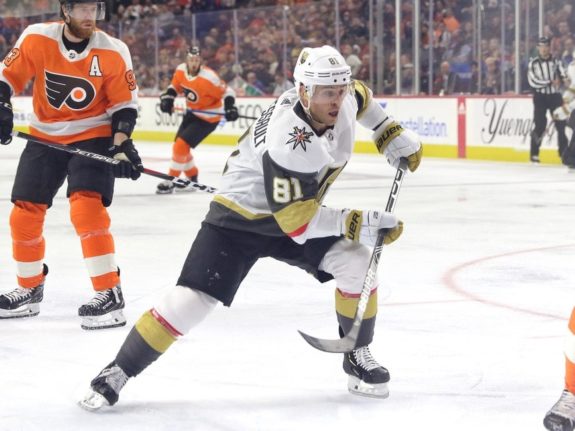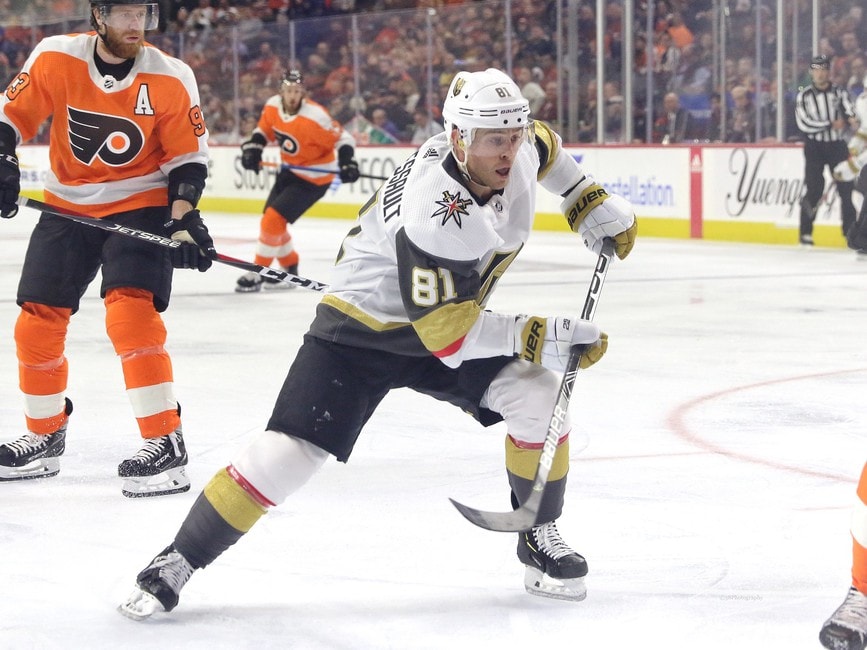 Some would say that Marchessault had already broken out in Florida, but he reached new heights in his first year with the Golden Knights. He played at a near-point-per-game pace with 75 points in 77 games and put up an excellent 3.1 WAR. Both totals were second on the team to center William Karlsson, whom I'll be discussing next. Although Marchessault's totals in all of those statistical categories have decreased in each subsequent season, he has still been a very valuable player. Much of that modest decline can also be attributed to diminished ice time as a result of the additions of well-established stars Mark Stone and Max Pacioretty.
A fairly obvious parallel to draw is to current Panthers forward Carter Verhaeghe. Verhaeghe and Marchessault have had remarkably similar professional paths. Both wingers played for the Syracuse Crunch, Tampa Bay's AHL affiliate, before earning a fairly regular bottom-six role with the Lightning. Both then signed with the Panthers as free agents. On top of that, Verhaeghe is having a similar breakout year to Marchessault with Florida. The parallels are so great that many on Twitter have taken to calling Verhaeghe "Marchessault v2.0".
Verhaeghe has put up ten goals and twenty points in 27 games this season. He's also surpassed his WAR total from last season in 25 fewer games with 0.6 already. If given a first-line role on the Kraken expansion club, Verhaeghe could blossom even further, just as Marchessault did in Vegas.
Unfortunately for Seattle, Verhaeghe's excellent play could warrant a protection slot with the Panthers. However, if he is indeed available, Seattle should not hesitate to scoop him up.
Surprise Star
Perhaps the most shocking development to come out of the 2017 expansion draft was the entirely unpredictable emergence of center Karlsson. Selected from Columbus Bluejackets in exchange for a first-round pick, a second-round pick, and cap dump David Clarkson, Karlsson was a bottom-six afterthought. In his final year in Columbus, Karlsson managed a measly 25 points and 0.7 WAR in 81 games – a serviceable NHLer, but nothing more.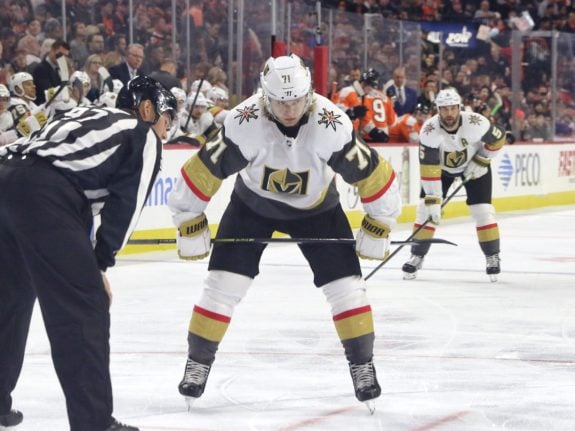 Given a first-line role with quality wingers in Vegas's inaugural season, Karlsson exploded. He finished third in the league with 43 goals and added 35 assists. He also led his team and finished twelfth-overall league-wide in WAR with 3.6. Like Marchessault, Karlsson's totals have deteriorated in every subsequent season, but his impact on the inaugural Golden Knights' team truly cannot be overstated.
The difficulty with finding a comparable for Karlsson in today's NHL is the fact that his breakout in Vegas was so unpredictable. Prior to 2017, nothing suggested that Karlsson was capable of such an incredible season, and he remains a borderline elite center today. Thus, the best one can do in this exercise is simply to guess who could explode out of a previously bottom-of-the-lineup role like Karlsson did. My best guess is Pittsburgh Penguins', Jared McCann.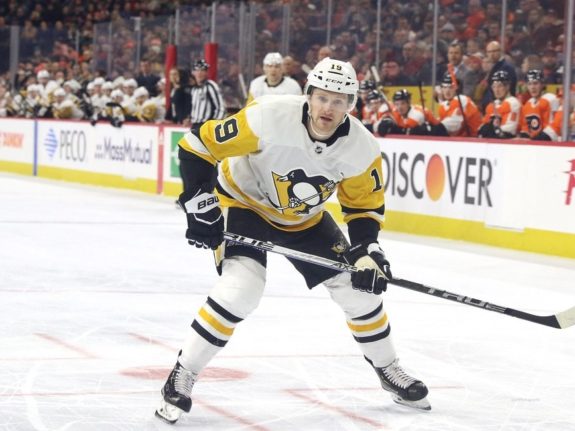 McCann has found slightly more success than Karlsson (pre-Vegas) thus far in his career and is even a former first-round pick of the Canucks. However, much connects McCann and pre-Vegas Karlsson.
Like Karlsson, McCann has put up modest point totals, peaking at 35 points last season, and has played almost entirely in the bottom six throughout his career. He was also traded from the team that drafted him before being given a real chance to prove himself (Karlsson was initially drafted 53rd overall by the Anaheim Ducks).
McCann already has 1.1 WAR and ten points through 17 games this season, although he is currently injured. If McCann were to break out as Karlsson did, it will have been slightly more predictable but shocking nonetheless. Given Pittsburgh's riches at the forward position, there is a very real possibility that McCann gets left unprotected, and he could blossom in a bigger role with the Kraken.
Final Thoughts
There is certainly no one way to build a team, and following a blueprint to the Cup has never been very effective. However, the NHL is a copycat league, and teams will often take a page out of another team's book in order to improve.
By far, the most obvious team for the Kraken to imitate is Vegas, and the upcoming expansion draft offers a key opportunity to do so. By finding similar player archetypes to Vegas, Seattle can accelerate their ascent to the top of the league and, hopefully, become competitive from the very beginning.
---
---
Jake is a reliable source for the Seattle Kraken here at The Hockey Writers. Hailing from New York City, he is an avid fan of all things hockey and is always involved with the sport, whether that means writing, watching, or playing. An enthusiastic advocate for sports analytics, Jake will often weave them into his posts to support his ideas. More of his work can be found on his Substack page, and he is a contributor with @hky_tapetalk on Instagram. For any questions or inquiries, Jake can be contacted on his Twitter, @jakezrihen.