When the Seattle Kraken acquired Oliver Bjorkstrand this offseason, most of the focus was on what he could bring from an offensive perspective. While he has been good offensively this season with 30 points in 57 games, it is his defensive game that has taken center stage. He has taken favourably to Seattle's game plan, which has led the former 2013 third-rounder to what can be argued is his best overall season of his career.
Bjorkstrand's Strong Even-Strength Play
Over his first 57 games of the season, there has been a lot to like about Bjorkstrand's play at even strength. Starting on the offensive side, his 26 points rank fifth on the team, with his 115 shots on goal leading all Kraken players. He has also created the fourth-most individual high-danger chances with 44 and has the highest individual expected goals on the team with 11.68.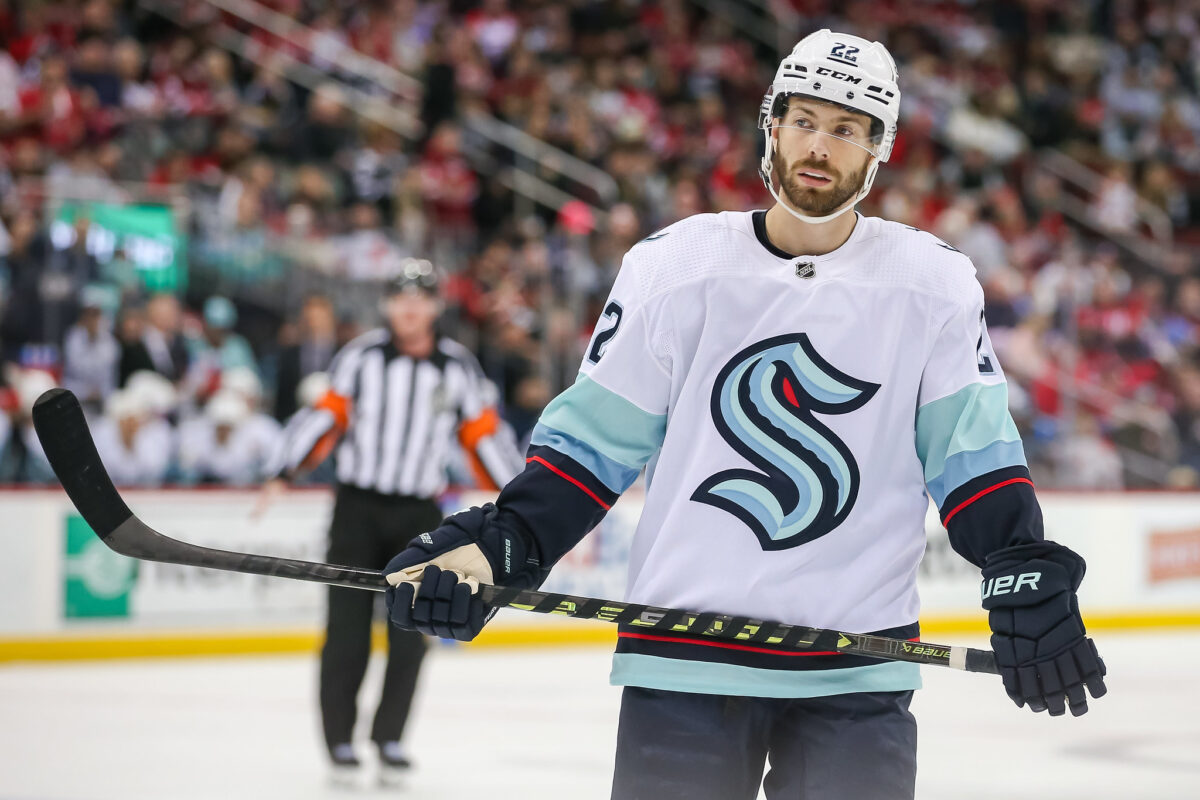 As mentioned, Bjorkstrand's defensive game has been very impressive this season. At even strength, he has created 41 takeaways, tied for 13th across the entire NHL and blocked 30 shots, which is just 12 off his career high. He has also limited the opposition to 28 goals and has a career-high 55.21 Corsi%. While his overall point totals may not be as high as expected, his defensive contributions make up the difference and will be invaluable once the playoffs roll around.
Related: Kraken's Cap Management Led to Solid Move With Bjorkstrand
---
Latest News & Highlights
---
While he has had quite a few different linemates, he has settled in nicely besides Yanni Gourde and Eeli Tolvanen on what could be considered Seattle's third line. Since the trio was put together, they have played one of the best lines in hockey producing 17 goals compared to 11 against in just over 239 minutes. They have the best Corsi% of a line on the Kraken at 57.7 percent, which also ranks 16th across the entire league for trios that have played at least 150 minutes together. The three complement each other very well and have become a major reason for Seattle's 14-7-2 record since the start of 2023.
Bjorkstrand's Special Teams Play
Before diving into his power-play usage, the most surprising part of Bjorksrtand's season is that he hasn't had a chance on the penalty kill. He was never a penalty killer during his career with the Columbus Blue Jackets, but considering Seattle ranks 31st across the league with a 72.5 percent efficiency rating, it seems only logical to try him out and see if he can assist the team. Partnering him up with Gourde, who he has chemistry with, could potentially help the Kraken get out of the penalty-kill basement as the season progresses.
As for the power play, this is the one area that Bjorkstrand needs to improve. So far this season, he has one goal and three assists in over 123 minutes of ice time. Another issue is that all three of those assists have been secondary assists showing that he isn't creating much when given power-play opportunities. He needs to start shooting the puck more regularly as he has one of the most dangerous shots on the team. Special teams will be crucial for the Kraken once the playoffs come around so he needs to start producing with the man advantage otherwise it could mean a quick exit for Seattle.
Bjorkstrand's Having Massive Impact on Seattle
While André Burakovsky may have more points this season, it is hard to argue against Bjorkstrand being the Kraken's best acquisition this offseason. Considering the cost of just a third- and fourth-rounder, it is also in the running for the best trade made by a team in the league since July. He will be a key part of the Kraken's inaugural postseason appearance and can hopefully keep up this strong play over the next few seasons.
---
---