In late January, the Windsor Spitfires hit the road for a tough five-game road trip that included their annual three-game northern swing. Now, after six of their last eight at home, they're back on the road, this time heading east. It's going to be one of the toughest stretches of the season, but there's also plenty of hope.
Coming into the final month of the season, the Spitfires know what's at stake. They're tied with the London Knights for first in the Ontario Hockey League's (OHL) Western Conference and sit just three points back of the Ottawa 67's, who lead the Eastern Conference and the league itself. While going on the road can be a chore, the club has no room to back down. This is where you separate the contenders from the "well, it was a nice run." Here are three keys to finding success on this Eastern swing.
3 Keys to Eastern Swing Success
Schedule:
Thurs., Feb. 23 – at Peterborough Petes
Fri., Feb. 24 – at Ottawa 67's
Sun., Feb. 26 – at Kingston Frontenacs
3. No Trap Games
Last weekend, the Spitfires battled the Mississauga Steelheads on Saturday night at the WFCU Centre in Windsor. While it was an emotional start thanks to a tribute to late captain Mickey Renaud and the club's current billets, the game turned into a bit of a trap. They had just beaten a tough Flint Firebirds' team at home two nights prior and the always-tough London Knights were on tap on Monday night in London. Keeping focus wasn't as easy as they had hoped.
Related: Windsor Spitfires' Weekly: 3 Takes from 2023 Family Day Weekend
---
Latest News & Highlights
---
This weekend, they face three teams that can all do damage. The Petes are battling the Steelheads for the fourth seed in the East and home ice in the first round, the 67's are the top team in the league (ranked eighth in Canada, just two spots ahead of the Spitfires), and former Spitfire Ethan Miedema and the Frontenacs are fending off the Sudbury Wolves for the final playoff spot in the East.
Head coach Marc Savard has repeatedly said that every team in this league is good and, especially now, there are no easy nights. That's certainly the case this weekend as the three teams combine for a 49-27-0-5 record at home. The Spitfires are going to have to shake off the bus legs before they even get into the Peterborough Memorial Center on Thursday night as there's no time for adjustment. After coming away with just two points on their three-game Northern swing last month, they can't afford another slip-up. The Knights are right on their tail and getting passed creates more issues.
The solution? Treat each game like it's Game 7. Everything is on the line and a loss is big. If you play desperate hockey, the results will find you.
2. Finding a Way Offensively
With February winding down, one thing is clear: while the Spitfires lead the OHL in offence (262 in 54 games, 29 more than the Firebirds), they're not going to score five or six goals every game. Teams are going to bring their best effort and play defensive styles. We saw that with the Steelheads and the Knights this past weekend. This is why Savard's club has to find a way.
In their last 10 games, they've been held to three-or-fewer goals just twice (Steelheads and Knights). Prior to that, they had a streak of eight straight where they scored five or more goals. This offence can score, sometimes even at will. With captain Matthew Maggio leading the league in scoring, plus forwards Brett Harrison (Boston Bruins) and four others on pace for at least 60 points, any line can beat you on any night. However, that doesn't mean it's a cakewalk.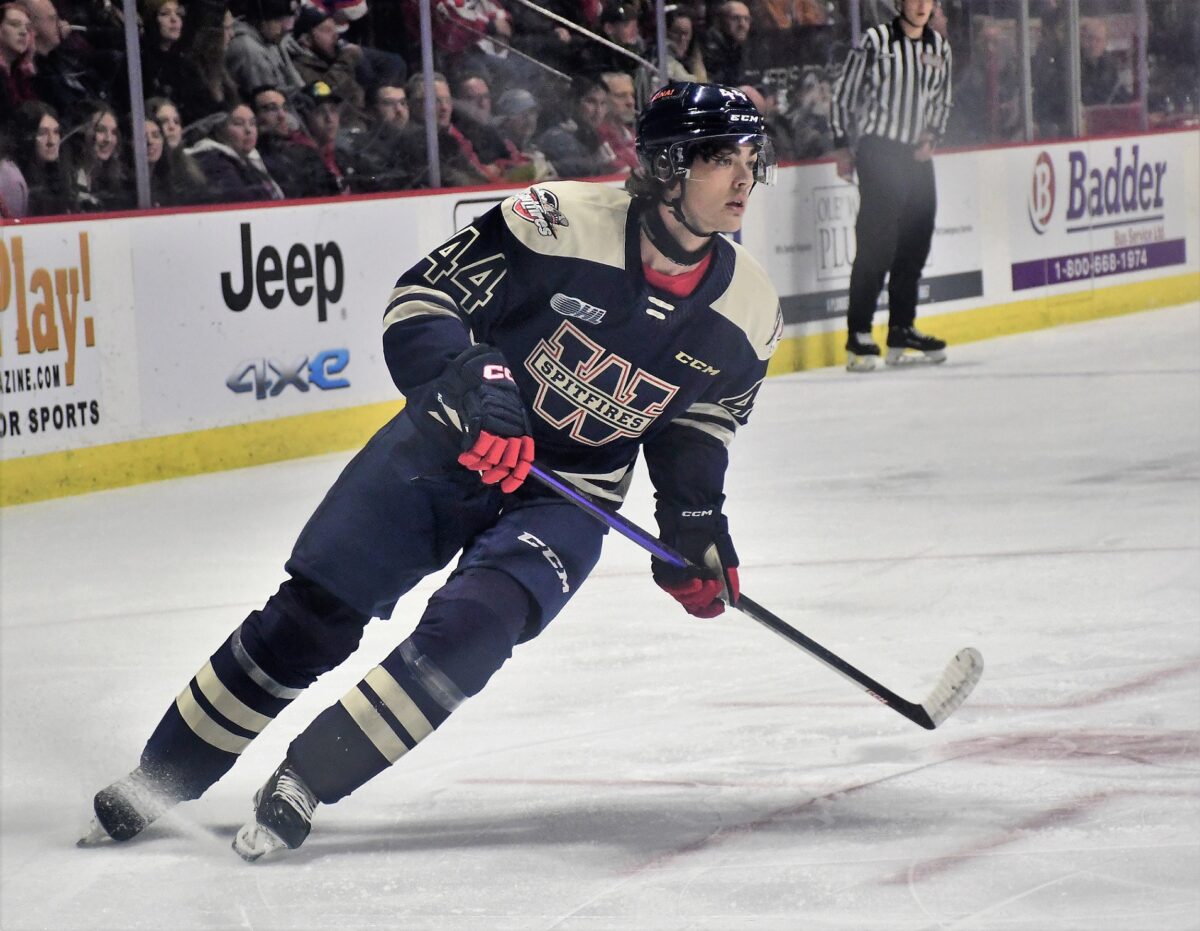 This weekend, if they want six points, they're going to have to find a way to dig in the trenches, win the 1-on-1 battles, and spread out the offence. They've prided themselves on being able to have all three (or four) lines contributing, plus significant contributions from their defence. If they don't have everyone on board, doing their job, finding ways to build up the offence, it's going to be a long bus ride.
1. Goaltending, Goaltending, Goaltending
It's been the season-long story that could be finally solved this weekend, the Spitfires' goaltending. Veteran goaltender Mathias Onuska returned on Feb. 9 against the Soo Greyhounds after missing over a month with an injury. He's battled inconsistency and injuries all season, which has prevented him from regaining his 2021-22 form where he led the club to the OHL Championship series. However, after the Greyhounds' game, he said he's feeling back to his normal self again and is ready to go.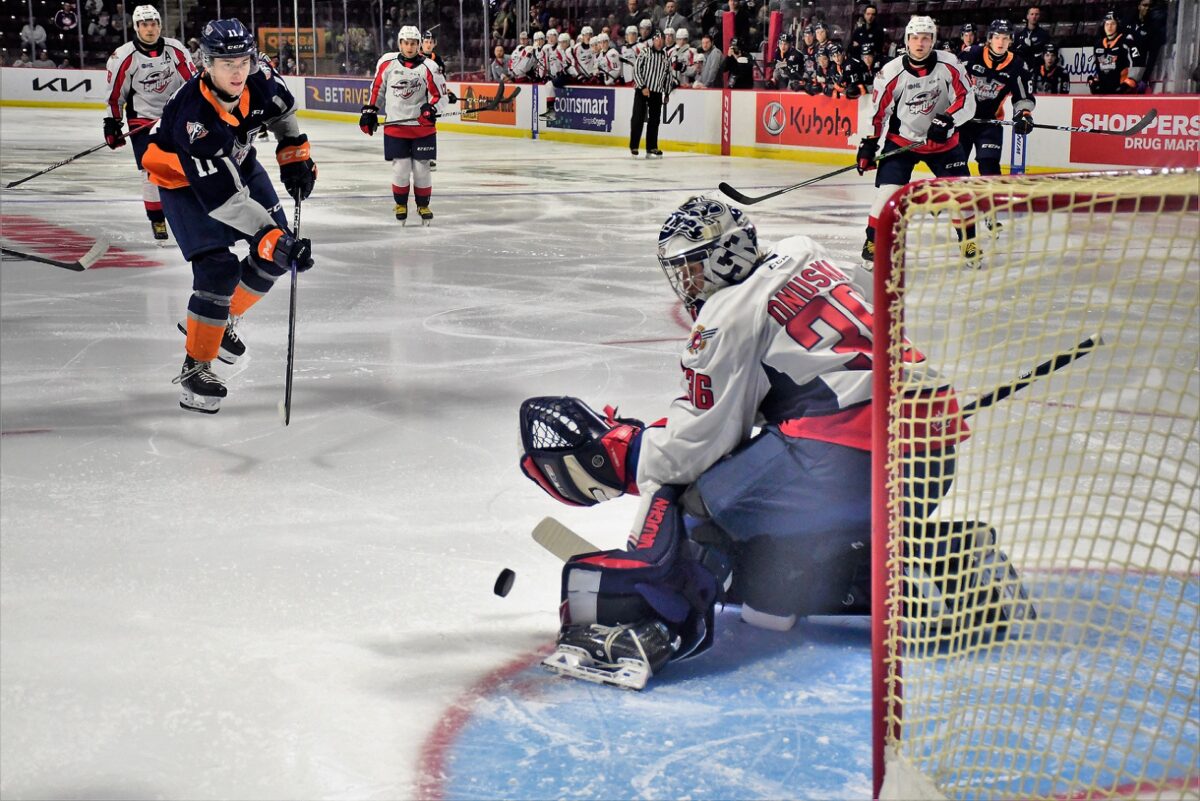 This leaves us with 17-year-old Joey Costanzo, who has been a surprising rock for the Spitfires since they acquired him from the Niagara IceDogs just before the season. Not only has he performed well, but he forced Savard to turn a typical rookie/veteran situation into a 1A/1B tandem. He had a bit of a hiccup with his stats last month (allowing 15 goals in just under 160 minutes), but he's recovered nicely with eight goals in his last 180 minutes (and change).
While the Spitfires lead the OHL in goals, they still have to stop them. They're going to face two teams who are loaded with firepower (Petes and 67's), and a young team that's hungry to make a name for themselves (Frontenacs). The team can have all the scoring they want but goaltending could be a huge key to getting six points this weekend.
The Spitfires have a big chance to not only build road momentum, but to gain the top spot in the OHL. It's not going to be easy, nor should it be, but this trip could be the weekend that fans look back on once the playoffs start.
---
---