By Mike Colligan
A look into the recent history of the Pittsburgh Penguins franchise reveals no shortage of legendary offensive players.  Mario Lemieux, Jaromir Jagr, Sidney Crosby, Evgeni Malkin – 13 of the last 22 Art Ross Trophy winners as regular season leading scorer have worn the black and gold (and blue).
When it comes to defense, it's probably better to check a list of Pittsburgh Steelers alums if you're looking for legends.  It's been 30 years since Randy Carlyle, current coach of the Anaheim Ducks, won the Penguins' only Norris Trophy as the "defensive player who demonstrates throughout the season the greatest all-round ability in the position."
For the past decade, the Norris Trophy could have easily been renamed the Lidstrom Trophy.  Nicklas Lidstrom has year-in and year-out served as the NHL's prototypical all-around defenseman and at the ripe old age of 40 he's back on top as Adam Kimelman's early Norris favorite.  From NHL.com two weeks ago:
Logic dictates players don't get better at age 40, but that's just what Lidstrom seems to be doing. His 20 points are tied for first among NHL defensemen and his 17 assists are also tied for first.
As runners-up, Kimelman chose Colorado's John-Michael Liles and Boston's Zdeno Chara, but the time has come to add another name to the Norris conversation: Kris Letang.
Under the Radar
Kimelman's oversight is understandable.  The last time Kris Letang performed on a national stage he was leading the Penguins in a category that doesn't exactly scream 'all-around ability at the defensive position'.  His 12 giveaways in a seven-game series loss to Montreal in last year's playoffs left fans wondering if the four-year, $14m extension he received in April was a mistake.
When Sergei Gonchar's offseason departure was quickly followed by GM Ray Shero throwing $45m at free-agent studs Paul Martin and Zbynek Michalek, it's safe to assume even the Penguins weren't convinced Letang was ready to assume a role as a top defenseman.
In fact, even though Letang has piled up 26 points in 31 games to start the season, that wasn't enough to get him a spot on the NHL All-Star Game ballot.  The Penguins faithful feel so strongly about the snub that they've embarked on an impressive write-in campaign that has Letang sitting first among defensemen with 293,584 votes (almost 60,000 votes ahead of Norris winners Chris Pronger, Lidstrom, and Duncan Keith).
What Makes Kris Letang a Norris Trophy Defenseman?
Trying to define 'greatest all-around ability at the defensive position' can feel like an impossible task.  For offensive and goaltending awards, pure statistics are typically the start and end of most arguments over deserving candidates.
When it comes to the Norris Trophy, Letang's pace through 31 games slides right in line with winners from the past decade: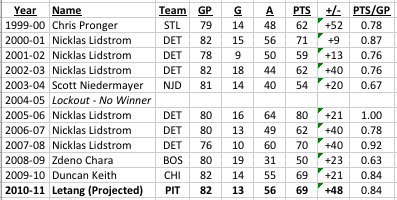 Most players portray the team-first attitude when asked about scoring statistics and awards, but it's hard not to believe Kris Letang when it comes to talking about point totals.
"Not at all," Letang said forcefully when asked if statistics were in the back of his mind heading into this season. "No, I just want to play my game and improve defensively and offensively. If you look at it, the points are not back-door plays or anything like that. It's just good [defensive]-zone play and it ends up in the other net because we play the right way in our zone."

Heading into Tuesday's action, Letang hasn't scored a point in three consecutive games for the first time all season but he's still registered a plus-4 rating during the 'slump' and continues to have a noticeable impact on the game.
Letang said "[being] more active" is the biggest reason for his success this year.  "Everywhere on the ice. When I'm out there I can almost play as a forward. I'm always joining the rush."
Skating abilities reminiscent of the retired Scott Niedermayer are what allow him to confidently jump into the offense knowing full well he is capable of recovering if the play goes the other way.
A perfect example is a shift from this game two weeks ago where Letang moves from the goal-line in the offensive zone and back to his own blueline to regroup before eventually burying the game-winning goal on a feed from Sidney Crosby:
Dan Boyle of San Jose is another defenseman capable of covering the kind of ground Letang did in that highlight, but Sharks GM Doug Wilson recently said that Boyle's style of play can sometimes hurt the team more than it helps.  What makes Letang so effective?
"Brooks Orpik helps a lot," Letang said of his defensive partner.  "Obviously he's always looking for me.  Every time I take a chance, he's always back there to back me up so I think just having him in the back of my mind is very helpful."
With Letang's 2010-11 season off to such a hot start, statisticians would be tempted to term this season an outlier.  Timo Seppa, managing editor of statistical analysis site Hockey Prospectus, told me the 31-game start is impressive, but he wants to see him maintain this level of play a little longer before officially crowning him a Norris candidate:
A "minus player" for his career through last season, Letang leads Pittsburgh with a +18 rating in addition to trailing only Crosby in points. The 23-year-old blueliner is mostly doing it on the offensive end. Letang's effect on opposition scoring has been neutral compared to other Pens, but thus far Pittsburgh's scoring has jumped by 2 goals per 60 minutes of even strength ice time when Letang has been on the ice — a big, big number. But two months of the season is still a little too early for serious Norris Trophy talk. Just ask Matt Carle and Michael Del Zotto about that.
Where Carle effectively leeched off Pronger during his hot start last season in Philadelphia, Letang dictates the play with the confidence of a field general when he's on the ice. Where Del Zotto was a 19 year-old rookie with a fragile psyche last year in New York, Letang finds himself in the midst of his fourth full season at the NHL level and is primed to take the next step.
Letang has made the mistakes.  He's given the puck away for game-winning goals in playoff games.  He's also committed entire offseasons to fixing his weaknesses and ensuring that Coach Dan Bylsma can rely on him not just to score a winning goal, but not allow one either. Letang is averaging just 0.45 giveaways per game, down from 0.66 last season and 0.73 in 2008-09 and his teammates are noticing.
"He's been a lot more consistent this year," Orpik said.  "I think that's the biggest thing for him."  Consistently playing the right way in the defensive zone even breeds confidence on offense.   Last week against New Jersey Letang attempted an absurd 13 shots.  He's never been one to be afraid to unleash his dangerous shot when he gets the opportunity, but in previous seasons he's made a habit of firing the puck recklessly off the glass instead of taking his time.
According to advanced statistics from behindthenet.ca, Letang missed the net on a career-high 37% of his shots at even strength last season.  After a summer of hard work, he's been shooting the puck an average of 5 feet closer to the net and he's only missed the cage 28% this year.
Kris Letang is at his best when he's firing the puck on net with regularity.  Jesse Marshall at Faceoff Factor recently took an interesting look back at a phase in Letang's career when he became a dominant force with Val d'Or of the QMJHL:
The start of the 2006/07 campaign was ushered in with Letang earning a 7 game tryout at the NHL level. He netted two goals in that brief debut before being re-assigned to the QMJHL, a move that impacted the youngster in a major way.  Letang took that demotion as motivation en route to 52 points (14+38) in 40 games that season….

Anyone who saw Letang dominate during that time shouldn't be surprised at what he's doing today. Here are some stats that should paint that picture for you: Letang averaged nearly 12 shots on goal per game during that run; he registered 31 points (12+19) in 19 games, and played nearly every second of special teams play through that playoff year.

Within this scope of Letang's development, we learn a lot about the growth of a young defensemen. Not every player that steps on the ice at the onset of their career is as competent and dominant as a Crosby or Malkin. Patience is often a requirement with the development of young players.

It certainly seems as if Letang is returning to the form he exhibited during that time in Quebec. And that forecasts nothing but good news for the Pittsburgh Penguins.
For the same reason an impressive season from Ryan Kesler wasn't enough to overcome Pavel Datsyuk for the Selke Award last season, Letang faces a battle of reputation for the Norris with the likes of Pronger and Lidstrom.  But as Marshall said, the forecast looks bright for Letang, and he's earned a right to be a part of that conversation.
*To write-in Kris Letang for the All-Star Game, visit vote.nhl.com or text 'Letang' to 81812 (message and data rates apply)