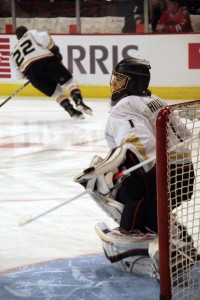 The Anaheim Ducks continue their battle to find ways to come out on top of their games and get a winning streak going. The past few games have found the Ducks going hard all the way to a shootout to determine the game.
The Edmonton Oilers came back from a two-goal deficit to push the game into overtime and then to a shootout. This was a hard-fought win for Anaheim. Saku Koivu scored on an assist from Teemu Selanne in the second period, and in the third, the two reversed roles, and (with a little help from Andy Sutton) the Ducks went up 2-0 on the Oilers.
The Ducks pulled out a win against the Oilers on Dec. 7 after going into a 10th round of the shootout. The rookie Cam Fowler came up huge, scoring against Khabibulin to win it for Anaheim.
Lately, Anaheim has been struggling in the third period of their games. They've been unable to keep step with their opponents and are allowing more shots on goal in the third than in the previous two periods. The boys will need to find more consistency with their blue line.
The next game on Dec. 8, the Ducks faced off against the Vancouver Canucks where they pulled ahead to a 4-2 lead. They fought through 60 minutes and overtime to again go to a shootout. This time they came up short.
Anaheim was out-shot 15 to two in the third period. This team needs to start throwing pucks at the net and get away from feeling comfortable when having a lead. There needs to be constant pressure on the opposition in the final period of regulation if they hope to gain two points without giving any away. After nine penalties during regulation and one in OT, the Ducks lost to the Canucks in just three rounds of the shootout.
Lastly, they faced the Calgary Flames on Dec. 10. For the third-straight game, Anaheim gave up a two-goal lead to go OT and yet another shootout. The Ducks were out-shot by the Flames in every period making the final tally 25-39.
The Ducks need to spend more time in the offensive zone and take more risks to get shots on goal. If they can be more aggressive in the neutral zone, the Ducks can gain possession and create more scoring chances.
It's not unusual for this Anaheim team to battle 60-plus minutes in a game, and they're ready to push till the end. If the Ducks can produce more offense and hold strong on defense, they will continue to find success.