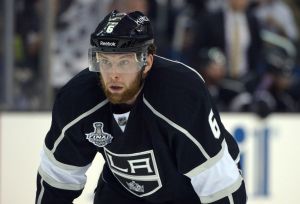 Bravery is a rampart of defense
— Sallust
This past week, I posted part one and part two of a four-part series analyzing the performance of the Kings' players this past season. In this third installment, I'll break down the performances of the defensemen.
A recap of the forwards
Everyone knows the Kings were up and down offensively this season. Were the centers and forwards equally responsible?
Although there were uneven performances in both the center and winger groups, the centers were generally more disappointing. Yes, Jeff Carter and Trevor Lewis performed at or above expectations, but Anze Kopitar, Jarret Stoll and Mike Richards fell short (in the latter two cases, way short). Nick Shore showed some potential in limited duty.
With respect to the wingers, only Dustin Brown deserved a low grade (an arguably generous "D") in 2014-15. His offensive slump has been ongoing for two full seasons and worst of all, his $5.875 million cap hit has another seven years left to run.
The defense
Kings fans embrace the fact that defense and goaltending are the hallmarks of the franchise. The defensive culture became firmly entrenched under the watchful eye of Darryl Sutter.
#LAKings @LAKings regroup/score/repeat … apply as many times as needed … #BELIEVE #GKG #DEFENSE pic.twitter.com/mS6Y0HPny7

— #PHSalt (@PHSalt) April 10, 2015
Although the team failed to make the playoffs this past season, most of the performances on that side of the ice were solid. The defense may not have been quite up to the high standards it set during the championship years, but all things considered, it performed well.
Ten defensemen donned the silver, black and white this season: Drew Doughty, Jake Muzzin, Slava Voynov, Brayden McNabb, Alec Martinez, Robyn Regehr, Matt Greene, Jamie McBain, Andrej Sekera and Jeff Schultz.
How did the defense fare? Read on.
Drew Doughty
Drew Doughty is a stud.
He's one of the most complete defensemen in the NHL, as evidenced by being a finalist for the Norris Trophy this year, the second time he's been so honored in his seven-year career. He may not light the lamp like Erik Karlsson, but Doughty finished 14th amongst defensemen in points, second in minutes and in the mix in numerous other categories, including blocked shots and hits.
Here's a good video of Doughty in action. The man can play defense. Just make sure you turn your volume down first:
From an advanced stats perspective, Doughty finished with an iCorsi of 329, tops on his team and 14th in the NHL. If there's a bigger $7 million bargain (with four more years left to go) salary out there, let me know.
Grade: A+
Jake Muzzin
Muzzin is the Tyler Toffoli of the defense. After a solid 2013-14 season, he went nuts last year, scoring 10 goals and 41 points in 22:42 of ice time per game. He also threw 186 hits (17th amongst defensemen), blocked 108 shots and had an iCorsi of 270.
Kyle Clifford may have tipped it in, but Muzzin made the play in this clip:
He's a star in the making, and with a five-year contract extension for $20 million, the blue line promises to be in good hands for the remainder of the decade.
Grade: A
Slava Voynov
The Slava Voynov situation probably cost the Kings the playoffs.
First of all, Voynov is a talented player, a second-pairing defenseman on a good team. Secondly, his alleged domestic assault caused the league to suspend him indefinitely, which really put the team in a bind.
How so? The Kings had to count his salary against the cap for well over a month, which caused them to be $160 short of having sufficient cap space to call up someone to replace the injured Robyn Regehr.
He's quick, has good hands and knows how to score, as can be seen in this game-winner against the Blues during the playoffs a couple of years ago:
Alas, he's also in limbo.
Grade: Incomplete
Brayden McNabb
Acquired from the Buffalo Sabres at the 2014 trade deadline, McNabb is a physical player that knows his role and was the kind of low-cost alternative (now an RFA) the team needed after Voynov was suspended. Although not gifted offensively, McNabb set career highs in games (71), points (22), +/- (+11) and iCorsi (166).
A good interview with him can be seen here:
McNabb won't ever win the Norris, but he's was an exceptional value last year and came on strong (particularly his defense) in the last three months of the season.
Grade: B
Alec Martinez
Selected 95th overall in the 2007 draft, Martinez isn't quite the bargain that Muzzin is, but he's still a valuable contributor that can find the net, throw the body and block shots. No matter how the rest of his career goes, Martinez will forever be known for his Cup-winning overtime goal against the Rangers in 2014:
He put up a decent 167 iCorsi in 56 games and at age 27 is still in his prime. If he could only manage to stay healthy.
Grade: B
Robyn Regehr
Regehr was the grizzled, seasoned veteran of the Kings' defense last year. He, too, saw his minutes elevated due to the loss of Voynov. Unlike the other defensemen, however, he added little to the equation, as his tank appeared to be on empty. Fittingly, he retired at the end of the season.
He could still throw the body around, as seen here:
But that's about it. He didn't have good traditional (3 goals, 10 assists) or advanced stats (iCorsi of 125) and although he displayed veteran guile at times, the Kings needed more skill and less fumes.
Grade: D+
Matt Greene
Matt Greene was a rich man's Regehr last year. He stayed healthy (playing in all 82 games), and not only threw more hits (209) but blocked 46 more shots and had a superior iCorsi (172) — all in over four minutes less ice time per game. He doesn't contribute offensively, but the Kings don't expect him to.
You can see the "A" plastered (metaphorically) all over his demeanor this stretch run interview:
Greene is signed for three more seasons at a cap hit of just $2.5 million.
Grade: B
Jamie McBain
McBain! Mostly a placeholder, McBain actually put up halfway decent numbers in limited action (9 points, +4 in 26 games). His sample size was just too small to take his 16.7% shooting percentage seriously, and as a UFA, it's doubtful he'll return next season.
He's an articulate guy, and in this clip he discusses his prospects for signing with Los Angeles last November:
Grade: C+
Andrej Sekera
Having watched him play sixteen games in Los Angeles, it's little wonder Dean Lombardi is reportedly working furiously to get him under contract. Let's face it: the guy is the perfect replacement for Slava Voynov if he ends up off the team (one way or the other), and if by some chance he doesn't, he's still a damned good addition.
It's a bit long, but the highlights of the Kings 4-1 drubbing of the Rangers late in the season show just how good Sekera is:
For the full season (Carolina and Los Angeles), Sekera had three goals, 20 assists and a +/- of -3, although he was a +4 in L.A. His iCorsi was 201, topped only by Doughty and Muzzin with respect to the defense.
Cap-strapped or otherwise, the Kings need to get him signed.
Grade: A
Jeff Schultz
What do you say about a guy who played in just nine games for the Kings last season? He had one assist that even his mother wouldn't remember. That being said, he's had a decent career and is an unrestricted free agent as of July 1.
Here's Schultz in a post-practice interview after he first signed with the Kings:
Grade: Incomplete
Do you agree or disagree with anything you've read? Leave your thoughts below, or send a message to @McLaughlinWalt.
Walter McLaughlin is a Los Angeles Kings correspondent for The Hockey Writers. He is an avid sports fan, having followed the Kings since living in L.A. in the mid-1970's, as well as suffering through Seattle sports teams' general futility. He has a Bachelor's degree in Finance and has worked in community banking for over 25 years, specializing in SBA loans. He is married and has two daughters.