It's no secret that this lineup of Los Angeles Kings' had huge expectations coming into the 2011-12 campaign.  However the 27th ranked offense has come under scrutiny from various circles.  Most notably under recent fire was forward Anze Kopitar.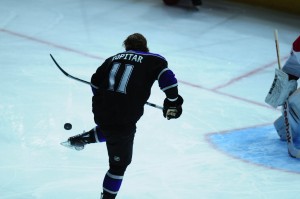 Earlier this month, the most prominent of those voices, Marcel Dionne, called Kopitar onto the carpet.  For you Los Angelinos out there, it wasn't the red one.
Dionne, a holder of 731 career goals, stated that Kopitar needed a, "wake-up call."  In essence Dionne questioned Kopitar's "aggressiveness" and whether or not he wants to be "the guy" in Los Angeles.
Apparently Kopitar has taken those words to heart of late.  Already pacing the Kings in goals (23) assists (39) and points (62), Kopitar has taken off and the Kings are reaping the benefits.
Since March 3rd, Kopitar has five markers and three helpers, for eight points in eight games.  Included in that, Kopitar has a goal in each of the last three Kings contests.  Additionally, during that stretch the Kings have posted a record of 6-2, winning their last four in the process.
As a result, Los Angeles now has a plus nine goal differential and sits just a point away from jumping up to as high as third place in the Western Conference standings.