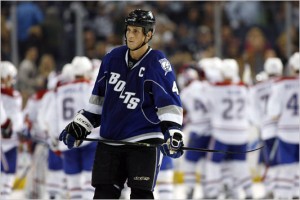 Though the players and coaches won't say it in public, the chances of the Tampa Bay Lightning making the playoffs this season are nigh-impossible. With 11 games remaining on their schedule they sit 7 points out of the final playoff spot and have won only one game during their season-defining 7 game home stand.
So if the playoffs are out of reach, what should the fans look forward two over the next 20 days?  Other than the annual "Cut for the Cure" head shaving on March 30th, they can look for the organization to accomplish three things:  development of youngsters, dashing of other teams' hopes and individual accolades.
Develop Young Players
This is a bit of an odd one for the Lightning.  A team in their position would normally call some of their AHL prospects up to give them a bit of NHL seasoning at the end of the year.  Unfortunately for Tampa Bay their AHL squad is in the midst of a historic run having been victorious in their last 18 games.
Part of the reason that Caron was signed was so that the Bolts could return Dustin Tokarski (and his Roberto Luongo pads) back to Norfolk to aid them on their quest for glory.  For the organization it is more important for their top prospects like Tokarski, Cory Conacher, Tyler Johnson and Mark Barberio to stay together and win the Calder Cup then it is for them to get called up and play out the season in Tampa.
Winning breeds winning no matter what level it happens at.  If these young players learn to succeed together at the lower levels they will bring it with them when they do make it to the big club. The streak that the Admirals are on is quite amazing especially when one considers how many key members of the club have been called up over the past three or four weeks (for example, even though Tokarski is heading back, Pierre-Cedric Labrie and Trevor Smith were called up to fill in for Ryan Shannon and Nate Thompson).
Players that the Lightning will be able to evaluate are Brett Connolly, Keith Aulie, and Brian Lee.  While all three players are under contract for next year (Lee and Aulie would be Restricted Free Agents) how they play might affect the way General Manager Steve Yzerman approaches free agency.  If he thinks Lee and Aulie are ready to contribute major minutes then along with Eric Brewer, Brendan Mikkelson and Victor Hedman he has at least five-sevenths of his defensive core settled for next season and only has to shop for one or two veterans to fill out the roster.
If they struggle and seem destined for the minors next season then he has to add another spot on his free agent wish list, a spot that could come with a $2-$3 million salary cap hit – money that could be better spent elsewhere.
This would also be a good time to figure out if any of his young blue-liners can handle playing the point on the power play.  In their game against St. Louis Brett Clark led the defense with 3:24 of time with the man advantage.  There is an excellent chance that Clark will not return next season (of course, if he's wiling to come back for what he's being paid now, $1 million, Mr. Yzerman may entertain re-signing him) and even with a healthy Marc-Andre Bergeron next season the team needs another point man who can handle the puck.
The leading two contenders would probably be Victor Hedman and Brendan Mikkelson.  While Hedman has the lone power play point between them they both can move the puck up the ice and pass the puck competently.  Their ability to skate the puck through the neutral area will leave the forwards free to get into position for a structured entry into the offensive zone, something that they've struggled with all season.
Playoff Spoiler
Four of the eleven games remaining on the Lightning's schedule directly affect teams that are scrambling for the eighth and final playoff position.  After Monday's game against Buffalo (currently in the 10th spot 2 points adrift of the last spot) they have two games against Winnipeg (one spot ahead of Buffalo) and one against Washington (clinging to the last slot with their fingernails).  If Tampa Bay can't enjoy the post season at least they can at least take joy in making it harder for another team to stay off the golf course in April.
One benefit of the "Bettman Point" is that there is some drama at the end of the season because the teams are bunched together in the standings. Last season the Lightning kept the Carolina Hurricanes out of the playoffs by beating them on the last day of the season. Of course, with the Lightning already penciled into the playoffs that elimination was just a bonus for the team. This season it could happen again, well the keeping a team out of the playoffs part, as Tampa Bay hosts Winnipeg on the final day of the season.
Chase some milestones
While the players won't talk of individual accomplishments when the team as a whole is struggling, there are a couple of milestones to keep an eye out for.
Steven Stamkos – He needs three goals to eclipse Vincent Lecavalier's team record of 52.  With a nine-goal lead over Evgeni Malkin he is virtually assured of his second Rocket Richard trophy and some mild buzz regarding the MVP race.
Dwayne Roloson – Even with the signing of Sebastien Caron, Roloson should appear in at least three more games this season which would give him 600 career appearances.  Currently he is 7th among active goalies (and 41st all-time) in games played which is a pretty good accomplishment for a goaltender who was never drafted.
Teddy Purcell – Purcell has clicked offensively since moving to the Stamkos and now stands on the verge of a couple of minor accomplishments. With 2 more goals he will have 50 for his career and with 7 more assists he'll have 100 of those in his career.
Vincent Lecavalier – Depending on his health there is a chance that Lecavalier will hit the 1000 games played mark this season.  He needs 8 more to hit that major milestone. With rumors swirling around that his return could happen as soon as this week, he still has a shot to make it.