The Los Angeles Kings recently enjoyed a well deserved four days of rest after Saturday's disappointing loss to the Chicago Blackhawks. During this sabbatical, LA relinquished their hold of the second wild-card spot in the Western Conference to the upstart Colorado Avalanche.
On Thursday, they faced a stiff challenge trying to start a winning streak against Eastern Conference power, the Washington Capitals. Fortunately, the game marked the return of a veteran that has proven his worth time after time: Trevor Lewis.
Timely Trevor at It Again
Lewis had been sidelined with an upper-body injury for the team's last 12 games and made his triumphant return on Thursday night. Predominantly on a line with youngsters Mike Amadio and Adrian Kempe, Lewis logged 12:18 of ice time and was a major factor in the outcome.
The 31-year-old winger helped neutralize the high-powered Capitals offense to a single goal in a 2-1 Kings victory. Head coach John Stevens decided to mix up the lines throughout the evening which resulted in Lewis playing alongside star Jeff Carter. Lewis capitalized on the opportunity mid-way through the second period by potting the game-winner. He put his hand-eye coordination on display in what the Kings' social team dubbed "the triple shot":
Trevor Lewis's Triple Shot > Charlie Conway's Triple Deke pic.twitter.com/Z9Mw4mTj10

— LA Kings (@LAKings) March 9, 2018
"I think the coaches gave me a good opportunity, and obviously playing with good players. I'm just happy to chip in." Lewis told the LA Times following Thursday's victory. "It was a great play by Carts (Jeff Carter) to get it up to me and I just shot it, saw the rebound, went to the net and got another whack at it. It was fortunate it went in."
Consistent King
Despite being on the mend for 12 games, Lewis has already enjoyed the best statistical season of his 9-year NHL career. Through 55 games, the winger has scored a career-high 14 goals as well as added 11 assists. Should he not score a single point through the remainder of the season, he will still have amassed a career-high of 25 points.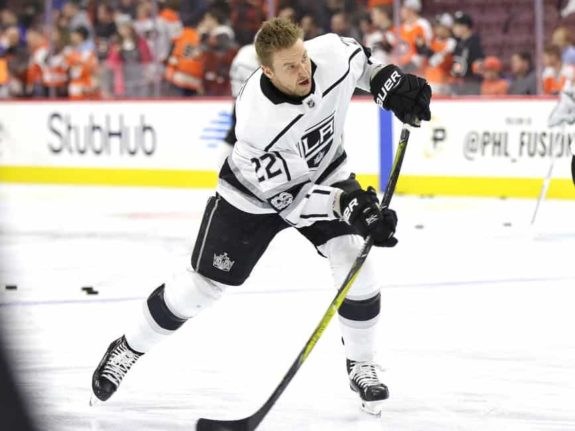 Lewis has never been viewed as an offensive juggernaut since being selected with the 17th pick in the first round of the 2006 draft. The Hockey News had the following scouting report on Lewis prior to joining the Kings:
Assets:

Has good speed and two-way instincts. Can line up on either wing or at center in the big league. Is capable of producing good point totals at lower levels. Works very hard. Provides energy, kills penalties and blocks shots.

Flaws:

Lacks confidence in his offensive ability at the highest level, so he must continuously find different ways to remain useful in the NHL in order to stick around for many more seasons. Is not a natural talent with the puck.

Career Potential:

Versatile veteran forward.
Less than 12 years later, I would say the scouting report was pretty bang on. He has been a consistent penalty killer who leaves it all out on the ice. Despite his unspectacular goal total of 61 in 561 career games, Lewis has held down a regular spot on a very successful Kings team over the past decade due to his consistency and hockey IQ.
Is Lewis the Beehive State's Best?
Lewis is one of only four players from the state of Utah to have played in the NHL. He is joined by Vancouver Canucks/Utica Comets netminder, Richard Bachman, ex-Florida Panther defenseman, Dylan Olsen, and ex-Washington Capitals/Colorado Avalanche forward, Steve Konowalchuk, the latter of which had a respectable 14-year career.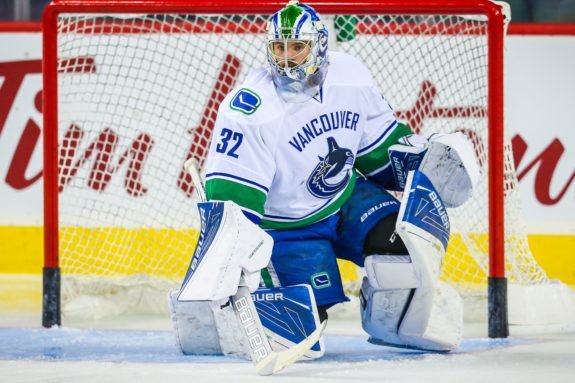 At his current pace, Lewis will likely play into his mid-30s and come close to surpassing Konawalchuk's game total of 790. Given that Lewis has been instrumental in the Kings hoisting two Stanley Cups in the past decade, you could argue that he is already the best player to ever come out of the Beehive State.
Immediate Road Ahead for the Kings
Lewis and the Kings have a favorable schedule ahead with four straight games against non-playoff teams. First up are the St. Louis Blues on Saturday afternoon. Here's hoping that the Kings go on a run and Lewis continues to prove his worth.