There's a reason Washington Capitals LW Alexander Ovechkin is one of the most prolific players of the shootout era. His ridiculous goal celebrations, strong physical presence, and knack for scoring highlight-reel goals all set him apart from the average high-scoring forward.  He scored a goal so sensational during his rookie year, it is now known simply as "The Goal."
Enter Winnipeg Jets rookie RW Patrik Laine. There's already talk of him winning the Calder Trophy only one-quarter of the way through the 2016-17 season, according to NHL.com panelists, and as it stands, he's currently tied with Sidney Crosby for the league lead in goals at 16.
It's easy as a spectator to say that there are some similarities between the two players. But when that statement is coming from former Jack Adams winner Bruce Boudreau, it holds quite a bit of weight.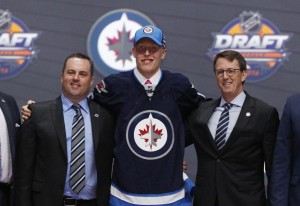 Boudreau coached Ovechkin for the better part of five seasons in Washington, starting in 2007 and ending with his termination in 2011. After facing the Jets with his new team, the Minnesota Wild, on Nov. 23, Boudreau said the similarities between Laine and Ovechkin were undeniable.
"[Laine]'s got a tremendous release of his shot," Boudreau said. "I used to coach a guy with a shot like that. … The release of his shot and the quickness [with which] he gets it away is very Ovi-like."
Around the League
Boudreau is not the only one who's noticed these similarities.
"There is certainly a comparison (to Ovechkin)," said Jets center Mark Scheifele, currently second in the league with 23 points. "He definitely has a shot like Ovi."
"He knows where to go at the right times," the Wild coach said. "He doesn't blatantly go to areas where he's not going to score. You definitely have to know where he is at all times."
It's a challenge. He has certainly shown that he's a great player at a young age, and he's got a really dangerous shot. That has to be something that we're aware of when we play.

–Wild goaltender Devan Dubnyk on facing Laine
Laine admitted to modeling a lot of his play based on Ovechkin, who he described as his "idol growing up."
"I watched him a lot when I was younger," Laine said. "I tried to copy his shot. He also likes to hit people, so I tried to copy that. I just liked watching him and trying to copy some of the things that he does."
Based on play alone, the comparison holds up. Standing at 6-foot-5, Laine has demonstrated the ability to bring physicality to the table as well as his agility and puck control. At the same time, though, Laine said he wants to make a name for himself rather than rely on comparisons.
"I'm making my own career. I want to focus on my job, which is playing hockey on this team," Laine said. "I don't feel pressure from those comparisons."
Laine vs. Ovechkin through November
For an easier comparison, I will be looking at both players' point totals through Nov. 30 only (though it should be noted that Laine has scored 3 goals and 4 points in the month of December thus far).
| Player | Season | GP | G | A | P |
| --- | --- | --- | --- | --- | --- |
| Patrik Laine | 2016-17 | 25 | 13 | 6 | 19 |
| Alex Ovechkin | 2005-06 | 24 | 15 | 10 | 25 |
Though Laine is slightly trailing Ovechkin's stats, he's up against some of the hardest competition. In the history of the NHL, only Teemu Selanne and Mike Bossy have scored more goals as a rookie than Ovechkin's 52. He was the first player to reach the 50-goal plateau as a rookie since Selanne potted 76 goals in 1992-93, and he still remains the only one to have done so since the most recent NHL lockout. Does Laine have the potential to break that streak? Ovechkin says, maybe.
"[Laine]'s a great scorer, obviously," Ovechkin said before a game in Vancouver. "He can score 50 or 60 goals in a season if he's going to continue to play like that."
Full-Season Projection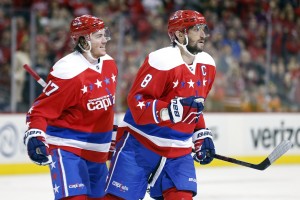 With Laine having played in 27 games so far we get a multiplier of 3.04. Essentially, this helps us estimate what his point totals will be like in 3.04 times the number of games he has already played in – or more precisely, what they will be like after a full season.  This is assuming he scores at the same rate that he has so far, and we are also working under the assumption that Laine will play in every single regular season game. Taking things like possible scoring droughts and injuries into account would alter this total as well, but this sort of estimation is the closest we can get to telling the future.
Anyhow, the numbers speak for themselves:
| Player | Season | GP | G | A | P |
| --- | --- | --- | --- | --- | --- |
| Patrik Laine | 2016-17 | 82 | 49 | 21 | 70 |
| Alex Ovechkin | 2005-06 | 81 | 52 | 54 | 106 |
Barring an explosive back half, Laine is unlikely to reach the 100 point plateau. 50 goals seems unlikely at this point, too, taking into consideration the fact that this calculation doesn't leave room for any human errors. Still, 49 goals would make Laine the fifth highest-scoring rookie of all time with only Joe Nieuwendyk separating him from Ovechkin.
First Career Hat Trick
Though Ovechkin's rookie stats are nearly impossible to conquer by modern standards, there is one category in which Patrik Laine already has him beat: hat tricks. Laine recorded his first career hat trick only four games into the season on Oct. 20, and he did so in dramatic fashion.
The Jets were losing 4-0 to the Toronto Maple Leafs at the halfway mark of the game. Tyler Myers made it 4-1 to get the Jets on the board at 13:04 of the second period, which paved the way for four more unanswered goals. Laine both opened and closed the third-period scoring, including the game-tying goal with less than a minute remaining in regulation. It would then be Laine who ended the game 2:40 into overtime, completing the Jets' comeback – and his first hat trick.
"He scored three goals. Pretty good," Maple Leafs head coach Mike Babcock said in what was possibly the greatest understatement of the season thus far. A little over two weeks later, on Nov. 8, Laine recorded his second three-goal game against the Stars.
It took Ovechkin three more months of his rookie season to record his first hat trick, but it finally came on Jan. 13, 2006. Despite scouring the web, I was unable to find any footage of this game. From what I could find, though, it was definitely comparable to Laine's first: Ovechkin scored all three goals in a come-from-behind OT win against the Anaheim Ducks. This win snapped a six-game losing streak during which the Capitals were 0-4-2.
What does this mean for Laine's future?
Does Laine have his own version of "The Goal" coming up? Will Laine carry on Winnipeg's legacy of high-scoring rookies? Only time will tell. But one thing is for sure: Laine's childhood dreams are coming true.
Patrik Laine after getting hit by his childhood idol, Alex Ovechkin: "I won't wash this jersey ever." #IIHFWorlds https://t.co/idQyCq0RSP

— Robert Söderlind (@HockeyWebCast) May 21, 2016