This coming summer, the Detroit Red Wings and the other 29 NHL franchises will lose a player in the expansion draft for the newly formed Vegas Golden Knights. Ken Holland has a lot to consider before the expansion draft — the fourth such draft in his tenure as the Red Wings' general manager.
When Detroit is at 100% health, they have a deep team comprised of mostly middle-six forwards and second- and third-pairing defensemen. Las Vegas will likely select a quality player, depending on how Holland positions the team.
In this edition of The Grind Line, The Hockey Writers' Red Wings coverage team shares their protected lists for the expansion draft and elaborates on why Detroit should protect certain players over others.
Tony Wolak
| | |
| --- | --- |
| Forwards: | Defensemen: |
| Henrik Zetterberg – C | Mike Green – D |
| Frans Nielsen – C | Danny DeKeyser – D |
| Andreas Athanasiou – C | Ryan Sproul – D |
| Riley Sheahan – C | |
| Anthony Mantha – LW | Goaltender: |
| Gustav Nyquist – LW | Petr Mrazek – G |
| Tomas Tatar – RW | |
When it comes time for Holland to select the players for his protected list, he'll likely go with the 7-3-1 strategy, given Detroit's current roster composition. Of course, that can change if he decides to make an in-season trade.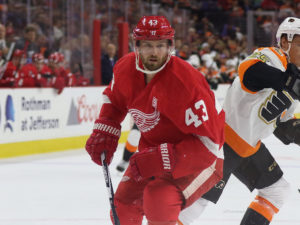 Among the protected forwards, the only player that may come as a shock is Riley Sheahan being chosen over the likes of Justin Abdelkader and Darren Helm. While Sheahan is currently centering the fourth line and having a down season, it's worth noting that he's only 24 years old and already has a 36-point season to his name. He plays a similar game to Abdelkader and Helm, but is younger and not signed to a long-term contract.
Both Helm and Abdelkader would be solid adds to the new Las Vegas team, but come with long-term contracts. It's not out of the question that Golden Knights GM George McPhee avoids Helm's $3.85 million AAV contract through 2020-21 and Abdelkader's $4.25 million AAV deal through the 2022-23 season.
On defense, the Red Wings would surely like to protect Alexey Marchenko, but of the three listed above, there's not really one worth exposing to save Marchenko. Mike Green has been a delight this season and could be signed to an extension when his contract expires after next season. Danny DeKeyser and Ryan Sproul have been the Red Wings' next two best defensemen this season and are still young.
With the above players protected, Abdelkader, Helm, and Jimmy Howard would be available, along with younger players Marchenko, Tomas Jurco, Martin Frk, Luke Glendening, and Xavier Ouellet. If McPhee wants to get the most value out of his Detroit selection, Marchenko would be the likely pick this summer, unless Holland can swing a deal with Las Vegas to pick (or not pick) a specific player.
Brandon Peleshok
| | |
| --- | --- |
| Forwards: | Defensemen: |
| Henrik Zetterberg – C | Mike Green – D |
| Frans Nielsen – C | Danny DeKeyser – D |
| Andreas Athanasiou – C | Ryan Sproul – D |
| Justin Abdelkader – LW | |
| Anthony Mantha – LW | Goaltender: |
| Gustav Nyquist – LW | Petr Mrazek – G |
| Tomas Tatar – RW | |
Up front, Frans Nielsen, Gustav Nyquist, Tomas Tatar, Anthony Mantha and Andreas Athanasiou are "locks" in my eyes. Nielsen has a no-movement clause, so the Red Wings cannot expose him in the draft, but I would likely protect him without the NMC. Nyquist and Tatar (despite his rough season) are two of the Red Wings' best offensive weapons, and Mantha and Athanasiou are promising young players.
It was tough to decide between Justin Abdelkader and Darren Helm, but the Red Wings have more depth at center. In addition to thinking the Red Wings will protect Henrik Zetterberg out of loyalty, I also believe it is a smart move in regards to the salary cap. If Zetterberg decided he did not want to go to Vegas, he could simply retire, and the Red Wings would be on the hook for his cap recapture penalty. While his best days are behind him, eating nearly $3 million per year until the 2020-21 season is not ideal.
Both DeKeyser and Sproul are locks on defense. Despite having a rough year, DeKeyser is one of the Red Wings steadier defenders, and Sproul looks as if he has the potential to turn into a solid offensive defender. My last spot on defense would go to Mike Green. Even though the 31-year-old blueliner will only have a year remaining on his contract, he is the team's best offensive defenseman.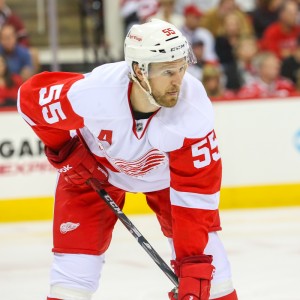 The big omission here is Niklas Kronwall. While I understand the Red Wings might protect him out a sense of loyalty, I do not think it is necessary. Considering Kronwall has permanent knee damage, it is unlikely that Vegas would take a gamble on him. Like Zetterberg, a cap recapture penalty would apply if the 35-year-old defenseman were to retire early. However, it would only cost the Red Wings a shade over $2 million over the next two seasons. I think it is worth the risk in order to protect the other three defensemen.
Jimmy Howard has played well in goal this season, but Petr Mrazek is still the Red Wings' number one goaltender moving forward. Ideally, Jared Coreau can serve as the Wings' backup goaltender and play around 15-20 games. I'm not as confident in the duo as I was heading into the season, but it still feels like the right move.
Tom Mitsos
| | |
| --- | --- |
| Forwards: | Defensemen: |
| Henrik Zetterberg – C | Mike Green – D |
| Frans Nielsen – C | Danny DeKeyser – D |
| Gustav Nyquist – LW | Ryan Sproul – D |
| Tomas Tatar – RW | |
| Anthony Mantha – LW | Goaltender: |
| Andreas Athanasiou – C | Petr Mrazek – G |
| Justin Abdelkader – LW | |
The first six forwards protected were a given. I had to protect the "kids" in Tomas Tatar and Gustav Nyquist and the even younger kids in Anthony Mantha and Andreas Athanasiou. The only problem I had was that seventh forward.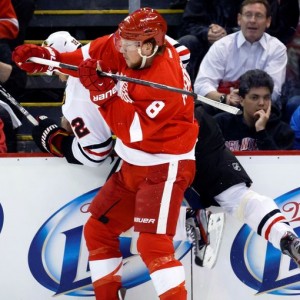 I was debating between Justin Abdelkader and Darren Helm. Both can be used on the penalty kill and both offer secondary scoring options, but Abdelkader is slightly better in the scoring department. Helm's speed certainly is a big asset, but more often than not, he is unable to finish the scoring chance he created with that speed.
Also, with a newly signed five-year, $3.85 million deal, I figured Vegas would not want to take that contract for someone who doesn't contribute very much offensively.
Some might even make an argument to not protect Zetterberg, since Vegas will not want to take his $6.083 million contract for the next four years. Zetterberg still is contributing for the Red Wings, with six goals and 13 assists in 26 games, but at 36 years old, his best days are behind him.
As far as the defense goes, Green and DeKeyser were easy selections, and I opted to pick Sproul over the rest of the defensive corps, which isn't anything to write home about. Kronwall is on his last legs as a player, and Vegas probably won't want to take on his $4.75 million contract for an aging defenseman.
Brendan Smith, who was highly lauded by the analytics community last season, hasn't been as solid this season and shouldn't be in danger of being selected by Vegas.
The goalie pick also was an easy one. Mrazek hasn't been the franchise goalie the Red Wings were hoping for coming into the season — Jimmy Howard has outperformed the Czech this season — but Howard is 32-years-old, and he won't be able to sustain this level of play for much longer.
Mrazek, on the other hand, is 24-years-old and has time to mature and round into form as the Red Wings' No. 1 goalie.
Which Detroit Red Wings players are on your protected list? Comment below with your plan.