The Edmonton Oilers may have found their future starting goaltender, and it won't take a trade, signing, or even a draft pick to make it a reality.
In fact, Laurent Brossoit has been with the Oilers organization for over a year now, following his arrival from the Calgary Flames in a trade which saw long time Oiler Ladislav Smid head to Edmonton's provincial rival.
Now in his second professional season, Brossoit already has a wealth of experience and success under his belt. In fact, Brossoit has had success virtually everywhere he has played.
Major Junior Career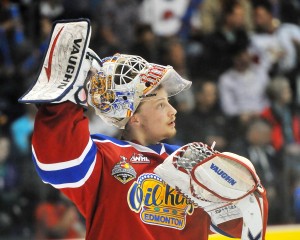 Selected in the second round, 26th overall in the 2008 WHL Bantam Draft by the Edmonton Oil Kings, Brossoit spent the 2009-10 season honing his game with the British Columbia Hockey League's Cowichan Valley Capitals.
During the same season, Brossoit suited up for the Oil Kings for two games, while he also played for Canada in the World U-17 Hockey Challenge.
Following a largely average rookie season with the Oil Kings in 2010-11, in which he played 34 games, Brossoit returned in 2011-12 and enjoyed a phenomenal season.
In his second season and first as the team's full time starting goaltender, Brossoit was by far one of the Oil Kings' most outstanding players, recording a league best 42 wins, alongside a .914 Save Percentage and a 2.47 Goals Against Average. His 42-13-5 record helped lead the Oil Kings to the best record in the WHL.
In the playoffs, Brossoit was even better; recording a 16-4 record, 2.04 GAA and a .933 Save Percentage en route to winning the WHL Championship. Brossoit then started all four of the team's Memorial Cup games at the 2012 tournament.
In Brossoit's final season with the Oil Kings, his game continued to improve, recording a 33-8-6 record with a 2.25 GAA and .917 Save Percentage as one of the league's top goaltenders. Laurent helped lead Edmonton to their second consecutive WHL final, however this time the Oil Kings would lose in six games to the Portland Winterhawks.
Laurent Brossoit's highly successful WHL career cemented him as one of the best goaltenders emerging from the Canadian Hockey League at that time, among other stars and current Oiler goaltending prospects Tyler Bunz and Ty Rimmer.
Professional Career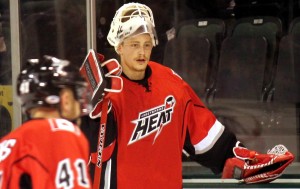 It may come as a surprise that Laurent Brossoit was drafted in the sixth round, 164th overall by the Calgary Flames in the 2011 NHL Entry Draft. This occured because Brossoit played an additional year in the BCHL rather than stepping directly into the WHL following his draft year. As a result, his NHL draft eligibility was in his first full season with the Oil Kings, a year in which Brossoit posted mediocre stats as a rookie.
Laurent's first professional season was a frantic one, as he played for four different teams within the 2013-14 hockey year. Brossoit began the year with the Calgary Flames' AHL affiliate, the Abbotsford Heat, where after little success in only two games, he was sent to the Alaska Aces of the ECHL, where he played three games.
Early in November of 2013, Brossoit was traded by the Flames to the Edmonton Oilers alongside Roman Horak in exchange for goaltender Olivier Roy and veteran defenseman Ladislav Smid. Brossoit spent the remainder of the 2013-14 season between the Oilers AHL affiliate the Oklahoma City Barons and the ECHL's Bakersfield Condors.
Brossoit proceeded to light up the ECHL, finishing the season with a 26-9-2 record, 2.04 GAA and a .926 Save Percentage between Alaska and Bakersfield. These stats were extremely impressive, as Brossoit's 26 wins and sparkling GAA were both tops in the league, while his save percentage ranked second. Laurent also led the way in shutouts with eight in only 38 games played!
Brossoit's strong play helped lead the Bakersfield Condors to the Western Conference Finals of the ECHL's Kelly Cup Playoffs, where they were finally eliminated by the eventual champion Alaska Aces in six games.
2014-15 Season
Brossoit has carried his successful play into the 2014-15 hockey season, this time with the Oklahoma City Barons. Following an injury to veteran started Richard Bachman, Brossoit seized the starting goaltender position and has not looked back. In his 18 games played this season, Brossoit has been one of the most important players on the Barons, a major reason why OKC is one of the top five teams in the AHL.
In those 18 games, Laurent has record a 12-4 record, a 2.17 GAA and a .928 Save Percentage. In his last 15 starts in particular, Brossoit has a 12-1 record and has won six consecutive starts, posting a .936 Save Percentage and a 1.92 GAA in those games.
Why Brossoit Deserves a Chance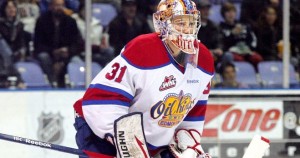 Brossoit deserves an opportunity in the Oilers crease this season because throughout his young career, he has done nothing but win. He has won the Ed Chynoweth Cup as WHL Champion, the WHL Playoff MVP Award in 2011 and is one of the winningest goaltenders in WHL history. Even in his short time in the minor pro ranks Brossoit has been tremendously successful.
Further, the current goaltending situation in Edmonton can not be considered adequate in the long term, as by the time the Oilers become a genuinely competitive team, it is highly likely that neither Ben Scrivens or Victor Fasth will still be on the roster.
The Oilers need a young, capable goalie to emerge from within which will not only develop, but will also find success alongside the other young Edmonton stars.
While Edmonton also has developing goaltenders Tyler Bunz and Ty Rimmer as previously mentioned, neither are as far along in their development as Brossoit.
Unless the Oilers undergo drastic changes which result in a major turn around in the the teams play, it would be a smart decision to allocate a few starts this season to evaluate Brossoit's potential as an NHL goaltender. Although such a decision would be more likely late in the season, the Oklahoma City Barons look destined for a deep playoff run, success which could make Brossoit unavailable at the NHL level, as Oilers management would likely prefer for Brossoit to gain AHL playoff experience.
What ever the case may be, Laurent Brossoit has proven himself as an elite goaltender at multiple levels of hockey, and based on that success, deserves a chance to show his skills at the NHL level.