The "Summer of Change" in Sunrise isn't over yet: Last week, the Florida Panthers traded injured center Dave Bolland to the Arizona Coyotes. The cost of unloading Bolland's boat-anchor contract (another three years at $5.5 million per) was Florida's 2015 first round draft pick, Lawson Crouse.
In exchange for Bolland and Crouse, the Panthers received a third-round draft pick in 2017 (either Detroit's or Arizona's; whichever is higher) and a conditional third round pick in 2018 (it becomes a second round selection if Crouse plays at least 10 NHL games in 2016-17 or if Arizona trades him).
While most of the Panthers moves this summer garnered positive reviews, the inclusion of Crouse in last week's deal with the Coyotes met with some skepticism:
Not a great trade ….. Crouse is too valuable

— Panthers Facebook (@PanthersFBK) August 26, 2016
Why would Florida trade Lawson Crouse?

— Thank You P.K. (@ADiraimondo91) August 26, 2016
Why did the deal have to go down now, and why was Crouse dealt? One question is easier to answer than the other.
Why Now?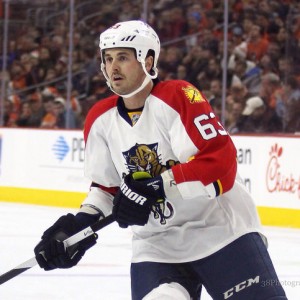 Prior to the trade, Florida had $4,329,167 in cap space and 14 forwards (Bolland included), seven defensemen and three goalies under contract. All indications are that Bolland won't play this season, so the Panthers could've simply placed him on Long-Term Injured Reserve. Because of the way LTIR rules are structured, though, the team would receive little benefit from doing so, if any.
The veteran center was dealt to Arizona with both short- and long-term considerations in mind. This season, the newly-created cap space (currently $9,829,167) gives Florida flexibility to add a player or two between now and the trade deadline, if necessary.
Next summer, that cap space will come in handy when contract extensions for Aaron Ekblad, Reilly Smith and Derek MacKenzie kick in and pending RFA Jonathan Huberdeau gets a raise. Panthers management likely had 2017 in mind when they dealt Bolland last week. Factoring in raises for the aforementioned players, Florida GM Tom Rowe and Co. must've realized that moving Bolland now could mean the difference between pursuing quality, veteran free agents and filling roster openings with raw prospects next year.
One more consideration was likely a key factor in making the trade now: Very few teams could swallow Bolland's $5.5 million cap hit whole, and Florida wasn't the only club looking to unload a bad contract (see Girardi, Dan or Lupul, Joffrey) or otherwise clear cap space. Such maneuvers are essentially a game of musical chairs, and the Panthers found their seat first. In doing so, the Cats all but eliminated the Coyotes as a trade partner for the Rangers, Maple Leafs or anyone else in a similar bind.
Why Lawson Crouse?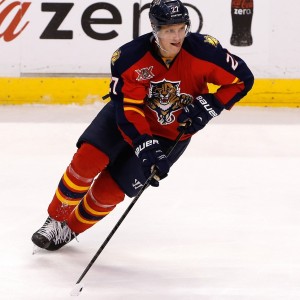 While the need to move Bolland was clear, the inclusion of Crouse in the deal was less so. The hulking (6'4″, 210 lbs.) winger, touted as the "total package of size, skill and speed," was Florida's first-round pick just last summer. Why would they give up on him so quickly?
Because details of trade negotiations rarely leak, we can only speculate as to the back-and-forth between Florida and Arizona. Given the Coyotes weakness down the middle of the ice, I'd be shocked if their initial ask wasn't for either Vincent Trocheck or Nick Bjugstad. Assuming that happened, credit Panthers management for refusing to part with either of those key players, as the loss would have a major impact on the club's playoff hopes.
The trade of Bryan Bickell and Teuvo Teravainen to the Carolina Hurricanes back in June set the market price for moving unwanted contracts. Considering the difference between Bickell's and Bolland's contracts (one year at $4 million vs. three years at $5.5 million per), sending Crouse to the Coyotes was a bargain for the Panthers.
The deal could prove even sweeter, depending on Crouse's development. Some concerns were voiced about Crouse's production at the major junior level. The prospect didn't do himself any favors at Florida's development camp, either:
Lawson Crouse didn't stand out at develop. camp last month.I think Dryden Hunt,Jayce Hawryluk and Kyle Rau are more NHL ready. #flapanthers

— Harvey Fialkov (@hfialkov) August 25, 2016
It's important to remember, though, that Crouse is only 19. While he's already NHL-sized, he's still maturing, both mentally and skill-wise. Crouse could turn out to be the next Rick Nash. Statistically speaking, however, he's more likely to be the next Jimmy Hayes. If you were Tom Rowe and facing the potential choice of re-signing Huberdeau or keeping "the next Jimmy Hayes," what would you do?
Matt blogged about all things hockey at On Goal Analysis/The OGA Blogs from 2008-2014 and has written several travel articles for The Dallas Morning News. He began covering the Dallas Stars and Florida Panthers for The Hockey Writers in August 2015. Matt is also writing a biography of "Tex" Rickard, the Texas cowboy who founded the New York Rangers and the Madison Square Garden Corporation.