Despite an ankle injury that ended his postseason prematurely last year, Ben Bishop is ready to represent the United States at next month's World Cup tournament.
In July, Bishop reportedly returned to the ice for the first time this offseason since being taken off it on a stretcher during Game 1 of the Eastern Conference Final against the Pittsburgh Penguins. At the time, ESPN's Joe McDonald reported Bishop had spent the first half of his summer rehabilitating a high-ankle and shin sprain.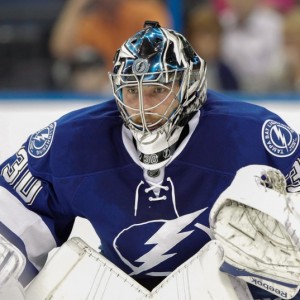 Team USA's training camp is set to open in Columbus, Ohio, on Sept. 5, and Bishop's strained ankle ligaments are completely healed. The native of Denver, Colorado, is prepared to represent his country for the first time since the 2013 IIHF World Championships when he backed up John Gibson as the United States won the bronze medal.
"I feel good," Bishop told ESPN.com's Chuck Gormley while discussing the injury. "I've been doing rehab all summer, and I'm stronger this summer than I was last summer going into camp as far as test results. That's a good thing."
Bishop is part of an American goaltending core that includes Los Angeles Kings goalie Jonathan Quick and the New Jersey Devils' Cory Schneider. Bishop knows that competition for the starting role will be stiff, but he's looking forward to Team USA's first exhibition game against Canada on Sept. 9.
"It's going to be a little different than NHL exhibition games," Bishop said.
"Canada-U.S.? I don't think that's going to be an ease-in process. Exhibition games are going to be a little more intense, especially for goalies who like to slowly get into it. My first game could be against Team Canada, but after practicing for a week and some intrasquad scrimmages, I'm sure I'll be ready."
The eight-team international tournament will take place from Sept. 17 to Oct. 1 with all games being played at the Air Canada Centre in Toronto.
The Hockey Writers coverage of the World Cup of Hockey 2016 is being brought to you by PrimeSport, the official Fan Travel & Hospitality Package Partner of the World Cup of Hockey 2016.
Steven is a lawyer and writer with a passion for the game of hockey. He's the Lead Writer covering the Tampa Bay Lightning with THW. He's also been press credentialed through the Lightning since 2016. His work has been published at The Fourth Period, LightningInsider.com, Bolt Prospects, The Sports Daily Network, U.S. College Hockey Online and College Hockey News. He's had radio appearances on TSN 690 in Montreal, Lightning Power Play Live and multiple podcasts to give insight and analysis on the team. He can be reached on Twitter @StevenDiOssi and by email at sdiossi@gmail.com.