Entering their 90th season in the NHL, the Detroit Red Wings have had hundreds of premier hockey players don the winged wheel. In this nine-week series, we're counting down the best 90 players of the Detroit Cougars/Falcons/Red Wings franchise.
In this countdown of Hockeytown greats, rankings are based on contributions to the organization, rather than overall player talent. For example, Johnny Bucyk is a Hall-of-Famer, but most of his success came with the Boston Bruins. The same goes for Luc Robitaille, Mark Howe, and Darryl Sittler.
On the other hand, some of the players mentioned below will never be part of the NHL Hall of Fame, but contributed their fair share in helping the Red Wings reach new heights.
This week, we'll count down 61-70, after revealing 71-80 last week.
#61-70 Greatest Red Wings
70. Joe Carveth | RW

Red Wings Career: 324 GP – 104 G – 132 A – 236 PTS
Awards: Stanley Cup (1943, 1950)
When the Red Wings won the 1943 Stanley Cup, they were led by a powerful offense featuring Syd Howe, Mud Bruneteau, Carl Liscombe, Sid Abel, and Joe Carveth.
In his first season as a full-time player, Carveth burst onto the scene, scoring 36 points in 43 games. Once the postseason started, Carveth led the Red Wings with six goals in ten games. Seven years later and by then a veteran, Carveth would win the Cup again as part of the 1950 Red Wings team. He'd play part of the following season in Detroit before being sent down to the AHL.
69. Jim Rutherford | G

Red Wings Career: 314 GP – 97 W – 165 L – 43 T – 10 SO
Awards: N/A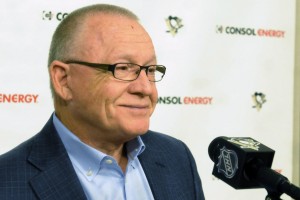 Now the general manager of the Pittsburgh Penguins, Jim Rutherford was Detroit's main goalie during the 1970s. Despite attempts by Red Wings management to bring in other starters, Rutherford maintained number one status throughout the decade.
Rutherford ranks among the Red Wings' top ten in career games played, wins, losses, and minutes. His best season came during the 1977-78 campaign, when he split starting duties with Ron Low and made the playoffs with a young Detroit team.
68. Jiri Hudler | LW

Red Wings Career: 409 GP – 87 G – 127 A – 214 GP
Awards: Stanley Cup (2008)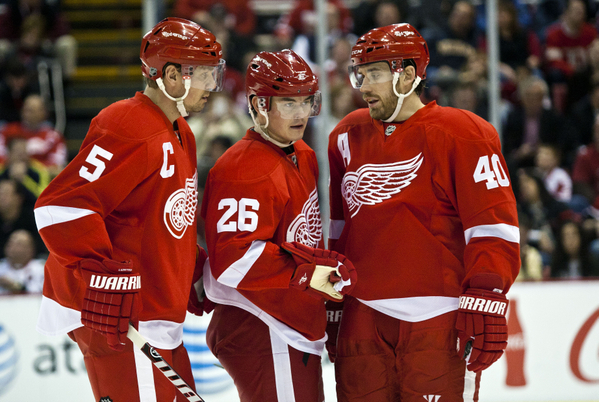 A boisterous locker room presence, five-foot-ten Jiri Hudler was also a terrific player on the ice for the Red Wings. Hudler's best season in Detroit came during the 2008-09 campaign, when he notched 23 goals and 57 points.
Hudler also put up back-to-back double-digit playoff performances in 2008 and 2009. He served in an offensive utility role, playing on the second power play, but also on the bottom-six five-on-five lines.
67. Warren Godfrey | D

Red Wings Career: 528 GP – 23 G – 77 A – 100 PTS
Awards: N/A
Back when blockbuster trades were commonplace in the NHL, long-time Red Wings defenseman Warren Godfrey arrived in Detroit in such a deal. It was a bit lopsided, however.
Godfrey came to Detroit with Real Chevrefils, Ed Sandford, and Norm Corcoran in exchange for Terry Sawchuk, Marcel Bonin, Vic Stasiuk, and Lorne Davis. Godfrey was the only player Detroit acquired in the deal that lasted a full season with the Red Wings.
In Detroit, Godfrey anchored the Red Wings' second defensive pairing, playing behind Marcel Pronovost and Red Kelly. Though part of some great Red Wings teams, Godfrey never won a Stanley Cup. He did appear in the Finals three times though: (1956, 1961, and 1966).
66. Johnny Wilson | LW

Red Wings Career: 379 GP – 79 G – 100 A – 179 PTS
Awards: Stanley Cup (1950, 1952, 1954, 1955)
In another case of Jack Adams swinging blockbuster trades, Johnny Wilson was part of two major deals—both leaving and returning to the Red Wings.
After winning the 1955 Stanley Cup, Adams traded Wilson, Glen Skov, and Benny Woit to Chicago for Dave Creighton, Gord Hollingworth, John McCormack, and Jerry Toppazzini. Two years later, Wilson would return to Hockeytown alongside Forbes Kennedy, Bill Preston, and Hank Bassen in a deal that saw Ted Lindsay and Glenn Hall head out west to Chicago.
When you consider the starts to their careers, you could say that Wilson and Darren Helm had similar beginnings. Wilson had only played one regular season game by the time he won his second Stanley Cup title. Helm made two Finals appearances before becoming a full-time NHLer.
65. Normie Smith

Red Wings Career: 153 GP – 64 W – 60 L – 29 T – 15 SO
Awards: Stanley Cup (1936, 1937), Vezina Trophy (1937)
Upon arriving in Detroit as a 27-year old rookie in the fall of 1935, Normie Smith went on to lead the Red Wings to the Stanley Cup that season and the following year as well. And after the second Stanley Cup title, plus a Vezina Trophy on his mantle, Smith successfully negotiated his next contract with Adams fully knowing his worth.
Smith was Detroit's first true, top goalie. While he did fall out of favor with Adams after a rough season and missing the team bus, "Trader Jack" was aware of Smith's talent when he was sent packing. Later, the Red Wings needed a goalie to fill in during World War II. Adams successfully recruited Smith out of the Ford factory he was then working a, and Smith would play a few more NHL games before finally calling it a career.
64. Earl "Dutch" Reibel

Red Wings Career: 306 GP – 74 G – 141 A – 215 PTS
Awards: Stanley Cup (1954, 1955), Lady Byng Trophy (1956)
After his call-up from the WHL, Earl Reibel took Hockeytown by storm, contributing 48 points in his rookie season. "Dutch" would win the Stanley Cup that year and again the next, playing in a top-six role for the Red Wings.
Reibel was a major contributor to the Red Wings until he was dealt to the Blackhawks in an eight-player deal. He became expendable after a slow start to the 1957-58 season and the Red Wings already having Alex Delvecchio and Norm Ullman down the middle.
63. Valtteri Filppula | C

Red Wings Career: 483 GP – 100 G – 151 A – 251 PTS
Awards: Stanley Cup (2008)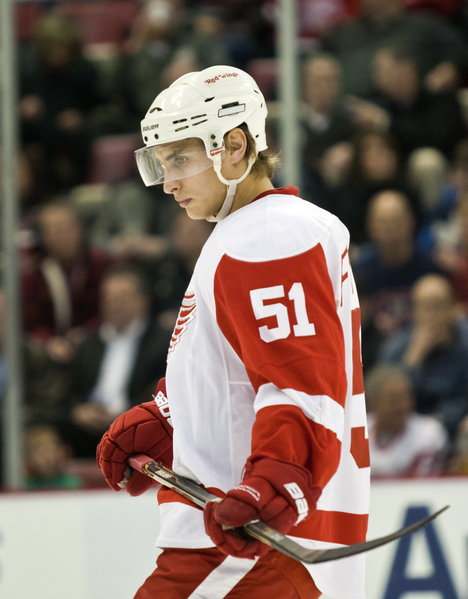 Now a dependable, two-way center in Tampa Bay, Valtteri Filppula learned from the best in Hockeytown. Following a four-game stint during the 2005-06 season, Filppula carved out a middle-six role with the Red Wings for the next seven years.
Filppula role was always in flux, though. When the Red Wings won the Cup in 2008, Filppula was their second line center. In other years, he centered the third line or played on the wing with either Henrik Zetterberg or Pavel Datsyuk up the middle. Filppula eventually signed with Tampa to take on a more prominent role, which has since reverted back to what it was in Detroit.
62. Daniel Cleary | RW

Red Wings Career: 609 GP – 124 G – 151 A – 275 PTS
Awards: Stanley Cup (2008)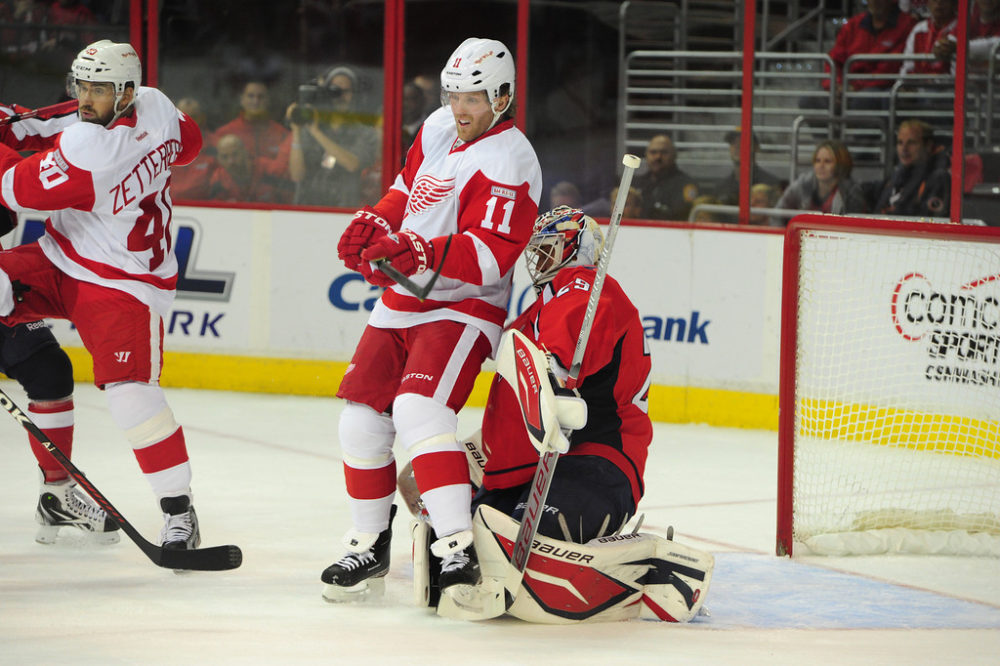 When Daniel Cleary joined the Red Wings following the 2004-05 Lockout, surely he didn't expect to spend the next decade in Detroit. The gritty right winger started on the Red Wings' fourth line alongside Kris Draper and Kirk Maltby before becoming a middle-six scoring threat.
Cleary was a valuable member of the Red Wings' 2008 and 2009 Finals appearance teams. After players like Marian Hossa, Jiri Hudler, and Mikael Samuelsson departed, Cleary stepped up on the ice and in the locker room as well for Detroit.
61. Ray Sheppard | RW

Red Wings Career: 274 GP – 152 G – 113 A – 265 PTS
Awards: N/A
After coming to Detroit as a free agent, Ray Sheppard joined a young, potent offense and helped the Red Wings take another step forward. Known more for his goal-scoring than foot speed, Sheppard's best year came during the 1993-94 season, when he scored 52 goals and 93 points.
The following season, Sheppard lit the lamp 30 times in just 43 games—good enough for a 0.70 goals per game rate. Sheppard's 24% shooting percentage that season ranks second all-time among Red Wings players in a single season.
Top 90 List So Far
| | |
| --- | --- |
| 90 | Tim Cheveldae |
| 89 | Parker MacDonald |
| 88 | Paul Woods |
| 87 | Dylan Larkin |
| 86 | Vaclav Nedomansky |
| 85 | Frank Mahovlich |
| 84 | Justin Abdelkader |
| 83 | Willie Huber |
| 82 | Mikael Samuelsson |
| 81 | Manny Legace |
| 80 | Petr Klima |
| 79 | Jiri Fischer |
| 78 | Mathieu Dandenault |
| 77 | Tomas Tatar |
| 76 | Gustav Nyquist |
| 75 | Darren Helm |
| 74 | Dennis Polonich |
| 73 | Keith Primeau |
| 72 | Brian Rafalski |
| 71 | Dale McCourt |
| 70 | Joe Carveth |
| 69 | Jim Rutherford |
| 68 | Jiri Hudler |
| 67 | Warren Godfrey |
| 66 | Johnny Wilson |
| 65 | Normie Smith |
| 64 | Earl "Dutch" Reibel |
| 63 | Valtteri Filppula |
| 62 | Daniel Cleary |
| 61 | Ray Sheppard |
| 60-51 | Next Monday |
Which Detroit Red Wings player above was/is your favorite? Comment below to share your opinion.