When the Detroit Red Wings take the ice for the 2016-17 campaign, it will be their 90th season in the NHL. In 1925, the Detroit Cougars joined the NHL after most of the team was acquired from the folding Victoria Cougars of the now-defunct Pacific Coast Hockey League. Soon, they would become the Falcons and then, in 1932, the Red Wings.
Over the course of their 90-year history, hundreds of players have donned the Winged Wheel in Detroit. And while some had short stays in Hockeytown, others have had a significant impact with the Red Wings.
Over the next nine weeks that lead up to Detroit's 2016-17 season opener, we'll count down the top 90 players to grace the Red Wings with their presence—in the lineup. These players will not be ranked by overall talent, but by how much they contributed to the organization.
For example, Luc Robitaille had an amazing career and is among the top 100 NHLers to ever play. But, he would be ranked behind players like Jim Rutherford and Warren Godfrey, who contributed more to Red Wings' success than Lucky Luc.
Let's begin.
#81-90 Greatest Red Wings
90. Tim Cheveldae | G

Red Wings Career: 264 GP – 128 W – 93 L – 30 T – 9 SO – 3.40 GAA – .883 SV%
Awards: N/A
When the Red Wings' current playoff streak began, Tim Cheveldae was minding the net for the Red Wings. "Chevy" was Detroit's starting goaltender in the early-90s and set the record for most games played in a single season (72 games in 1991-92).
Though he performed admirably during the regular season, Cheveldae's knock was that he could not win in high-pressure situations. Even with record-scoring Red Wings teams, Cheveldae's only playoff success came during the 1992 postseason, when the Red Wings stormed back from a 3-1 series deficit to beat the defending Campbell Conference champion Minnesota North Stars in seven games. Then, they were swept by Chicago in the Norris Division Finals. Cheveldae was eventually shipped out during the 1993-94 season to make room for Chris Osgood.
89. Parker MacDonald | LW

Red Wings Career: 361 GP – 94 G – 122 A – 216 PTS
Awards: N/A
As a key contributor to a couple dominant 1960s Red Wings teams, Parker MacDonald—alongside Gordie Howe, Alex Delvecchio, Norm Ullman, and Anthony Mantha's grandfather Andre Pronovost—helped the Red Wings reach the 1964 Stanley Cup Finals. They'd eventually lose to the Maple Leafs in seven games.
MacDonald centered Howe and Delvecchio to create a 1964-version of The Production Line, en route to his best season as NHL player. MacDonald's early-60s Red Wings were the last great team to play in Detroit until the early-1990s.
88. Paul Woods | RW

Red Wings Career: 501 GP – 72 G – 124 A – 196 PTS
Awards: N/A
A lifetime Red Wing, Paul Woods spent seven seasons with the Red Wings in the 1970s and 1980s. Up until Steve Yzerman received the letter, Woods earned notoriety as the youngest captain in Red Wings history. Also known as a defensive forward, Woods' speed and hockey IQ made him the perfect match to shut down opponents' top players.
After retiring, Woods later became the Red Wings' radio color commentator. Today, he still seamlessly provides valuable in-game analysis alongside famed Red Wings play-by-play man, Ken Kal.
87. Dylan Larkin | C

Red Wings Career: 80 GP – 23 A – 22 A – 45 PTS
Awards: N/A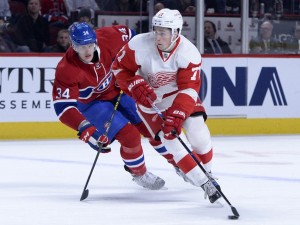 Before his career is over, Dylan Larkin will likely be a lot higher on this list. He's only played one season in Detroit and still has a lot to contribute to the organization. However, Larkin has Red Wings fans excited about the future after taking the league by storm in his rookie campaign. He started on the top line with Henrik Zetterberg and Justin Abdelkader and scored in his first game.
Larkin's speed and deceptive shot are his best attributes. Since he's only 20, Larkin still has time to develop into a perennial All-Star and first line center for the Red Wings.
86. Vaclav Nedomansky | C

Red Wings Career: 364 GP – 108 G – 139 A – 247 PTS
Awards: N/A
Following a terrific career with the Czechoslovakian National Team and in the WHA, Vaclav Nedomansky joined the Red Wings for five years starting in 1977. The aging international superstar put up back-to-back 70-point seasons with the Red Wings in 1978-79 and 1979-80.
In the final few years of his accomplished career, Nedomansky provided veteran leadership to several young Red Wings players, such as Dale McCourt, Reed Larson, and Mike Foligno. Now, Nedomansky serves as a scout for the Nashville Predators.
85. Frank Mahovlich | LW

Red Wings Career: 198 GP – 108 G – 88 A – 196 PTS
Awards: Hall of Fame (1981)
In 1968, "The Big M" arrived in Detroit following a blockbuster deal with the rival Toronto Maple Leafs. General Manager Sid Abel swung a deal to acquire Frank Mahovlich, Pete Stemkowski, Garry Unger, and Carl Brewer for future Hall-of-Famer Norm Ullman, Paul Henderson, Floyd Smith, and Doug Barrie.
In his time with Detroit, Mahovlich put up nearly a point per game playing alongside Alex Delvecchio and Gordie Howe. He also appeared in each All-Star Game that was played during his Detroit years. If not for a self-conscious power move by then-general manager Ned Harkness, Mahovlich could have had a longer career in Detroit and put up even more impressive numbers.
84. Justin Abdelkader | LW

Red Wings Career: 480 GP – 80 G – 94 A – 174 PTS
Awards: Stanley Cup (2008)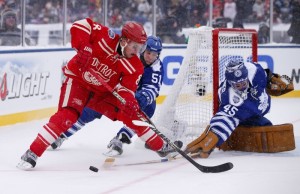 A Red Wings fan growing up outside Grand Rapids, Justin Abdelkader was born to wear the Winged Wheel. After starting out his Red Wings career in a fourth-line, energy role, Abdelkader then transitioned into Pavel Datsyuk's "piano mover." Now, Abdelkader anchors Detroit's top line with Henrik Zetterberg and Dylan Larkin, using his physical presence to get to the net and score goals.
Detroit signed their former second-round pick out of Michigan State in time to play two 2007-08 regular season games following his junior year. He was part of the "Black Aces" during the 2008 playoff run and got into 10 playoff games the following year. Having already played 64 playoff games, Abdelkader has 13 points and 140 penalty minutes.
83. Willie Huber | D

Red Wings Career: 372 GP – 68 G – 140 A – 208 PTS
Awards: N/A
Known for his size rather than his physical presence, Willie Huber was the Red Wings' top defenseman in the early-1980s. Huber averaged almost 14 goals per season in his five Detroit seasons. During the 1982-83 season—his last in Detroit—Huber was selected to play in the NHL All-Star Game.
In Bob Duff's book, 100 Things Red Wings Fans Should Know & Do Before They Die, the Windsor Star journalist quoted former New York Rangers defenseman Tom Laidlaw on Huber's abilities.
He could play physical, and he did. But what he could really do was run a power play, make a good breakout pass, and he had a great shot. He could read the play well. He was a smart player.
Perhaps Huber was just ahead of his time, considering the aggressive nature of his era.
82. Mikael Samuelsson | RW

Red Wings Career: 308 GP – 68 G – 95 A – 163 PTS
Awards: Stanley Cup (2008)
Known for his powerful, right-handed wrist shot, Mikael Samuelsson scored some clutch goals for the Red Wings during their dominant 2006-2009 stretch. He was an integral part of the 2008 Stanley Cup team and stepped up tremendously during the 2009 playoffs with Pavel Datsyuk and Marian Hossa ailing.
Samuelsson was an under-the-radar signing by Ken Holland coming out of the 2004-05 Lockout.
Though mostly a third-liner, Samuelsson's key contributions, and added depth made the Red Wings that much more powerful.
81. Manny Legace | G

Red Wings Career: 180 GP – 112 W – 34 L – 19 T – 13 SO – 2.18 GAA – .918 SV%
Awards: Stanley Cup (2002)
Though mostly a backup during his tenure in Hockeytown, Manny Legace won a lot of games in Detroit. Originally a waiver pickup, Legace served as Chris Osgood and Dominik Hasek's backup, then took on the starting role for his final two seasons in Detroit.
Legace had a fantastic butterfly and could be counted on to fill in and deliver when Osgood or Hasek went down. He was arguably the top goaltender in Detroit during the 2003-04 season when he was part of a three-man rotation with Hasek and Curtis Joseph.
Which player from these 10 had the biggest impact on the Red Wings? Comment below to share your thoughts.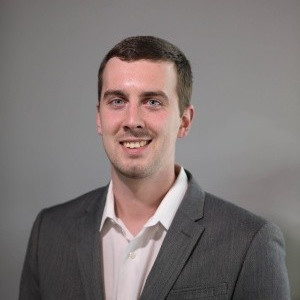 Tony Wolak is based in the Washington D.C. area and covers the Detroit Red Wings for THW. As a former junior and college hockey player, Tony has a unique perspective on Red Wings topics.