When the Detroit Red Wings take the ice for the 2016-17 campaign, it will be their 90th season in the NHL. Since the Detroit Cougars joined the NHL in 1925, hundreds of hockey players have suited up for Detroit.
In the weeks leading up to Detroit's 2016-17 season opener, we'll count down the franchise's top 90 players. These players are not ranked by overall talent, but by how much they contributed to the Cougars/Falcons/Red Wings franchise.
This week, we'll count down 71-80 after revealing 81-90 last week.
#71-80 Greatest Red Wings
80. Petr Klima | RW

Red Wings Career: 306 GP – 130 G – 93 A – 223 PTS
Awards: N/A
After defecting from Czechoslovakia and joining the Red Wings, Petr Klima developed a knack for goal-scoring in the NHL. And despite a few disciplinary issues, Kilma managed to score an average of 0.42 goals per game during the high-flying 1980s. Only Steve Yzerman (0.62) and Gerard Gallant (0.48) had a better goals per goal average during Klima's Detroit career.
Klima was also part of a significant deal that saw the Red Wings trade the Czech winger, Adam Graves, Joe Murphy, and Jeff Sharples to Edmonton for Jimmy Carson, Kevin McClelland, and a 5th round pick.
79. Jiri Fischer | D

Red Wings Career: 305 GP – 11 G – 49 A – 60 PTS
Awards: Stanley Cup (2002)
What a career Jiri Fischer could have had if tragedy did not strike.
Early in the 2005-06 season, Fischer went into cardiac arrest on the Red Wings bench following a shift and was thankfully revived. At only 25, Fischer had to retire from the NHL, rather than become one of Detroit's better defensemen coming out of the 2004-05 work stoppage.
Now the Red Wings' Director of Player Development, Fischer has a leading role in helping Detroit's prospects develop into NHLers. If Fischer had been able to play out his career without heart issues, there's a chance he could have been heading into training camp alongside the rookies he now mentors, given his talent and still relatively young age (36).
78. Mathieu Dandenault | D

Red Wings Career: 616 GP – 48 G – 101 A – 149 PTS
Stanley Cup (1997, 1998, 2002)
As a versatile player in Scotty Bowman's lineups, Mathieu Dandenault played on both wings and on defense for the Red Wings. The fleet-footed skater found a home on defense for the latter half of his Hockeytown stay.
His slick skating, ability to jump into the play and defensive coverage skills would have made Dandenault a fantastic defenseman in today's NHL. In nine seasons with the Red Wings, Dandenault was often paired with Nicklas Lidstrom and Steve Duchesne on the point.
77. Tomas Tatar | LW

Red Wings Career: 263 GP – 74 G – 74 A – 148 PTS
Awards: N/A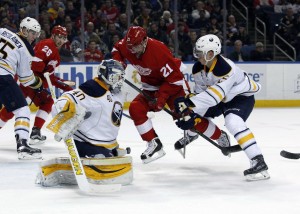 Now one of Detroit's top players, Tomas Tatar has a bright future ahead of him. The 25-year old Slovak winger has a lightning-quick wrist shot that he likes to fire low blocker-side.
After a short, nine-game stint with the Wings during the 2010-11 season, Tatar has settled into a top-six role in recent years. Through 17 playoff games, Tatar has seven points—all of which coming in the last two years against Tampa Bay.
76. Gustav Nyquist | LW

Red Wings Career: 261 GP – 76 G – 82 A – 158 PTS
Awards: N/A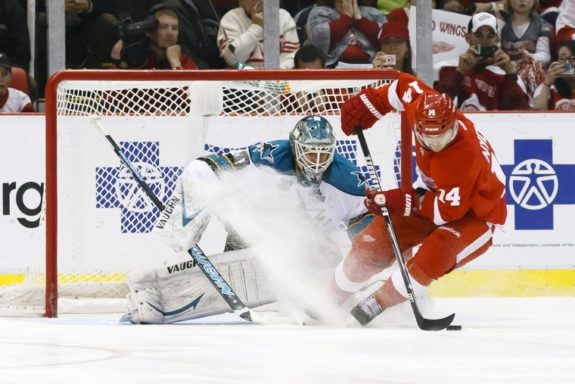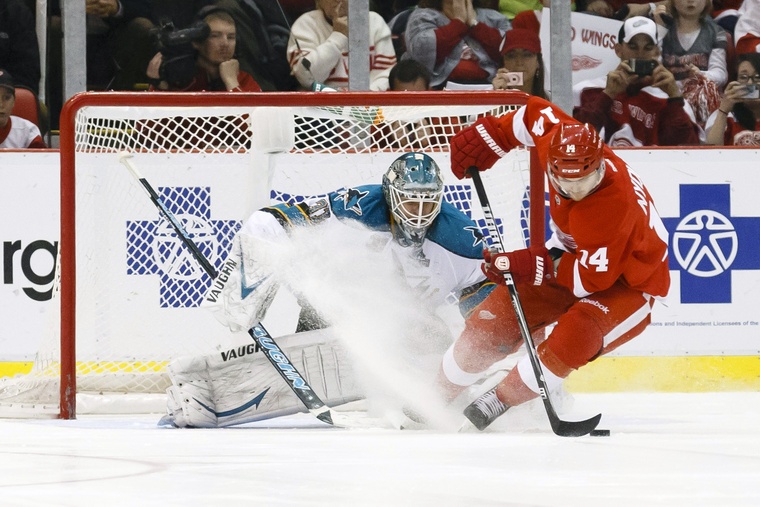 Combining with Tatar to form Eurotwins 2.0, Gustav Nyquist is another current Hockeytown hero to make the list of greatest Red Wings of all-time. Nyquist is more of a glove-side shooter and single-handedly saved the 2013-14 Red Wings season after being promoted from Grand Rapids.
Nyquist responded to his call-up by scoring 28 goals and 48 points in only 57 games. His stellar play was especially critical with both Pavel Datsyuk and Henrik Zetterberg out at times.
Nyquist's best playoff performance came during the Lockout-shortened 2012-13 season when he combined with Joakim Andersson and Damien Brunner to form a threatening third line. He had five points in Detroit's 14 games.
75. Darren Helm | C

Red Wings Career: 443 GP – 72 G – 90 A – 162 PTS
Awards: Stanley Cup (2008)
A fan-favorite in Detroit, Darren Helm and his blazing speed have been pestering opponents since 2008. In fact, Helm's speed got him into the lineup when it mattered most. Following Helm's second professional season, he had only played 23 regular season games, registering only an assist in that time.
But once the playoffs rolled around, coach Mike Babcock favored Helm's game. Despite only a handful of regular season games in his first two years, Helm played in 41 playoff games during that span, scoring six goals and nine points. His one-man penalty kill against the Blackhawks still remains one of Helm's best moments in Detroit.
At only 29 years old, Helm is already a veteran of 82 playoff games and figures to skate in more, given his recent contract extension.
74. Dennis Polonich | C

Red Wings Career: 390 GP – 59 G – 82 A – 141 PTS
Awards: N/A
Back in the 1970s, the Red Wings had a shorter version of Darren Helm who became a fan-favorite as well. Dennis Polonich was a five-foot-six pest with endless hustle and he constantly got under the skin of opponents.
Polonich's Red Wings career might have looked a little better if he hadn't gotten into an altercation with Colorado Rockies winger Wilf Paiement. Bob Duff, of the Windsor Star, detailed the story in his book, 100 Things Red Wings Fans Should Know & Do Before They Die:
When Colorado Rockies winger Wilf Paiement connected on his stick-swing to Dennis Polonich's face on October 25th, 1978, the aftermath looked like a crime scene…Polonich suffered a shattered nose, facial lacerations, and a concussion. He needed reconstructive surgery to repair his nose.
73. Keith Primeau | C

Red Wings Career: 363 GP – 97 G – 133 A – 230 PTS
Awards: N/A
When Detroit drafted Keith Primeau third overall in 1990, they had high expectations for the hulking center. But after putting up 127 points with the OHL's Niagara Falls Thunder during the 1989-90 season, he never really came close to reciprocating those numbers at the NHL level.
In six seasons with the high-scoring 1990s Red Wings, Primeau reached 70 points only once. Despite never meeting expectations in Detroit, his youth allowed him to still have "potential", which led to his inclusion in the 1996 Brendan Shanahan deal.
72. Brian Rafalski | D

Red Wings Career: 292 GP – 35 G – 169 A – 204 PTS
Awards: Stanley Cup (2008)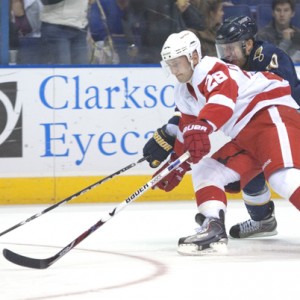 Upon arriving in Detroit prior to the 2007-08, Brian Rafalski felt right at home joining the possession-driven Red Wings. The Michigan-native fit right in with Nicklas Lidstrom on Detroit's top pairing, dominating possession en route to the 2008 Stanley Cup and another finals appearance the following year.
Rafalski's right-handed shot and ability to get the puck through traffic made Detroit's power play that much more lethal. In 65 playoff games, Rafalski produced 40 points for Detroit—second in blueline points behind Lidstrom (47) during that span.
71. Dale McCourt | RW

Red Wings Career: 341 GP – 134 G – 203 A – 337 PTS
Awards: N/A
Detroit's top scorer of the late-1970s led the Red Wings to only their second playoff appearance of the decade during the 1977-78 season (with the other appearance in 1970). Dale McCourt led the Red Wings in scoring during the regular season, despite the fact that he was a 20-year old rookie. He would go on to average almost a point per game until the Red Wings sold high and traded McCourt to the Buffalo Sabres early in the 1981-82 season.
McCourt was almost never a Red Wing to start, though. McCourt's Wikipedia page details why this was the (almost) case.
He was drafted 1st overall by the Detroit Red Wings in the 1977 NHL Amateur Draft. When Red Wings general manager Ted Lindsay signed Los Angeles Kings goaltender Rogatien Vachon, an NHL arbitrator ruled that McCourt should be the compensation paid the Kings for Vachon's loss, but McCourt refused to report to the Kings. The matter was resolved and McCourt remained in Detroit.
Top 90 List So Far
| | |
| --- | --- |
| 90 | Tim Cheveldae |
| 89 | Parker MacDonald |
| 88 | Paul Woods |
| 87 | Dylan Larkin |
| 86 | Vaclav Nedomansky |
| 85 | Frank Mahovlich |
| 84 | Justin Abdelkader |
| 83 | Willie Huber |
| 82 | Mikael Samuelsson |
| 81 | Manny Legace |
| 80 | Petr Klima |
| 79 | Jiri Fischer |
| 78 | Mathieu Dandenault |
| 77 | Tomas Tatar |
| 76 | Gustav Nyquist |
| 75 | Darren Helm |
| 74 | Dennis Polonich |
| 73 | Keith Primeau |
| 72 | Brian Rafalski |
| 71 | Dale McCourt |
| 70-61 | Next Monday |
Which Detroit Red Wings player above was/is your favorite? Comment below to share your opinion.