Washington Capitals general manager Brian MacLellan has had a busy offseason so far. His team has acquired the talented T.J. Oshie in a trade deal with the St. Louis Blues involving Troy Brouwer and also picked up Justin Williams during free agency. But, the rumor mill currently states that MacLellan isn't done yet. According to some, the Toronto Maple Leafs' left wing James van Riemsdyk is a strong trade possibility, and the Capitals (along with the Minnesota Wild and the Calgary Flames) are reportedly serious suitors for JVR.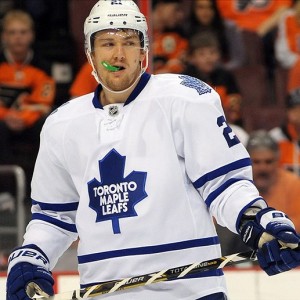 JVR would fit in nicely to a team that will contend for the Stanley Cup next season. There is absolutely no chance that he'll feature on the Capitals' top line, of course, since Alex Ovechkin is there at left wing, but JVR would certainly contend for second-line duties – especially if forward Marcus Johannson is unceremoniously allowed to move on.
Johansson's arbitration meeting is scheduled for July 29. The 24-year-old Swede held a two-year, $4 million contract in Washington and was paid $2.175 million last term. To hold on to Johansson's rights, the team was obligated to offer him at least 100 percent of his most recent salary; but, not surprisingly, Johansson wanted more. As it stands right now, MacLellan will likely let the arbitration process proceed. However, that comes with major complications.
Under NHL rules, if arbitration awards Johansson $3,799,887 or more, the Capitals can balk at that award, and walking away would make Johansson a free agent. Effectively, MacLellan is taking a cautious approach with Johansson. If Johansson goes, van Riemsdyk is a solid replacement – hence the reported speculation that the Caps might deal for him.
JVR has had good numbers throughout his NHL career. Granted, he spent most of his time alongside the Leafs' Phil Kessel and Tyler Bozak, which may have inflated his stats. However, any player with 122 goals, 126 assists and 248 points over six seasons is worth a look at – especially when his cap hit ($4.25 million per year over the next three seasons) is not bank-breaking. The 26-year-old scored more than 25 goals in each of his last two NHL seasons.
What is James van Riemsdyk Worth?
What would the Leafs want in return for JVR? Well…there is Johansson, of course. I see that as a fair swap, with perhaps a draft pick (and possibly a prospect) thrown in. If Johansson is a Capital next season, then an appropriate deal for JVR would involve a first round draft pick, other draft picks and a top prospect.
The Leafs are rebuilding; it's time for them to clean out house as much as they can and JVR is one of the players who could move on. The Capitals are reinforcing an already fortified offensive front – JVR would add another piece to a team that can contend for the Cup next season. Well, they'll contend for the Cup as long as they don't foolishly allow future superstar goalie Braden Holtby to slip away.