The Leafs have signed Kadri to a one-year contract extension for $4.1 million dollars, and it's a deal that is good for both the player and the team, per TSN.
For Kadri it's a good deal (though somewhat risky, since he could get hurt) because you're only going to get one, huge, long-term deal for the prime of your career, and it's probably best not to base it off a year were you scored only 39 points.  (Despite how deceptive that low total is).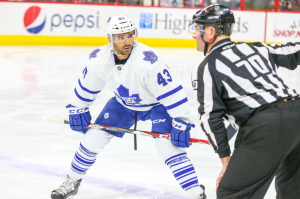 Despite the point totals, Kadri is statistically a top 30 or higher centre at even-strength, who puts up consistently high p/60 and solid possession numbers. He also draws an absurd amount of penalties compared to how many he takes.  At even-strength he has superior career numbers to JVR and Ryan Johansen. He compares favorably to Matt Duchene and (prior to his near-Hart performance last year) to John Tavares.
There is no doubt that both Kadri and his agent are aware of how good his stats are and how much they'll be helped when he finally gets to play with the team's best wingers and he gets some power-play time.  So, if you're them, why take a long term deal at $4.1 or whatever (I'm sure the Leafs would have offered more on a long-term deal) when it's going to be extremely team-friendly if you live up to even 75% of your potential?
Not Much Risk For Leafs Either
The Leafs would probably liked to have locked Kadri up at a cheaper-than-he-deserves rate based on his only getting 39 points last year, but a one-year deal doesn't hurt them any.
Sure, they lose a little value if (when) he breaks out and they end up paying market value for their own player, but he's not going to be UFA next season  and if he breaks out and you're paying him  fairly, there isn't anything wrong with that.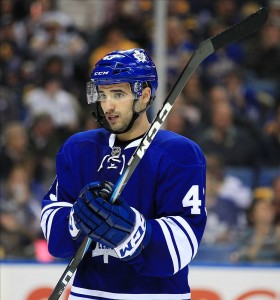 I am sure some people will say that "this lets the Leafs have an extra year to decide if Kadri is worth keeping around long-term." I think that's wrong. Obviously, flagrantly wrong.
The Leafs (who if you didn't already realize, it's pretty obvious after who they signed in free-agency last Wednesday that they are making decisions heavily dictated by analytics) know full-well what they have in Kadri and would have loved to lock him up on a team-friendly value laden long-term contract.  I mean, even if Kadri doesn't improve on what he did last year (highly unlikely) he'd a massive value at just $4.1 for as many years as he'd be willing to sign, since even as he declined in the back end of this fictional contract, inflation would balance it out.
But again, why would Kadri – who is capable of finishing highly in the scoring race – sign a long-term deal based on 39 points when he will come close to doubling that point total next season and add a couple million annually to his bank account?
In Final Analysis, it's a win-win deal.  Kadri sticks around, so the Leafs win. And he gets an extra year to prove he deserves the big money, so Kadri wins too.
Ultimately, I'd love to have seen him sign a long-term deal with the Leafs, but I fully expect him to lead the Leafs in scoring next season and sign for a long time next summer, if not before.
NOTE: For a full stats break-down on Kadri, check out a few of these links: This one, this one and this one especially.
Thanks for reading.