The Toronto Maple Leafs have signed restricted free agent center Nazem Kadri to a one-year contract extension, the team announced on Sunday.
The @MapleLeafs announced today that the club has signed forward Nazem Kadri to a one-year contract extension. #TMLTalk

— Leafs PR (@LeafsPR) July 5, 2015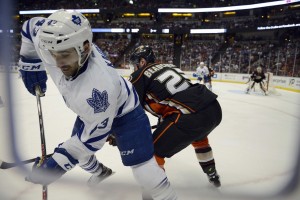 The Globe & Mail's James Mirtle
is reporting that the contract carries a value of $4.1 million.
Kadri is coming off a two-year contract with an AAV of $2.9 million and he'll still be a restricted free agent at the end of this deal (and for one more year after that). The deal makes a lot of sense for both sides. Kadri is a rising star and gets the chance on this bridge contract to prove how much he's worth on a longer term deal for Toronto.
For Toronto's part they're getting him at a reasonable cap hit and get the opportunity to decide if the 24-year-old center is going to be a part of their rebuild and if he'll be worth what he's going to want to get paid on a longer-term deal. The one-year deal also offers the team the opportunity to pay him a reasonable salary this year and move him at the trade deadline if they decide he isn't going to be a part of the team's future plans.
For many Leafs fans, Kadri was a part of an intense debate over the team's center depth. It was particularly heated because Tyler Bozak has was a bigger scorer for the Leafs last season (23 goals, 26 assists), but Kadri hasn't had as strong of wings on his line (read: Phil Kessel) and has managed to drive possession very well for the team. Last season he posted a score-adjusted CF%Rel of 4.3% and he hasn't been below 3.6% at over the last four years. In fact, he was only below 4.1% once. Bozak finished last season with a -0.8% CF%Rel and has had a negative relative possession number three times in the last five seasons.
Last season Kadri posted 18 goals and 21 assists through 73 games for Toronto. That's a slight step back from the 20 goals and 30 assists he posted through 78 games the year before and a larger step back from the 18 goals and 26 assists he posted during the lockout-shortened 2012-13 campaign, where he played all 48 games.
That step back can be seen in his even strength scoring rate, which fell to a 1.6 P/60 last season from a 1.7 the year before and a 3.3 during the lockout-shortened season.
RELATED: Toronto Maple Leafs Top 10 Prospects
[catlist categorypage="yes" numberposts=3 excludeposts=this]