Capitals General Manager Brian MacLellan was on the lookout for a top-six winger for the 2015-16 since Washington's season concluded in the playoffs. He found one in Justin Williams last Wednesday night, signing the longtime L.A. Kings forward to a two-year contract. However, the intense search continued and Washington added another forward to the mix in a stunning transaction.
MacLellan dealt veteran forward Troy Brouwer, goaltending prospect Pheonix Copley and a 2016 third round pick in exchange for St. Louis Blues forward T.J. Oshie, who has two years remaining on his contract at $4.175 million annually. What the Blues received for Oshie was surprisingly underwhelming in terms of trade value, receiving an expiring contract in Brouwer while gaining a goalie prospect who had just one season of experience in pro hockey, but who has potential to become an NHL netminder, and a solid one at that. Copley was expected to start for the Hershey Bears in net next season. Washington announced the signing of veteran net minder Dan Ellis to a one-year, two-way contract for the 2015-16 season on Saturday. Ellis will share goaltending duties with Justin Peters in the upcoming season.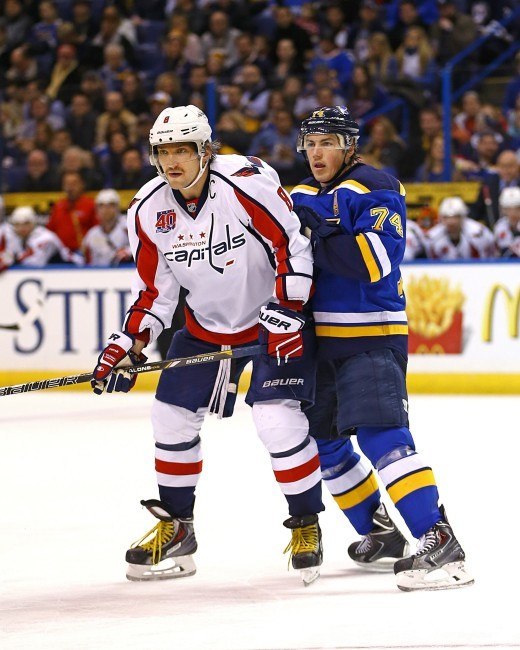 "My initial reaction was a little bit of shock," Oshie said. "I knew that it was a possibility and after a few minutes I started getting excited. I'm just really excited to go onto the next chapter of my career. When I thought about the trade and going to Washington, it's a team that had a really good chance at winning the Stanley Cup last year and I'm just excited to be included as a piece of the puzzle."
T.J. Oshie is 23rd(!) in 5 vs 5 points/60 (1,500+ minutes) over the last two seasons. Troy Brouwer is 193rd. I'm thinking Washington did OK.

— Todd Cordell (@ToddCordell) July 3, 2015
Oshie, coupled with Caps' stars Backstrom and Ovechkin, could form one of the fiercest top lines in the NHL. Washington could rival Pittsburgh in the Metro Division in forward star power, and the Pens may have David Perron, Sidney Crosby and the recently acquired Phil Kessel togehter as their top forward trio.
"It would be something I've never experienced before," Oshie explained of potentially playing with top caliber players like Ovechkin and Backstrom. "I've always with very good players, players that have played in the Olympics, but never with players that have put up numbers like those two guys have."
Ovechkin and Backstrom have been an unheralded duo in D.C. for almost a decade and they don't appear to be slowing down. Ovechkin has played over 6,000 minutes of five-on-five play with Backstrom since the 2007-08 campaign, with Washington generating 56.8% of the goals and posting a 55.6 corsi-for rating. When apart from Backstrom in that same span, Oveckin and his linemates scored only 51% of the goals and recorded a 49.5% corsi rating according to puckalytics.com.
"I was in a top-six role in St. Louis for the past couple years now and I know in Washington they've got some really good players on that roster," Oshie explained. "I'm willing to fit in wherever they think is the best fit for me, coming in as a new guy I'm willing to go in there and earn my ice time and show them what I can do."
Oshie will only add to the effectiveness of Backstrom and Ovechkin and the Capitals would finally have a reliable option to complete Washington's first line for the first time in a while. The former St. Louis Blues forward brings speed along with a physical game that could give the captain and his center even more space, while the opposition still has to deeply respect Oshie's skill level. The trio should be able to cycle the puck with regularity along the boards along with working around the net and making the crease an area of concentration and focus.
Oshie has been a force possession-wise like Ovechkin and Backstrom during his time with the Blues, with his team outshooting their opponents 1075-902 when Oshie's on the ice the past two seasons during five-on-five situations. His 51.8 corsi-for rating during the 2014-15 season was his lowest since the 2008-09 campaign and an increase of talented players around him will surely spike his numbers as he begins next season in Washington.
He has a big effect on his teammates as well, with most of his line mates posting worse numbers when they're not on the ice with Oshie. Below is a chart showcasing Oshie's linemates' performance both with and apart from Washington's latest forward acquisition. It's not hard to see how he is capable of transforming an offense.
Oshie is signed for two years and the Capitals hope to be contenders by the final year of his contract, the same time Justin Williams' deal expires. MacLellan is taking a huge risk by pushing the majority of his chips in at one moment, but Washington has their core in place and are going for it. Will MacLellan's risk result in a championship for the Capitals?