Do you smell that? Pause, take a deep breath in and enjoy. It's mid September, and hockey is in the air. All over North America and Europe skates are being sharpened, equipment inventoried, and rinks flooded. The excitement is palpable with junior preseason underway and NHL rookie tournaments completed. That means one thing: NHL training camps begin this week. Every training camp provides surprise performances that lead to an unknown player cracking the roster (look no further than Nate Guenin last season), or a disappointing camp by a veteran that leads to a similar season. In most cases, a player's showing in September sets the tone for the entire season. A handful of players stand out on Colorado's training camp roster that have the potential to strengthen the team now, and in the future, heavily based on their performance this week. Here are 5 Avalanche players to keep an eye on when training camp gets underway Thursday:
1. Ryan Wilson
It feels like I talk about Ryan Wilson every week. But the simple fact is that he can still be a key contributor on this team, and this is his "make it or break it" season with the Avalanche. Defense continues to be the question mark in Colorado and Wilson performed up to task when given a chance in the playoffs at the end of last season. If the rumors of Brad Stuart's demise are accurate and Nick Holden cannot replicate his career year, there is a gaping hole on the left defensive side. A healthy Wilson could mitigate that tenuous situation. After missing so much time in recent years, it's Wilson's confidence, and not his talent that should questioned. Will he be confident handling the puck? Will he throw his body around with reckless abandon? It will be interesting to see his demeanor in camp after his first injury-free off season in years. He's one of the best open ice hitters in the league when at the top of his game, and Colorado could use that level of intimidation in the lineup.
With 8 defensemen fighting for spots, a productive Wilson could at the very least become a nice trade chip for the team. If he falters, this will be the last we see of him in an Avalanche jersey.
2. Joey Hishon
Joey Hishon is the Ryan Wilson of the Avalanche forward group. Hishon has loads of potential but has spent the majority of the last few seasons on the sidelines due to injuries, which began with a series of serious concussions. Though defense is the team's most glaring weakness, Hishon could have the most meaningful impact of all if he is able to stay healthy. The lack of forward depth in Colorado's prospect system means Hishon is the first (and only) call up if (and when) injuries arise in the top 9. In his first and only NHL action last season, Hishon did not look out of place banking 1 assist in 3 games. Considering it was playoff time, it was no small feat. The former 1st round pick has always shown talent and tenacity to compete at this level, now the undersized forward must show he has the durability. If not, his NHL career may be in jeopardy.
3. Maxim Noreau
Noreau comes into camp as a complete unknown quantity for most Avalanche followers. The 27 year old offensive defenseman has spent the last 3 seasons in the Swiss League after beginning his pro career in the Minnesota Wild organization. He has only 6 games of NHL experience with no points, but the Avalanche scouts saw enough of him playing with Matt Duchene during the lockout to sign him this off-season.
See it's official now so a big welcome to Denver to Max Noreau! He and I won a Spengler Cup, played in Ambri-Piotta together in Switzerland

— Matt Duchene (@Matt9Duchene) July 8, 2014
The scouting report on Noreau projects him as a more experienced version of Stefan Elliott – a right handed offensive defenseman. If Noreau is able to perform well at camp not only will he earn a spot on the team, but could also simultaneously put Stefan Elliott on the trade block. There is a real logjam on defense, and this is definitely something to keep an eye on. Whatever the case, it appears that the Avalanche have options available to replicate offense from the defense provided by Andre Benoit last season.
4. Tomas Vincour
Tomas Vincour was originally acquired by Colorado at the end of the 2012/13 season from Dallas in exchange for Cameron Gaunce. The 23 year old winger has 88 NHL games to his name, though only 2 have been with Colorado. Vincour spent last season with AK-Bars of the KHL and was an after-thought as far as Avalanche assets are concerned (say that five times fast). That is, until he re-signed with Colorado 2 weeks ago. It became apparent to management that forward depth was an issue once when Paul Carey, Brad Malone and Joey Hishon all saw regular time in the playoffs last season. This forced Colorado to play a three line game, and was a significant factor in their first round loss to Minnesota.
I have liked what I've seen from Vincour in limited action with Dallas and Colorado, and believe he will be a key contributor in the bottom 6 this season. He is a big winger with an offensive touch that will likely prevent Cliche and Bordeleau from being in the lineup every night; which is a blessing in itself. What to look for in regards to Vincour is what line Roy starts him on in camp. Either way the bottom 6 is much improved on a year ago with three of Briere, Talbot, Mitchell, Winchester, McLeod & Vincour comprising the 4th line to start the year.
5.  Duncan Siemens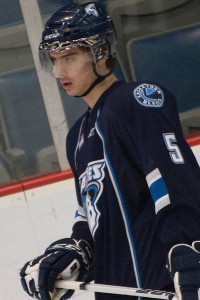 Duncan Siemens is about to enter his second full pro season, one which will be very telling of the young defenseman's future career. After being selected 11th overall with Landeskog in the 2011 draft, Siemens' offensive game has stunted and he put up only 4 points in 46 games with Lake Erie last year. The good news? His strength is defense. He is a big, smooth skating defensive defenseman with a mean streak to boot. Working with Adam Foote this year should only emphasize that trait. With the logjam of defense he won't be cracking the opening day lineup, but he should get his first taste of NHL action if injuries hit the left side. He projects as Jan Hejda's replacement down the road, and the time is now to prove he should be a part of Colorado's long term plans. If Siemens reaches his potential it will really stabilize the Avalanche defense in the near future.
Others to watch: Danny Briere (C/RW), Connor Bleakley (C), Stefan Elliott (D), Reto Berra (G), Sami Aittokallio (G)