With the Philadelphia Flyers in somewhat of a holding pattern for the rest of the summer, it is time to look ahead to the 2015-2016 season. There always can be more trades and signings, but the core of both the Flyers and their AHL affiliate, the Lehigh Valley Phantoms, look to be set.
Therefore, I will now begin to preview the 2015-2016 season for the Lehigh Valley Phantoms, starting with their forwards.
Overview of Last Season
The Phantoms finished 13th in the Eastern Conference during the 2014-2015 campaign with a record of 33-35-7-1 (74 points). Although that is far from where the Phantoms had hoped to end up, it was still an improvement upon the 2013-2014 campaign in which they finished with a 30-38-2-6 record (68 points).
Offensively, the Phantoms relied heavily upon two young centers, second-year pro Nick Cousins and rookie Scott Laughton, and AHL veteran Jason Akeson. Cousins led the Phantoms with 56 points (22G, 34A) in 64 games while Akeson earned 53 points (23G, 30A) in 57 games.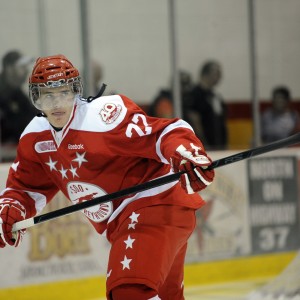 Laughton, who split the season between the Philadelphia Flyers and the Phantoms only earned 27 points (14G, 13A) in 39 games. He started the season on a tear, scoring six goals and earning five assists (11 points) through his first 13 games. At that point, he was called up to the NHL. After battling through injuries at the NHL level, Laughton was returned to the Phantoms where he struggled to regain his rhythm. However, he finished the season with 12 points (7G, 5A) in his final 12 games of the season.
The Phantoms spent a majority of the 2014-2015 season battling for a playoff spot. It was only in the final month and a half of the season that they fell out of the playoff race. Although they lost veterans like Andrew Gordon, Zach Sortini, and Oliver Lauridsen this offseason, there is a good chance that the Phantoms will be much improved in 2015-2016.
Notable forwards not returning include Austin Fyten, Daroll Powe, and likely Kevin Goumas.
2015-2016 Forwards
As it stands right now, there projects to be quite a few new faces on the Phantoms next season. They have a new group of veteran leaders and a handful of new prospects that should add considerable skill to the forward core.
As a whole, the Phantoms forwards will be small in stature, but high in skill. They have a number of players who stand well below six feet tall and only a handful of players that are over 200 pounds. Later, when I preview the defensemen, we will see that the opposite is true. The Phantoms are full of big framed defensemen and light on quick puck movers.
Without further ado, here is a brief description of the forwards who are eligible and/or likely to be playing for the Phantoms next season:
Scott Laughton – C – 6'1″ – 194lbs
Laughton, the Flyers first round pick in 2012, is the most likely player on this list to start the season in the NHL. He seems to have the talent and ability to be an NHL player, but a logjam of forwards may force him into the AHL at the start of the 2015-2016 season. If he begins the year in the AHL he will almost certainly be the first line center and the first forward call-up to the NHL.
Taylor Leier – LW – 5'11" – 174lbs
Leier, who was also drafted in 2012 (4th round), is a tenacious winger who had a solid rookie season. His 13 goals and 18 assists did not blow anyone away, but the fact that he held his own at the professional level while battling injuries has set up Leier to be a breakout performer during the 2015-2016 season. He will likely be a top-six winger on the Phantoms and has shown chemistry with Laughton in the past.
Nick Cousins – C – 5'11" – 177lbs
The Flyers drafted Nick Cousins in the 3rd round of the 2011 draft. The 2015-2016 season will be a crucial one for Cousins, as the 22 year old center tries to cement himself as an NHL player. He enjoyed an 11 game call-up at the end of the 2014-2015 season after leading the Phantoms in scoring. Assuming he starts the season in the AHL, he will be a top-six center who will be an offensive catalyst for the team.
Petr Straka – LW/RW – 6'1″ – 195lbs
Straka, who turned 23 last month, will likely  play a middle-six role on the Phantoms next season. Entering his third year with the Phantoms, he is yet to "break out" offensively. His point totals have been modest, yet he did earn a three game NHL call-up last season in which he had two assists in three games. Barring an outstanding performance in training camp, Straka will likely begin the season with the Phantoms. If the Flyers have a large number of injuries, Straka could see himself in the NHL at some point this season.
Pavel Padakin – RW – 6'0″ – 179lbs
The Flyers organization awarded Ukrainian forward Pavel (or Pavlo) Padakin an AHL-only contract this summer after his final season in the WHL. During his final two WHL seasons, his point totals were almost identical. In 2013-2014, as a member of the Calgary Hitmen (along with Flyers prospects Travis Sanheim and Radel Fazleev) he recorded 27 goals and 27 assists in 66 games. In 70 games during the 2014-2015 season with the Regina Pats he earned 27 goals and added 28 assists to total 55 points. Padakin is a bit of an unknown. Taking into account that he is only 21 years old and the organization has plenty of RW depth, it would not be surprising if he started the season in the bottom half of the line-up.
Colin McDonald – RW – 6'2″ – 203lbs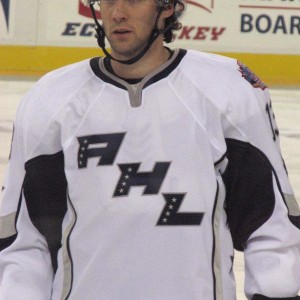 Colin McDonald is one of the veterans who will likely join the Phantoms leadership group. McDonald is something of an NHL/AHL swingman who is a solid point producer in the minors. Last season he averaged nearly a point per game in the AHL (35 points in 41 games), and also served the Islanders well during 18 regular season NHL games (2G, 6A). McDonald will play top-six minutes on the Phantoms and could be called up to the NHL during the season if Ron Hextall does not think any of the prospects are NHL-ready.
Danick Martel – C/LW-  5'8″ – 161lbs
Last season Martel was one of the top scorers in the QMJHL, earning102 points (48G, 54A) in 64 games. At the end of the season Martel found himself in five AHL games in which he scored one empty net goal and added a couple of assists. It is difficult to project how Martel will fit into the Phantoms line up. It stands to reason that he will be in the mix for a top-six spot, but he may find himself on the third line. His speed and high skill level could open up the way for him to move up the line up throughout the season.
Tyrell Goulbourne – LW – 6'0″ – 183lbs
The Flyers spent their 2013 3rd round draft pick on Goulbourne, an agitator with little offensive skill. Although he seems like a nice guy off the ice, there is little reason to believe that Goulbourne will have a successful pro hockey career. His point totals in juniors were underwhelming until he was 20/21 years old, at which point he was up to five years older than his competition. If Goulbourne wants to carve out ice time, he will need to play smart and fast, earning time on the penalty kill.
Aaron Palushaj – RW/LW – 6'0″ – 187lbs
This right-handed 25 year old was a 2nd round draft pick of the St. Louis Blues back in 2007. He has three goals and 11 assists through 68 NHL games, but has spent much of his professional career in the AHL and the KHL. In 258 career AHL games to date, Palushaj has earned 76 goals and 118 assists (194 points, .75 points per game). Palushaj spent last season playing in the KHL and will probably play the entirety of the 2015-2016 season with the Phantoms. He figures to be a middle six winger who provides versatility and an offensive punch.
Cole Bardreau – C – 5'10" – 185lbs
Bardreau signed an entry level contract with the Flyers this past spring after completing his senior season at Cornell University. Bardreau was teammates with current Flyers prospect Shayne Gostisbehere on the 2012 USA World Junior squad and should be a solid bottom-six forward for the Phantoms next season. His size and offensive totals will not blow anyone away, but he is a solid faceoff man and a good two-way player.
Tim Brent – C/RW – 6'0″ – 201lbs
This 31 year old center, a veteran of over 200 NHL games and over 300 AHL games figures to play a bottom six role for the Phantoms next season. Brent will take up the leadership mantle of guys like Andrew Gordon and Daroll Powe, while also providing solid offensive support. He has historically been a solid AHL player, but having spent the last couple of years in the KHL make him a relative unknown heading into the season.
Chris Conner – LW/RW – 5'7″ – 174lbs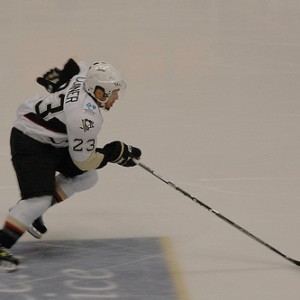 Chris Conner, 31, is another savvy veteran who can put up quite a few points at the AHL level. Over his career, he has 126 goals and 204 assists (330 points) in 413 AHL games (.8 points per game). Last season he was an assistant captain on the Hershey Bears as he amassed 52 points through 61 games. He will be an addition to the leadership group while also being a top-six point producer.
Brandon Alderson – RW – 6'3″ – 190lbs
Although Alderson showed some promise in his rookie AHL season, he took a step backwards in his development last season. He split last season between the Phantoms (35 games) and the ECHL's Reading Royals (35 games). With the depth that has been added via free agency and prospects, there looks to be little room for Alderson. Unless he greatly improves from last season, he will likely yo-yo between the press box and the fourth line.
Derek Mathers – RW – 6'3″ – 231lbs
It has been almost six years since Derek Mathers went through a hockey season (whether at the OHL level or the AHL level) without amassing at least 100 penalty minutes. Mathers is a fighter. Even though he is young, he'll be 22 in August, he plays with the style of an old-school enforcer. Like Alderson, it will be difficult for Mathers to carve out a niche, especially with Tyrell Goulbourne making the jump to the pro ranks. Goulbourne may be small, but he can skate and kill penalties to go along with his mean streak.
Line Projections
Assuming Laughton starts the season in Lehigh Valley, the line combinations could look something like this:
Leier – Laughton – McDonald
Conner – Cousins – Palushaj
Martel – Brent – Straka
Goulbourne – Bardreau – Padakin
Extras: Mathers, Alderson
If, however, Laughton is able to find a spot on the Flyers opening day line-up, the Phantoms roster could look something like this:
Leier – Cousins – Palushaj
Conner – Brent – McDonald
Straka –  Martel – Padakin
Goulbourne – Bardreau – Alderson
Extra: Mathers
Either way, there is a severe lack of size within the Phantoms line-up, especially the top-six.
Conclusion
The Phantoms will have a balanced forward core next season. They have a good mix of AHL rookies, "young veterans," and older players.
AHL veterans like Colin McDonald, Tim Brent, Aaron Palushaj, and Chris Conner will pack quite a bit of offense to the line up. Meanwhile, many of the "young veterans" like Scott Laughton, Nick Cousins, Taylor Leier, and Petr Straka will continue to improve. Therefore, the team will not rely on their rookies (Martel, Padakin, Bardreau, Goulbourne), but if any of those players produce, it will just be an additional bonus.
The Phantoms forward core has the depth to be able to sustain a few NHL call-ups while making a run at the Calder Cup playoffs.