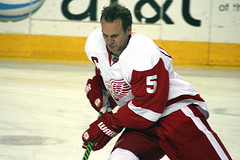 EASTERN CONFERENCE:
~ Reports indicated Sidney Crosby is on the verge of signing a big endorsement deal with Reebok that would open the door for a new SC87 apparel line: "Crosby's new deal with Reebok is said to be worth almost $10 million over the next seven years. Crosby's agent, Pat Brisson, would not discuss the financial aspect of the deal and said it is not completed yet, "but things are going in the right direction.""
~ Evgeni Malkin gives his thoughts on Sidney Crosby, Alex Ovechkin, and how he's becoming a 'Russian Canadian': ""Alex has such a talent that he quickly adapts to rink sizes, the style of play, plus he has this insolence, in a good way, helps him a lot. I think that right now he is already a 'Canadian,' you can say. This is what he is called in the NHL – the 'Russian Canadian,' because he completes so many hits in a game. In this setting he's like a knife in butter."
~ If the Flyers were supposed to be nervous being down 1-0 in the series, no one told Chris Pronger.  He was loose and joking around like a guy who has been to the Stanley Cup Finals three of the past five years.
~ A great weekend feature over at 'View From My Seats' is the random NHL thoughts included in "I Might Just Be A Hockey Fan In California".  In yesterday's newest installment, I think he's onto something: "The worst kept secret around the NHL right now is that the Capitals are seriously interested in Anton Volchenkov for around $5 million per season. So if he does, in fact, sign on July 1st with the Caps, will the league even bother to look into their toothless tampering rule?"
WESTERN CONFERENCE:
~ Defense was nonexistent in last night's Game 1 of the Stanley Cup Finals.  Philadelphia has to find a way to cut Chris Pronger's minutes if they plan to compete with Chicago's depth: "Philadelphia doesn't trust their third defensive pair — even less than Chicago's trusts theirs — with Lukas Krajicek playing just over seven minutes and Ryan Parent playing 41 seconds before getting stapled to the bench for the rest of the game thanks to a defensive miscue that led to Chicago's first goal."
~ How crazy was it at the United Center in Game 1?  Surprisingly the arena was at it's loudest during the national anthem – peaking at about 121 dB, equivalent to the loudness of sandblasting.
~ Blue Jackets GM Scott Howson expects to pick his new head coach within the next week to ten days, giving the new bench boss enough time to get accustomed to the team prior to the NHL draft: "In addition to [Guy] Boucher, Howson is considering Scott Arniel, coach of the AHL's Manitoba Moose; Kevin Dineen, coach of the AHL's Portland Pirates; and Claude Noel, who coached the Blue Jackets in their final 24 games last season as interim coach."
~ Petr Sykora turned down a 3-year contract with the KHL last season to take a tryout deal with the Minnesota Wild.  After a disappointing season which ultimately led to his release, Sykora looks to be finally heading to Russia.
~ Remember Alexander Radulov?  He was recently named MVP of the KHL and On The Forecheck can't decide whether it would be good to see him back in a Predators uniform or not: "The prospect of a Radulov return is not all roses, however. His reputation is justifiably in tatters after jilting his NHL team and his legally binding contract in order to make more money in the KHL. Predators fans were and still are rightly indignant over seeing a homegrown player leave in the manner he did. The locker room tension would likely be very high, with many of the same teammates still on the roster."
~ Pierre Lebrun reports that Red Wings defenseman Nicklas Lidstrom will inform management and GM Ken Holland about his future plans: "If he decides to return for another season, the next step will be to sign a contract since he's set to become an unrestricted free agent July 1. He earned $7.4 million this season, and despite the fact he remains a great defenseman at age 40, the Wings will hope to get him back for less money."
Pierre McGuire – always just a little too creepy:
_______________________________________________________
Crashing the Crease is The Hockey Writers' rundown of news, notes, and analysis from around the NHL.
Have an interesting article? Want to see your blog featured here? Email us at CrashingTheCrease.THW@gmail.com
You can follow Mike Colligan on Twitter at twitter.com/MikeColligan