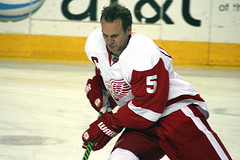 When debating the great question as to whom is the best defenseman of all time, it usually comes down to either Bobby Orr or Nicklas Lidstrom. While this question may not yet have a definitive answer, last night, in a 5-2 win over the St. Louis Blues,  Lidstrom  finally crossed something off his to-do list: the 40-year-old defenseman recorded a hat trick.
After 20 years and 1442 games in the National Hockey League, one of the greatest defenseman, at least of our time, scored his first hat trick (and the Detroit area is going crazy for curly fries).
With a minute left in the game, the Blues called a time out and pulled Jaroslav Halak for an extra skater. Dan Cleary carried the puck into the zone and appeared to have missed an open net shot – appeared being the key word in this case. Cleary took the puck to the corner, spun around and shot it right to Nicklas Lidstrom at the blue line, who riffled the puck though four Blues players for his first career hat trick (just speculation but I am guessing they had an idea that Detroit was going to feed the puck to Lidstrom). In what could have been the biggest goal celebration of the season thus far, the modest captain simply raised his stick to the crowd at Joe Louis Arena, then celebrated with teammates.
Known as "the perfect human", Nicklas Lidstrom sat down and did an interview with a shirtless Chris Osgood for ESPN, that once again sparks the debate — who is the best defenseman of all time?
Lidstrom's Record are as follows:
NHL
First European-born and trained Norris Trophy winner (2000–01)
First European-born and trained Conn Smythe Trophy winner (2001–02)
Fourth defenseman (and first European-born and trained defenceman) in NHL to win James Norris Memorial Trophy three years running (2001–2003, 2006–2008), and third six-time Norris Trophy winner.
First European-born and trained captain of a Stanley Cup-winning team (2008)
First European-born and trained defenceman to reach 1000 points
Sixth defenseman (and 28th player overall) to reach 800 career assists
Most games played by a player born in Europe, any position (1442)
Most games played by a defenseman in a career spent with only one team (1442), also third all-time league-wide and with the Red Wings (any position)
Detroit Red Wings
Most points by a defenseman, season (2005–06, 80)
Most postseason goals, career (50)
Most postseason points, career (175)
Most postseason assists, career (125)
Most postseason games played, career (247)
Most games played by a defenseman, career (1412)
Most goals, assists, and points by a defenseman, career (237, 809, and 1046)
Most points in a single postseason (1998, 19)
Most goals in a single postseason (1998, 6)
Best postseason plus/minus (+53)
Best regular season plus/minus (+433), never finished a season below +7
Awards
World Championship gold medal winner (Sweden, 1991)
NHL All-Rookie Team (1992)
Four-time Stanley Cup winner (1997, 1998, 2002, and 2008)
11-time NHL All-Star (1996, 1998, 1999, 2000, 2001, 2002, 2003, 2004, 2007, 2008, and 2009*)
Nine-time NHL First All-Star Team member (1998, 1999, 2000, 2001, 2002, 2003, 2006, 2007, and 2008)
Two-time NHL Second All-Star Team member (2009 and 2010)
Six-time Norris Trophy winner (2001, 2002, 2003, 2006, 2007, and 2008)
Conn Smythe Trophy winner (2002)
Olympic gold medal winner (Sweden, 2006)
Member of the Triple Gold Club
Olympic All-Star Team (2006)
* – injured