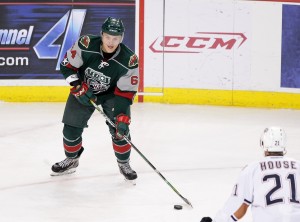 Mikael Granlund was sent back to the AHL's Houston Aeros towards the beginning of the month after losing his line-up spot with the Minnesota Wild. While the Wild continue on a hot streak that has seen them take over the top of the Northwest division standings,  Granlund will need to put in his hardest work of the season as he tries to re-earn his spot in the Minnesota line-up with strong play in Houston.
Opinions varied on how Mikael Granlund performed during his 19-game stint in Minnesota. Expectations were high that the 21-year old could jump straight into the Wild's line-up and perform well as the second line pivot after an impressive SM-Liga career and point per game performance with the Aeros in the AHL.
The fact is that there was an adjustment period to some degree and the anticipation that Granlund could immediately lead in scoring was probably unrealistic. Needless to say, he bounced around the line-up centering several different line combinations and spending significant time on the wing. His play did improve across the 19 games, particularly in terms of physical competitiveness and poise. However, in the meantime Matt Cullen took hold of the second line center spot and rookie wingers Jason Zucker and Charlie Coyle made a big impact on the line-up adding balance and depth to an improving Wild offense. [See also: Evaluating Minnesota Wild Rookie Wingers Jason Zucker and Charlie Coyle].
That offense was improving without Mikael Granlund playing a significant result setting the young center on a seemingly inevitable path back to the AHL. There seemed little point asking Granlund to fill a fourth line role better played by Zenon Konopka, Torrey Mitchell and Mike Rupp. Despite not playing particularly badly, it just made more sense for Granlund to hone his offensive skills in the AHL.
The temperature in Houston may be a far more comfortable 20 degrees Celsius compared with the -10 that St Paul is experiencing this week. However, this is no vacation for Granlund and his current stint in Houston might just be the hardest work of his professional career so far.
Zucker is currently a healthy scratch on a Minnesota roster that is wheeling offensively right now and suddenly appears to have exciting amounts of forward depth. In a short season, it's quite possible that even a drop in form or spell of injuries may not be enough to give Mikael Granlund a true shot at earning a place back in the line-up this season.
He's started his return to the Aeros reasonably well picking up a couple of assists, but there's still plenty of room for improvement. Minnesota GM Chuck Fletcher and coach Mike Yeo will be looking to see Granlund taking over games at that level. Houston have had to deal with several of their better players leaving during the season at every position, but they are currently in possession of a Western conference playoff place and that conference is competitive enough to the point where the Aeros could emerge as Calder Cup challengers.
Mikael Granlund may just have to be patient in terms of waiting for an opportunity at the NHL level to open up, but he needs to be proactive in-between. The AHL is a tough league and a good place for Granlund to develop his physical skill set, while emerging as a leader of an offense one tier below the level he will want to be playing at sooner rather than later.