With as deep of a roster as the Tampa Bay Lightning have had for at least the past few years, their prospect pool is also pretty stacked with talent as well. One of the players leading all potential future Bolts right now is defenseman Callan Foote, or Cal for short.
The defensive ranks for the Lightning right now include the likes of Victor Hedman and Ryan McDonagh. The organization also made some moves at the position by re-signing Mikhail Sergachev, Erik Cernak, and Luke Schenn to their respective deals. Foote has a lot of potential to become another complementary piece to that blueline, and it might not be long before he becomes an NHL regular himself.
Family Ties
Foote was born in Denver, Colorado on Dec. 13, 1998. He had hockey in his blood from the start, with his dad Adam being a defenseman for the Colorado Avalanche. What his father was able to accomplish in his career proved that he would be a good mentor for his son Cal to learn from.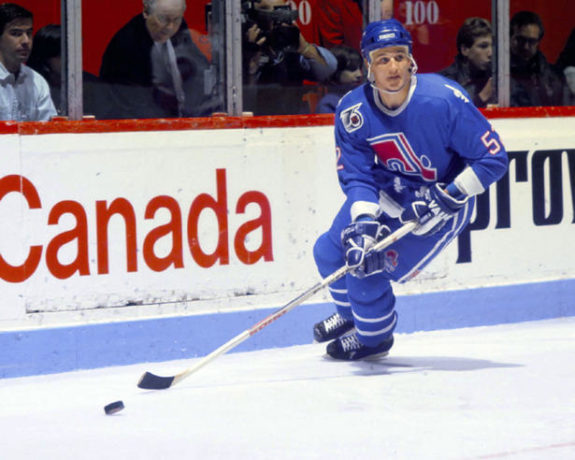 Adam won two Stanley Cups with the Avalanche (in 1996, and again in 2001). He had proven to be a standout defenseman in his own right, while also fitting in with other blueliners on the squad over the years that included talents in Ray Bourque, Rob Blake, and Sandis Ozolinsh, among others. He retired after playing in more than 1,100 NHL games and was also captain of the Avalanche for two seasons after Joe Sakic retired. Adam's No. 52 was retired by Colorado in 2013.
Overall, in Adam's time in the league, he posted 66 goals and 242 assists.
Cal may get compared to his father Adam, but he is going to do everything he can to carve his own path and make a name for himself in his own regard. He has the tools to have that potential.
Cal's brother Nolan Foote was also a first-round draft pick (27th overall) by the Lightning in the 2019 Draft. Both played junior hockey together, and that transferred over to both getting selected by Tampa in their respective draft classes.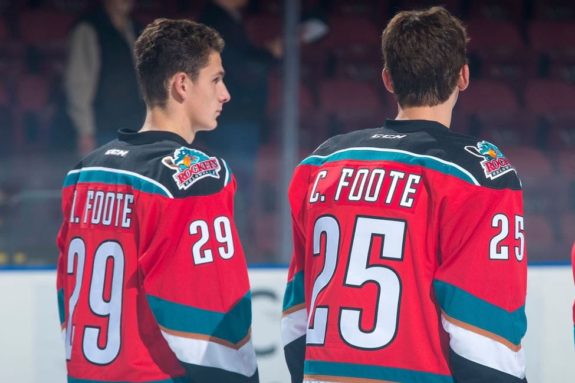 However, Nolan was traded from Tampa to the New Jersey Devils in the deal that brought back Blake Coleman, who helped play a role in the Lightning winning their second Stanley Cup.
Cal's Hockey Journey So Far
Cal was Tampa's first-round pick (14th overall) in the 2017 NHL Draft. He was playing junior hockey for the Kelowna Rockets of the Western Hockey League (WHL) for a couple of seasons, and earned the respect from scouts to be considered a top defender in his draft class. He produced the following regular-season stats while suiting up for the Rockets:
2015-16: 8 goals and 28 assists for 36 points in 71 games
2016-17: 6 goals and 51 assists for 57 points in 71 games
He also added 19 goals and 51 assists for 70 points in 60 games in 2017-18 with Kelowna. Foote then signed a three-year entry-level contract with the Lightning and rounded out that hockey year with Tampa's AHL affiliate, the Syracuse Crunch, for six games. He notched a goal in that span.
Foote has played with the Crunch since joining Tampa's organization. He has transitioned his game solidly, putting up some nice offensive numbers as a defenseman in the AHL. He has chalked up the following regular-season stats:
2017-18: 1 goal in 6 games
2018-19: 10 goals and 21 assists for 31 points in 76 games
2019-20: 6 goals and 22 assists for 28 points in 62 games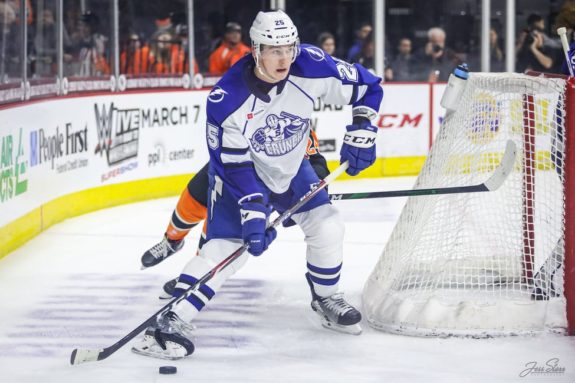 He has not played in an NHL game yet in his young hockey journey, but I think it is inevitable that he gets a call-up soon. His development has come along, and the next steps for him may involve having some NHL exposure by playing in at least a few games for Tampa. He would get some nice mentorship through Lightning veteran defenders in Hedman, McDonagh, and Schenn, who have been in the game for a while.
Some lessons can also only be self-taught through playing the NHL game and experiencing first-hand the differences between games in that league and other ones like the AHL or WHL. The transition can be made by a player on their own, but it is necessary to experience an NHL contest to make those strides as well.
The Lightning have a lot of defensive depth, but Foote can possibly emerge as a player who will command to be an NHL regular based on his skillset. He just needs more experience and time. If he can transition his game to the NHL level, he will be one more weapon Tampa has in general, but especially on an already-stellar defense.
---
---