When spending $26.5 million on three defensemen, one would expect a given team to have an elite blue line. However, despite three Norris Trophies on the roster, the San Jose Sharks' defensive corps is in need of a bounce-back season from many of its players.
With the heavy contracts and past success of the defensemen, the Sharks' defensive corps is loaded with talent. The team is reliant on a return to past form if they are to have any success in the upcoming season.
Erik Karlsson
Currently, Erik Karlsson is the best defenseman the Sharks have. Karlsson, 30, was the best defenseman in the NHL for numerous years, but multiple lower-body injuries have derailed his play. As the league's highest-paid defenseman, a lot is expected of him, and hopefully, after 10 months of rest, he will be able to regain his top defenseman status.
Karlsson is a sensational puck-moving blueliner who did not always have defensive reliability issues. His shooting talent and goal totals have decreased since his time with the Ottawa Senators. Last year, he missed the end of the season and had 6 goals and 40 points in 56 games. In 2018-19, he only got into 53 games, and had 45 points.

Karlsson is elite offensively, but poor defensively. He ranked in the bottom fifth of the league in goals-against for defensemen. Some of this defensive inconsistency stems from slowness due to injury, but much stems from his style of play and regression with age.
The hope for the Sharks must be that time off can curb his rough defensive play enough to reestablish Karlsson as a top defenseman. Regardless, he is currently the Sharks' best defenseman under contract.
Brent Burns
The other handsomely paid offensive defenseman for San Jose is bearded fan-favorite Brent Burns. Burns relies on his quantity of shots and decent puck-moving ability to produce offense, but struggles defensively.
His offensive touch somewhat declined last season, only totaling 12 goals and 45 points in 70 games. This marked his worst season offensively 2011-12, his first season with the Sharks.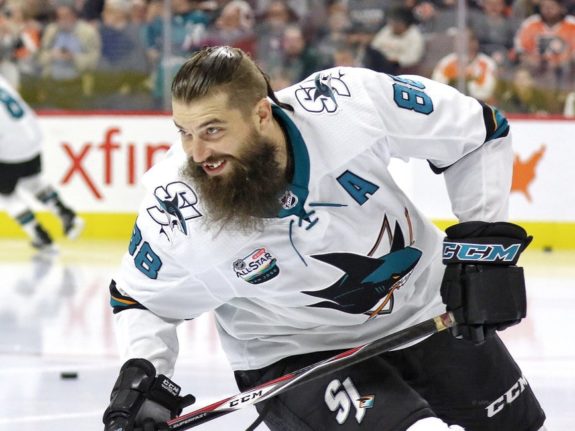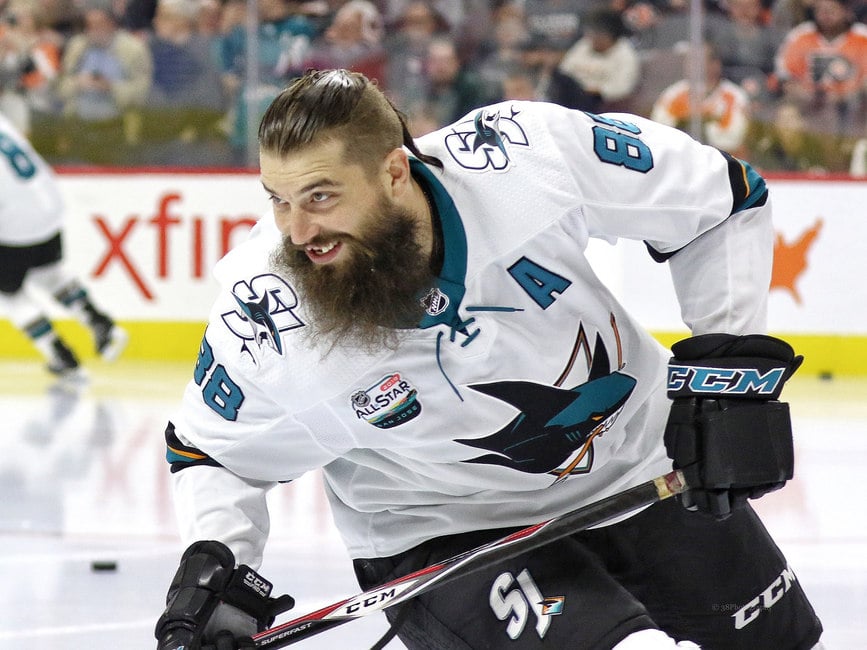 His offensive playing-style never lends itself to defensive reliability, and now at 35 years old, it's becoming more noticeable. His minus-22 rating was a career-low, and according to MoneyPuck, his pairings with Radim Simek and Mario Ferraro gave up the most expected goals on average.
Burns will most likely find himself slotted next to Simek, and their pairing was extremely successful in their brief time together in the 2018-19 season. Burns must return to his offensive dominance to outweigh defensive faultiness or have a better season defensively in order for the Sharks to succeed.
Marc-Edouard Vlasic
In my opinion, Marc-Edouard Vlasic is the player most in need of a return to past form. Vlasic began playing for the Sharks as a 19-year-old, and was a model of consistency for numerous years, and helped the Sharks' long stretch of success. Unfortunately, the past two seasons have seen significant regression for the 33-year-old.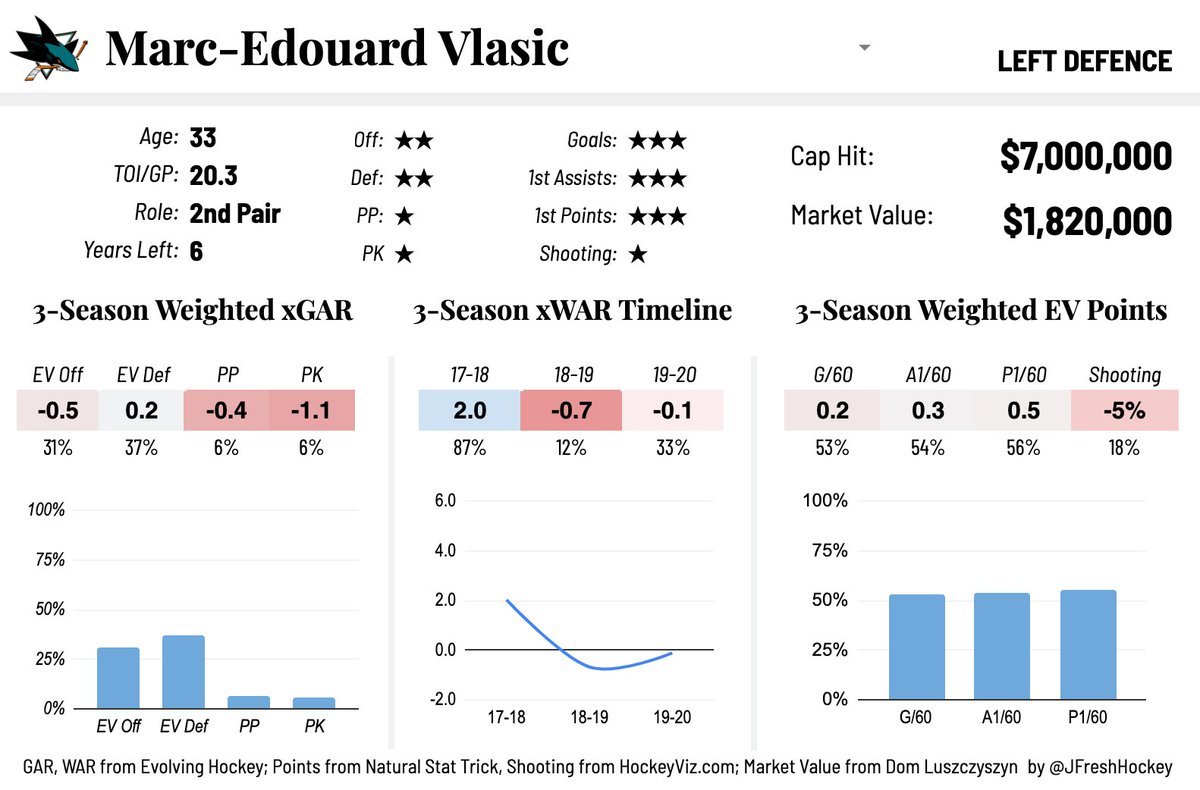 As this model shows, Vlasic is becoming a defensive liability. He has always been a stay-at-home defenseman, never adding much offensively. But now with regressing defensive play, his value has decreased significantly.
His status as a pure defensive defenseman is gone, and his lengthy contract is probably the Sharks' worst deal. The 10 months of time off will be critical for him, and he must return as a sharp defensive player, to complement Karlsson.
Radim Simek
Next on the payroll is Radim Simek, who inked a four-year extension with the Sharks in March. He also plays a more traditional defensive game, but his play also saw regression. Especially once Brendan Dillon was traded, he no longer played on the bottom pairing and it somewhat hurt his play.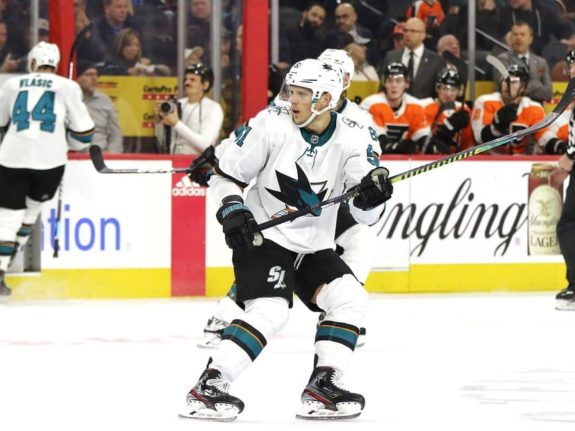 On the bottom pairing with Ferraro, they averaged more expected goals scored than allowed. However, in his pairing with Burns, it was the Sharks' second-best combination offensively. Unfortunately, the pairing was also the second-worst defensively.
Simek and Burns' combination in 2018-19 was stellar before Simek's injury, incredible offensively and defensively. Simek must complement Burns' offensive play with his own defensively reliable game.
Mario Ferraro
Mario Ferraro shocked many as a mainstay on the roster, dressing for 61 of the Sharks' 70 games. The 2017 second-round selection will look to build on his rookie season, and at 22 years old, has the ability to do so.
His pairing with Tim Heed last season, while in sheltered minutes, was actually the Sharks' best pairing defensively, and was pretty average offensively. With Vlasic and Simek being the more established left-handed defenders, Ferraro will have another season to succeed and given good matchups where he can grow as a defenseman.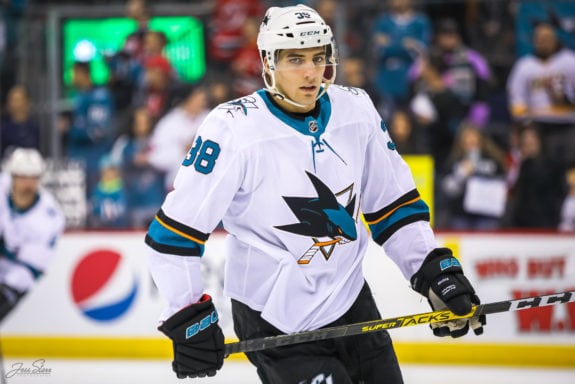 Ferraro is the Sharks' most defensively solid player for the Sharks' future. He will take steps to grow into a solid first or second pairing defenseman, but the team can likely grant him another season of slowly progressing into that role.
Ryan Merkley
Pending a free agency signing, the Sharks only have five proven NHL defensemen for 2020-21. Ryan Merkley will look to take a spot this season. The polarizing 2018 first-round selection has been nothing but sensational offensively, and at the time of selection was horrendous defensively.
While at times only marginally, the last two seasons have seen Merkley take strides to become a defensively reliable player at the OHL level. However, he must become more defensively solid to become an NHLer.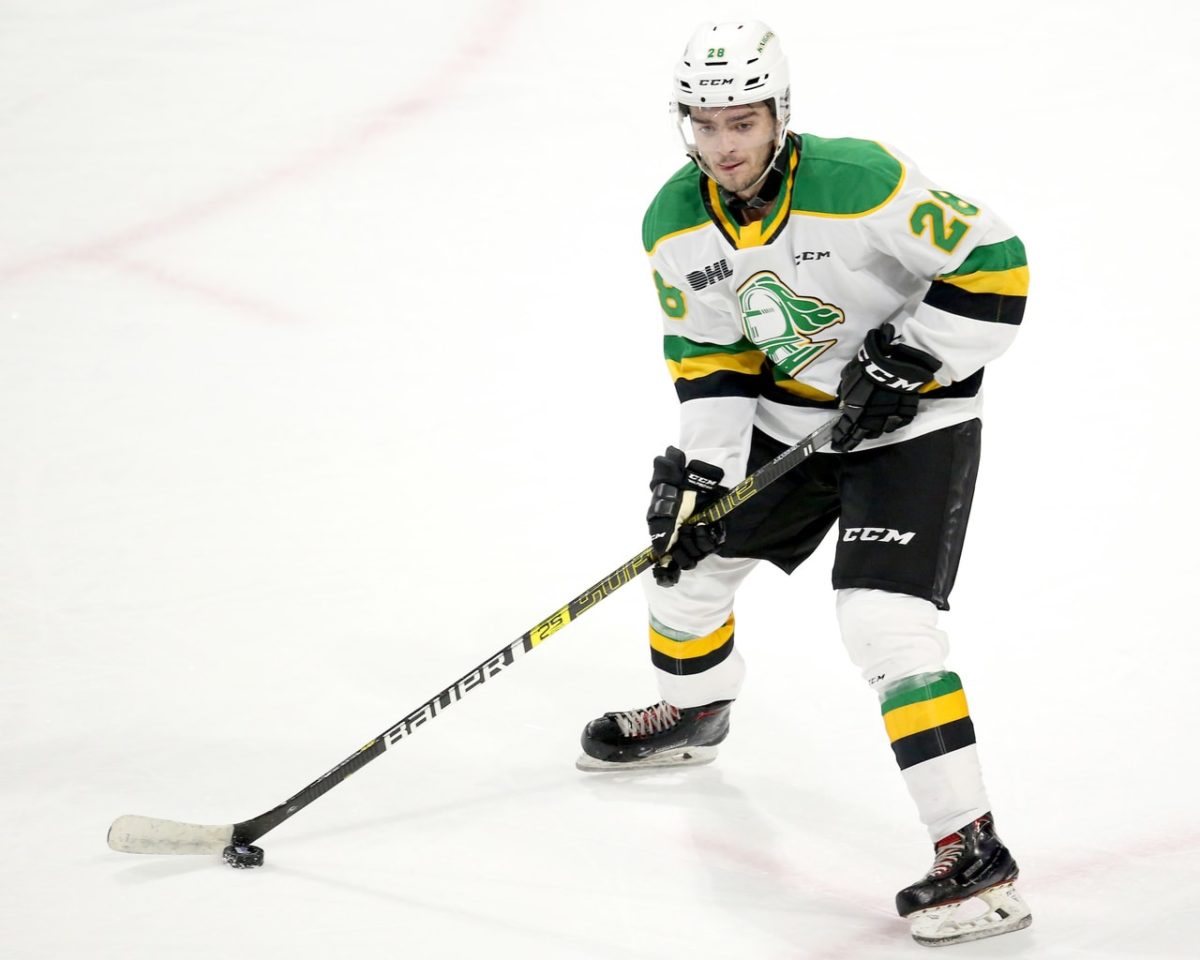 At the age of 20, and with his high talent level, now is likely the time Merkley sees NHL experience. Whether it be later in the season or a trial with the team, he will play in the NHL.
Jacob Middleton
The other and maybe more likely option to fill out the Sharks' defense corps is Jacob Middleton. At the age of 24, he is a San Jose Barracuda veteran, suiting up there since 2016-17. He has 13 games of NHL experience, with three in 2018-19 and 10 last season. His 2019-20 season was full of injury and movement between NHL and AHL. (from 'San Jose Sharks lose another defenseman to injury,' Mercury News, 03/02/2020)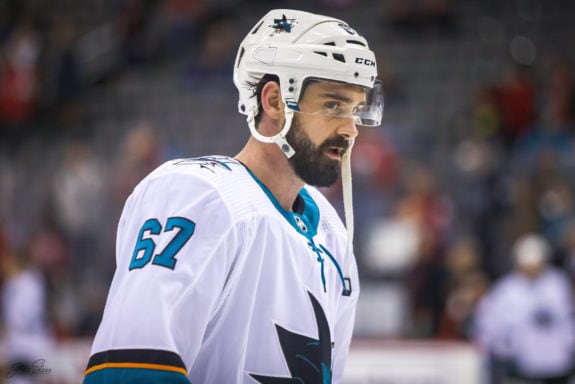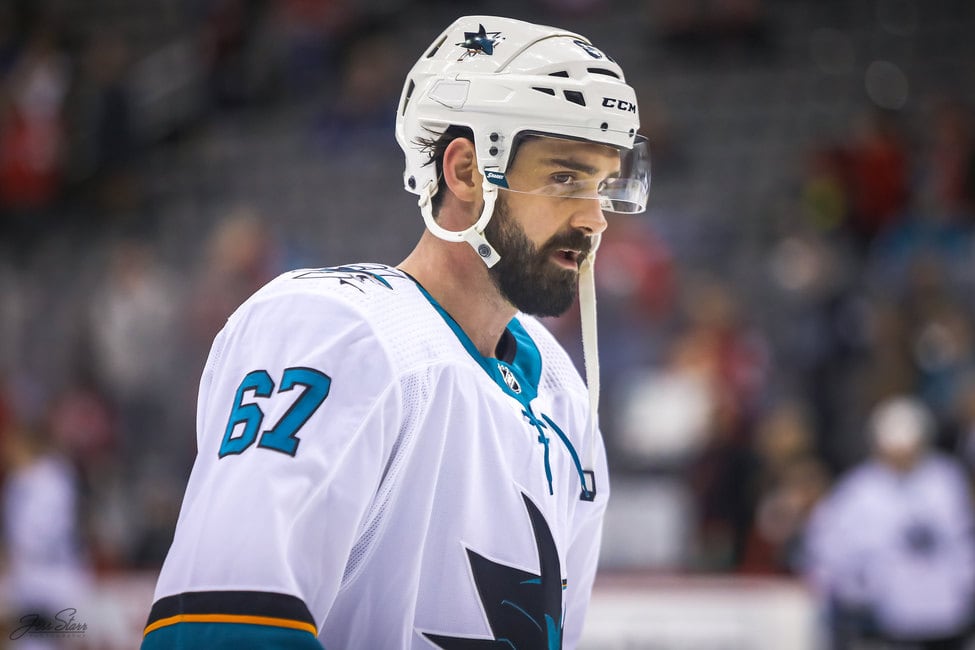 Middleton is a stay-at-home left-handed defenseman, whose larger frame is his greatest asset. While the sample size was limited, his main defense partner was Tim Heed, and they played really well offensively and average defensively. Middleton is the more safe option to fill out the roster, and lets Merkley receive seasoning in the AHL.
Other Options
Nikolai Knyzhov could also push for more NHL time. Given trades and injuries near the end of last season, Knyzhov saw three NHL games at the conclusion of the year. He also played 33 AHL games and recorded five points. He is also a larger framed and physical left defenseman who will push for more time, at just 22 years old.
Brinson Pasichnuk of Arizona State University was signed this offseason after a stellar senior season. He finished third in the NCAA in points by a defenseman and shines as a power-play quarterback. He is a two-way defenseman, but his 5-foot-10 height and 208-pound frame is the only concern for him moving forward.
The Sharks also have AHL veterans Nicolas Meloche and Trevor Carrick to fill out their depth, but will likely be part of the Barracuda for most of the season.
The Corps Needs Improvement
The Sharks' defensive corps has big names that used to be among the league's best defensemen. However, those players are not at the level they used to be, and take up large amounts of cap space.
Those millions of dollars also result in the Sharks needing rookies and unproven players needing to fill out the rest of the roster. The team needs a combination of rebound seasons from veterans, and growth from young players to be successful.
---
---