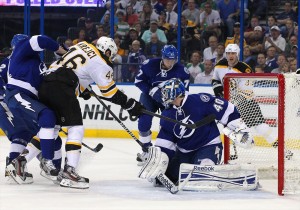 The Dustin Tokarski tryout period lasted just under two weeks with the Tampa Bay Lightning. With Sebastien Caron signed on Monday and clearing waivers, Tokarski was reassigned to Norfolk to help them continue their unprecedented run in the AHL. What did the organization learn about their prized prospect? Only that he's not super-human.
During his brief stint in the NHL, Tokarski started five of the six games the Lightning played. There was the good – a win for Boston and a 29-save performance in an overtime loss to Washington.  Unfortunately, there was also the not so good – getting pulled in his last two starts while giving up 7 goals on 25 shots between the two.
Overall his numbers were rather pedestrian: 1-3-1 record with a 3.44 GAA and a .879 SP. However, that doesn't tell the whole story. Several of the goals he gave up were deflections (including at least two off of his own defensemen) and a few that were perfect shots that clicked off the inside of the post before going in.
The Lightning as whole are struggling as a team as it seems that the season has finally caught up with them. Injuries are often used as an excuse when a team isn't living up to expectations, but when six or seven key players are missing on a nightly basis it can also be a valid reason. It's hard for a team that is constantly shuffling its roster to maintain any type of continuity with their teammates. That leads to a lot of scrambling on the ice which is never a good thing.
Tokarski isn't entirely without blame. Of the 14 goals he surrendered there are several he would definitely like back. Both Jeff Skinner and Jason Pomminville beat him by going top shelf on the short side, shots that should be stopped. A few of the goals that beat him were over his glove, which once again raised questions about whether or not his lack of size will be a factor against elite scorers.
Also, there are times that the goaltender has to bail the team out from their mistakes. One of the main differences between this season's team and the one that went to the Eastern Conference Finals last season is that none of the players that have roamed the crease have been able to do that. This season it seems every time there is a mistake in the defensive zone it end up in the net. On Washington's game-tying goal Tokarski admitted as much, telling the St. Pete Times, "I've got to make another save. If I make a big save… I can seal the deal for us."
The good news is that Tokarski showed that he is ready to play in the NHL. He displayed excellent positioning and rebound control for most of his play. Unlike Dwayne Roloson who has shown a tendency to overplay shots and wind up out of position, Tokarski plays with a very "quiet" body which allows him to stay in position for secondary shots heading his way.
In four of the five games he played, he gave the Lightning a chance to win. Even in the game against Toronto where he was pulled after giving up 3 goals in just over a period and a half, it was hard to say he was playing poorly. If he had a healthy team in front of him that game that could score goals, he probably would have been left in.
Did he impress General Manager Steve Yzerman enough to earn a spot on the roster next fall? The Lightning's moves in the off-season will answer that question. With Mathieu Garon as the only goaltender with significant NHL experience under contract for 2012-13 Tokarski will undoubtedly be given a chance to earn a spot on the roster. At the very least he should be able to wrap up a back-up job and gain experience from spending an entire year in the NHL. With a strong performance in camp he could very well be next year's starting netminder.
Other Roster News:
The injury bug continues to plague the Lightning. Ryan Shannon becomes the latest player to be shut down for the season joining defenseman Mattias Ohlund and winger Dana Tyrell on the injured list. Shannon left the game against the Blues early after he apparently aggravated an existing shoulder injury.
It's been a disappointing season for the free agent signing as he's battled injuries and ineffectiveness which have held him to only 12 points on the season. As an Unrestricted Free Agent after this season the speedy forward may not be re-signed which would open up a roster spot for one of the promising forwards in Norfolk.