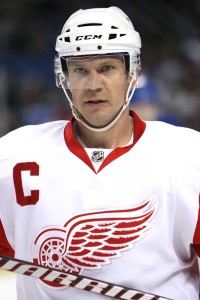 Good news seems to be few and far between these days for the Detroit Red Wings. Mired in the midst of a slump that has seen them lose five straight games and go 3-6-1 over their last 10, Detroit has fallen to fifth in the Western Conference, just 2 points ahead of the division rival Chicago Blackhawks. One of the leading contributors to the team's recent disjointed play? Injuries.
While the Wings may not be using the rash of banged up players as an excuse for their poor play, it's hard to argue the fact that their lineup suffers tremendously without key pieces like Pavel Datsyuk, Nicklas Lidstrom, and Jimmy Howard, who have all spent time on the sidelines recently.
Today, the endless stream of bad news seemed to take a turn for the better, with several media outlets reporting positive bits of information regarding the current Red Wing wounded.
Jimmy Howard
Howard, who is missing his 3rd stretch of games this season thanks to a reaggravated groin injury is hopeful that he'll be ready to go for Saturday's game against Carolina.
Wings' Howard feels better, said he might return on Saturday. MRI Tuesday showed no damage to groin

— Ansar Khan (@AnsarKhanMLive) March 21, 2012
Nicklas Lidstrom
Lidstrom is in the middle of the longest absence of his career thanks to a deep bone bruise he suffered back on February 25th against the Colorado Avalanche. After several setbacks, Lidstrom has been skating again for a few days and things are looking up. A Saturday return is possible.
Lidstrom on his ankle: "That's how it felt, today, that I've turned a corner – I can pivot better, I can skate and push a little bit more."

— Helene St. James (@freepwings) March 21, 2012
Jonathan Ericsson
Ericsson managed to break his wrist  in the same game that took out Lidstrom, and was predicted to be out for at least 1 month. Right on schedule, Ericsson appears to be right on schedule, preparing for a return sometime next week.
Wings' Ericsson feels much better. Took slap shots today for first time since wrist injury. Hoping to return next week. Maybe Wed. In CBS — Ansar Khan (@AnsarKhanMLive) March 21, 2012
Jakub Kindl
Kindl, who perhaps forced himself to play through an injury in the absense of Lidstrom & Ericsson, wound up worsening his ailment and has been out since March 4th with an upper-body problem. He now feels confident he'll return on Saturday.
Kindl shooting for saturday says he is feeling better each day shooting the puck

— Ted Kulfan (@tkulfan) March 21, 2012
Johan Franzen
Franzen also finds himself dealing with an upper body injury, but his outlook isn't as positive as that of Kindl's. While he is feeling better, he'll continue to miss action with an undetermined return date.
Wings' Franzen here in NY getting treatment for back. Stayed off ice. Doesn't know when he'll be back — Ansar Khan (@AnsarKhanMLive) March 21, 2012

Joey MacDonald
After coming in during Jimmy Howard's first absence and stealing the backup role from Ty Conklin, it's now MacDonald who will sit on the sidelines as Conklin (who cleared waivers and will start against the New York Rangers Wednesday evening) takes the ice, thanks to a back injury. While initial MRI results don't show what MacDonald had feared they would, he will remain sidelined.
Darren Helm
Helm, who sprained his MCL, is striving to return to action prior to the first round of the playoffs despite the team's diagnoses of 4-6 weeks of absence.
Patrick Eaves
Eaves suffered a concussion back on Nov. 26 after taking a pick to the head (video below) and continues to battle headaches daily. A return this season is unlikely, but has not been ruled out.
Red Wings fans reaching for the panic button may now have a reason to take a deep breath and sit back in their chairs. The injury influx may have finally turned the corner just in time to salvage a decent playoff spot and prepare for a significant run.