The Tampa Bay Lightning wasted no time finding their game in the Eastern Conference Final against the New York Islanders on Sunday night. They produced eight goals to defeat the Isles by a final score of 8-2. It was a statement game for the Lightning, not only to their Eastern foe but to the Dallas Stars and Vegas Golden Knights who are duking it out in the Western Conference Final.
Related: Longest Stanley Cup Droughts
A few players stood out in their Game 1 triumph. The team won by committee, and everyone played a crucial role in taking the initial series lead. Who stood out in particular?
Brayden Point
In case it has not been said before, Brayden Point was a steal for the Lightning in the third round (79th overall) of the 2014 NHL Draft. What he has accomplished not just this season but in his career has helped his team immensely. He scored 25 goals and 39 assists in 66 games this season and tallied 41 goals and 51 assists for 92 points in 79 games in 2018-19, career-highs in all three categories.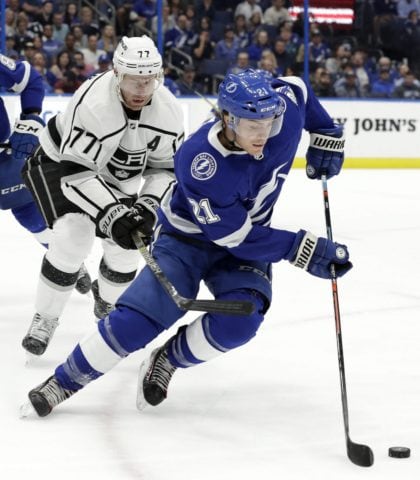 He has dominated this postseason, and Game 1 of the Eastern Conference Final was no different. He opened the series scoring just minutes after the opening faceoff to give the Bolts a 1-0 lead, his seventh goal of the postseason. He added another goal and three assists for a five-point night. He is a speedy, dangerous forward who could not be stopped.
After Game 1, Point's postseason totals stand at eight goals and 15 assists in 14 contests.
Nikita Kucherov
Point is not the only one taking the offense by storm. Nikita Kucherov, who is already established as one of the best Lightning players in history, also had a five-point night with a goal and four assists.
Kucherov's playoff production has been stellar. He has five goals and 21 points in 14 games, second on the team behind Point. These two are carrying the offensive load, and their talent is incredible.
It is known what Kucherov brings to his team. The past few seasons have shown what a dominant offensive force he can be. Below are his regular season stats:
2017-18: 39 goals and 61 assists for 100 points in 80 games
2018-19: 41 goals and 87 assists for 128 points in 82 games
2019-20: 33 goals and 52 assists for 85 points in 68 games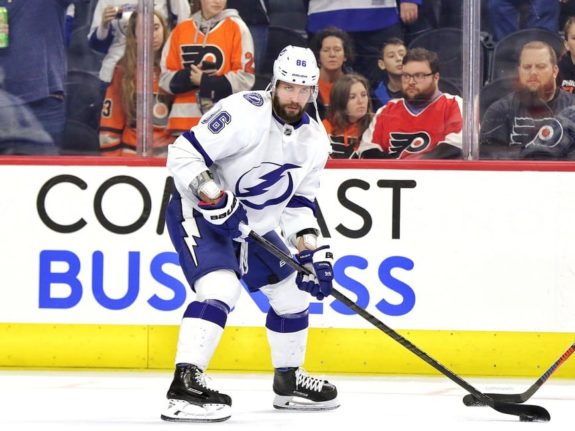 There was a pretty good chance that if the regular season had not been cut short due to the COVID-19 pandemic, Kucherov would have hit the 100-point plateau for a third straight season. His skill set is off the charts, and the chemistry he has with Point was a nightmare for the Isles in Game 1.
Ondrej Palat
Two things really stuck out to me in Game 1 which is why forward Ondrej Palat is on this list. First, he scored a goal to help clinch the victory. He was set up nicely by Kucherov, a player he has a lot of past chemistry with. Palat was able to slip the puck past Islanders goalie Semyon Varlamov to make the score 7-2. He deserves credit for not shooting right away, and instead held onto the puck and waited for the right moment to strike.
Related: Lightning Jersey History
Second, he did a good job of screening Islanders goalie Tomas Greiss earlier in the contest when his teammate, Ryan McDonagh launched a shot that found its way in. Palat also could have provided a tip had it been necessary. That made the score 3-1 at the time.
In the 2020 Playoffs, Palat has six goals and four assists in 14 games.
Andrei Vasilevskiy
The Lightning offense took the Islanders out of the game, but when he was called upon, Andrei Vasilevskiy did not disappoint in net. He is considered one of the best goalies in the NHL, and he proved it again in Game 1.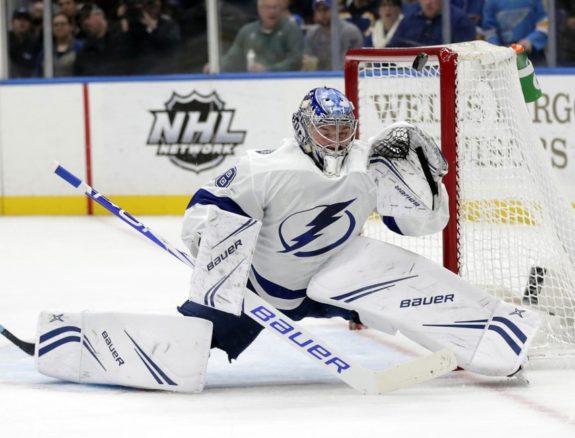 He can be the backbone of the defense, which is already stacked with Victor Hedman (who also scored in Game 1 and had two assists), McDonagh, Mikhail Sergachev (had an assist), and Kevin Shattenkirk (three assists on the night) among others.
Vasilevskiy stands tall in his own right though, and that is why he is a finalist for the 2020 Vezina Trophy. In Game 1, he stopped 22 of 24 shots. He also had a .917 save percentage (SV%). His overall 2020 Playoff stats (as of this writing) is 11 wins and three losses. He has a .930 SV% and a 1.92 goals-against-average (GAA). If he continues to be a brick wall for the Lightning, success is around the corner for the club.
Depth Throughout
The Lightning have solid pieces throughout their lineup and everyone on the roster knows their role and are not afraid to step up to the plate. Game 1 was a group victory. Point and Kucherov led statistically and Vasilevskiy was strong, but there were many standout performances.
This Lightning are a machine that obtains success by working together and firing at all cylinders. That is what they dominated Game 1. The Islanders have some tweaks they need to make, otherwise this could be a short series.
---
---
I have been a hockey fan for most of my life, and have played the game myself for more than six years. I graduated from the State University of New York at Oswego in 2018, with a bachelor's in Broadcasting & Mass Communication. Previous positions held include being a Sports Analyst for Oswego's student-run TV station, WTOP-10; News/Sports Intern for WIVB-TV Channel 4; and Sports Beat Writer Intern for Pro Player Insiders.