As the dust settles following the Buffalo Sabres' draft lottery triumph last month, fans have shifted their focus toward offseason acquisitions. One of the more polarizing topics is the team's situation in net. It's all but certain that Linus Ullmark will hold one of the Sabres' two goalie spots next season, but some fans have soured on his prospects as a long-term starter.
This change of opinion is particularly curious considering that the 24-year-old's efforts in 2017-18 earned him a spot in the AHL All-Star Game. Even prior to last season, he showed more than adequate progress in his development, playing well in the minor league, and during limited NHL action.
It's remarkably bizarre how fans are willing to let three bad games in the Calder Cup playoffs erase their memory of all of his past successes. Jason Botterill won't be fooled, and while he may take a tempered approach in easing Ullmark into the Sabres starting gig, make no mistake; he's the team's best option moving forward.
An Impressive Resume
It has been a long road for Ullmark to earn his shot as an NHL regular. After being selected by the Sabres in the sixth round of the 2012 NHL draft, the Swedish netminder spent three seasons in the SHL before getting his first taste of North American action during the 2015-16 season. Even though he still had quite a bit of developing to do, he actually ended up starting in 20 games in Buffalo that year, acquitting himself nicely with a .913 save percentage.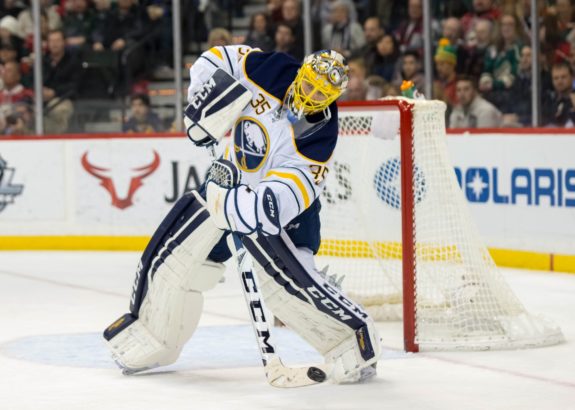 Despite a few up-and-down performances during his time in Sweden, he has shown improvement in each of his three seasons with the Rochester Amerks, posting a career-high .922 save percentage last season. Though he spent a majority of the year in the minors, he did get called up to start three games in Buffalo, where he was sensational, stopping 115 of 123 shots faced.
In a year where neither Robin Lehner nor Chad Johnson could maintain a firm grasp of the starting spot in Buffalo, his performance was a breath of fresh air. While the incumbent starters were doing their best to run themselves out of town, fans took solace in the fact that the crease would soon belong to Ullmark.
In a head-scratching move toward the end of the season, the Sabres recalled Ullmark long after the season was already lost, and with the Amerks in the midst of a playoff run. Even more perplexing was their decision to leave him on the bench for the entirety of the call-up. Ullmark wasn't in Buffalo for very long before disaster struck. During practice, he took a shot to the helmet, resulting in a concussion that left him sidelined for the remainder of the regular season.
It was all downhill from there.
Related: Sabres Goalie Decisions Tougher with Ullmark's Success
Abysmal AHL Playoff Performance
Fans in both Buffalo and Rochester rejoiced upon hearing the news that Ullmark would be available to participate in the Amerks' first Calder Cup playoff game since 2013-14. After spending more than two weeks recovering, his return came at the perfect time. Or so they thought.
It remains unclear whether or not he was truly healthy enough to return, but it was obvious that he wasn't playing anywhere near his best hockey. In three starts against the Syracuse Crunch, Ullmark allowed a whopping 16 goals, posting a save percentage of .800. He was so bad that fans placed the majority of the blame for the Amerks' first-round sweep on his shoulders.
Very emotional Linus Ullmark as the #Amerks season comes to an end. Ullmark was named Rochester MVP by his teammates, but allowed 16 goals in three playoff games #Sabres @WKBW pic.twitter.com/8Hb0c43dil

— Matthew Bové (@Matt_Bove) April 26, 2018
Ullmark was noticeably distraught following the loss. After three seasons of stellar play in Rochester, nobody wanted to see him finish his AHL career on such a somber note (except, of course, Syracuse fans). It was at that point when a healthy portion of the Sabres fan base began to develop doubts about his ability to take the reigns in Buffalo, citing an inability to show up in big moments.
That's right; after three lousy games, people started to sour on a guy who just weeks prior they had pegged as the franchise's long-term solution between the pipes.
The Sabres' Plan for 2018-19
So where do the Sabres go from here? Obviously, they won't be willing to give up as easily on Ullmark as others have, but will they thrust him right into the starting spot, or will they ease him in by having him split time? Despite a playoff performance that everyone would like to forget, their plans likely haven't changed.
It has long been speculated that Botterill would seek out a veteran with starting experience to pair with Ullmark in 2018-19. Not only would a veteran mentor help him adjust to starting responsibilities at the NHL level, but if he were to falter early on, there would be a viable option to take his place on a short-term basis.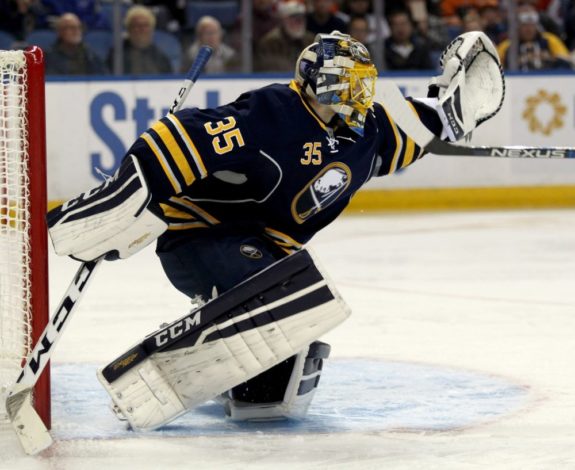 The Sabres won't be keen on keeping Johnson around to serve in that capacity. The soon-to-be unrestricted free-agent was atrocious during his second stint in Western New York.
Though Lehner is only an RFA this summer, there is next-to-zero chance the team retains him. Even if they fail to deal his rights before July 1, there's no guarantee that the team even extends him a qualifying offer. Not only would his toxic demeanor serve as poor mentorship for a young understudy, but his performance last year was nothing short of dreadful.
With so many viable (and likely cost-effective) veteran options set to hit the UFA market, Botterill will likely turn his sights there. There is still a possibility that the second-year general manager tries to acquire another goaltender via trade, but considering the fact that the Sabres are still rebuilding throughout the organization, he may not be willing to deal the necessary draft capital to do so.
Regardless of what the Sabres do this summer, Ullmark will see significant playing time for the Sabres next season. He will need to seize the opportunity because, like it or not, he is still the organization's most viable option to become the starter long-term.