Entering the offseason, the Boston Bruins have a number of items on their agenda. That includes decisions on Rick and Riley Nash, as well as reeling in restricted free agents like Sean Kuraly and Matt Grzelcyk. In addition, general manager Don Sweeney will have to make the call on bringing back Tim Schaller and Anton Khudobin.
If Sweeney wishes to re-sign Rick or Riley Nash, that will soak up a fair amount of Boston's salary cap. After the signing of Urho Vaakanainen, the Bruins have just shy of $8 million to work with. In estimation, Riley Nash will likely be looking for around $2-3 million after his solid year. Rick Nash may require around $4 million—an inexpensive price compared to what he may be offered on the open market if he doesn't strike a deal with the Bruins.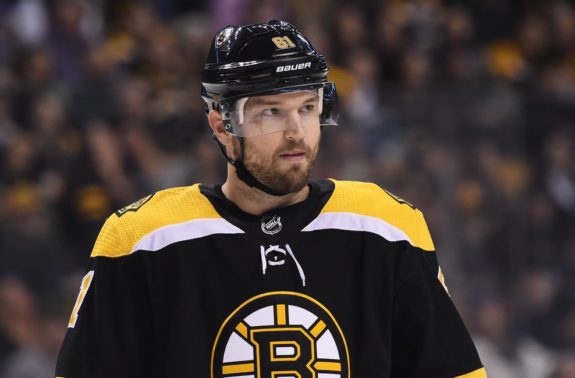 Then there is Kuraly, who should be looking for something above $1 million as a bottom-six forward. Grzelcyk could ink a deal above $1.5 million to represent his role as a young bottom-pair defenseman. Meanwhile, Schaller will probably look for something north of $1 million while Khudobin would require something similar to the $1.2 million he took home over the course of the past two seasons.
That would cost somewhere in the $10-12 million range—obviously above the Bruins' current budget. It should be considered that the salary cap is expected to rise for the 2018-19 season, but even then, will that leave the Bruins enough room? If they plan on re-signing all of the aforementioned pending free agents and have enough room to bring in someone like Ilya Kovalchuk, then they'll need to create some more space. Though Kovalchuk would replace Rick Nash, Boston would still find themselves with little breathing room money-wise—if any. That's where moving Adam McQuaid becomes a tempting transaction.
McQuaid's Future in Boston
Beyond this year's offseason scenario, a look at next summer is a must. McQuaid is entering the last stage of a four-year deal that has hit the cap for $2.75 million annually. During the 2019 offseason, the Bruins will be looking to re-sign two other defensemen by the names of Brandon Carlo and Charlie McAvoy. Both are entering the last year of their entry-level contract, and it doesn't take an accountant to realize they will be looking for paydays in the multi-millions.
Sweeney will also be looking to ink Danton Heinen and Ryan Donato to extensions next summer, which just about rules out the thought of re-signing McQuaid. In other words, the 31-year-old's future in Boston looks bleak if not non-existent. That gives the Bruins every reason to trade the defenseman.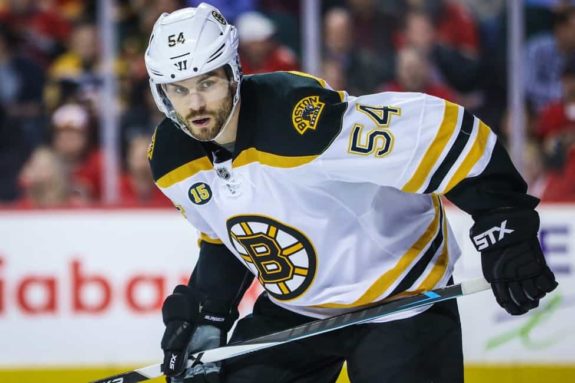 McQuaid is a very solid bottom-six blueliner—there is no doubt about it. However, looking ahead to next season, one can assume that Zdeno Chara, McAvoy, Carlo, Torey Krug, Kevan Miller, and Grzelcyk will be nailing down the starting roles. That leaves McQuaid as the seventh defenseman, and $2.75 million is quite expensive for such a role.
Boston's captain will most likely hang up the skates after the 2018-19 season, leaving Boston another $5 million to work with. But that doesn't mean they will be able to sign McQuaid with that money, as every cent of that freed-up cash will have to be invested in McAvoy, Carlo, Heinen, and Donato. Beyond that, Jakob Forsbacka Karlsson, Ryan Fitzgerald, Zane McIntyre, and a handful of other prospects will be looking to re-sign as well. For those of them who make their way to the NHL level this season, they will not be looking for anything less than $1 million annually on their next deal.
When all of that is considered, Boston and McQuaid will be parting ways by the summer of 2019. That gives Sweeney the go-ahead to move McQuaid this summer and get something in return.
Realistic Price for McQuaid
Considering that McQuaid is capable of holding down the bottom-pair of nearly any NHL team, he could have a number of suitors. This would ramp up his stock quite a bit, especially when you consider the value he brings not only defensively but in terms of toughness as well. Something that could drive down his value, however, is the fact that he only has one year remaining in his contract. You also must consider the player's history with injuries.
Looking at Boston's salary cap situation, other teams may occupy the perspective that Sweeney could very well have to trade McQuaid this season unless he is willing to let him slip away to free agency. McQuaid was barely in the debate when the Bruins had to decide which defenseman to protect in the Vegas Golden Knights Expansion Draft. This may cause him to be viewed as an expendable asset that would not require too high of a price.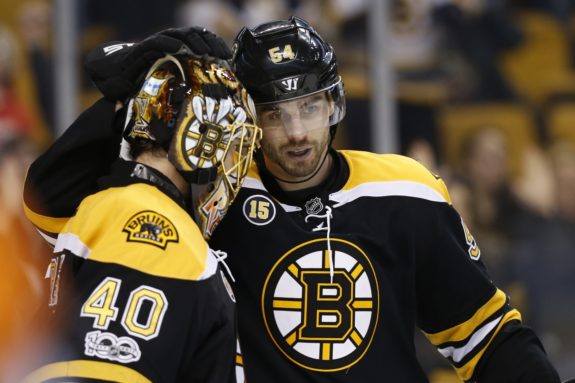 With all this in mind, Boston could still net a decent return for the defenseman. If the goal is to create more cap space, Sweeney could look to reel in an inexpensive depth player paired with a mid-to-late pick or prospect. There could possibly be a team looking for an upgrade on the back end who would be willing to send a seventh defenseman packing in exchange for McQuaid. That would obviously cost the trade partner a pick or a prospect in order to make the deal even.
There is also the option of simply looking for draft picks in exchange for the 31-year-old and plucking a seventh-defenseman from the free-agent market. If that is the case, McQuaid would be worth a slightly earlier pick – probably in the third-round range without any added baggage.
Independent from the return rate is the fact that Boston can very well afford to trade the defenseman, and ought to if they don't want to see him slip away to free agency next summer without any reward. While McQuaid has earned himself an abundance respect and admiration for his play in Boston over the course of his career, his days in a Bruins uniform are likely numbered.