With the 2018 NHL season winding down and only two teams remaining in competition for the coveted Stanley Cup, 29 other teams are looking towards the offseason to figure out what the future holds for their clubs.
In the near future, there will be the NHL awards, the 2018 NHL Entry Draft and then the opening of the free agency period on July 1. On top of those league-wide events, the Bruins will also be holding their annual development camp at Warrior Ice Arena on Jun. 26 until Jun. 29. They'll also be holding their main training camp starting on Sept. 10.
During those two camps, the Bruins front office and coaching staff will get a chance to evaluate their prospects and see where each individual player is at in their development. The Bruins were able to benefit in a big way from rookies in 2017-18 and given their current crop of players still looking to make the jump to the NHL is so strong, it seemed interesting to start a round-table discussion between The Hockey Writers Bruins' writers Drew Johnson, Nick Godin and Brandon Share-Cohen
The question asked during the discussion was simple:
Which prospect in the Bruins' system, if any, do you feel will make the biggest impact at the NHL level in 2018-19?
Related: Ryan Fitzgerald Has Immediate NHL Potential
Drew Johnson:
I'm looking forward to Jakob Forsbacka Karlsson's rookie year this season. I say rookie season as I expect him to play more than the 25 games required to dub it as such.
Looking at the Bruins' list of free agents this summer, I don't see Rick Nash or even Riley Nash re-signing. They will both be looking for an amount of cash that may be more than Sweeney is comfortable locking them in for as the team will need to work the salary cap efficiently if they want to keep some of their young stars-in-the-making around.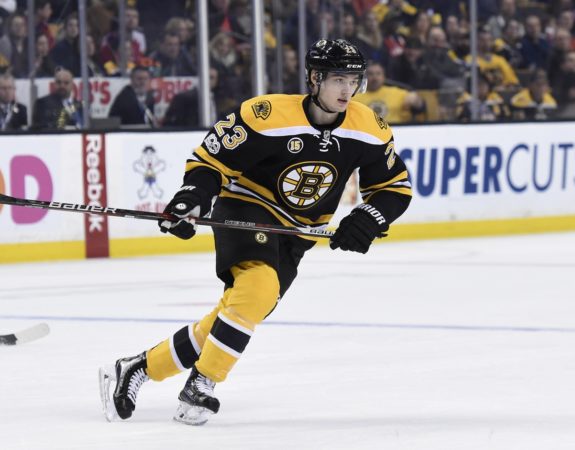 With that said, an opening is there for Forsbacka Karlsson to make the leap. I see him slotting in on the fourth line, especially if Tim Schaller isn't handed a contract to play with the Bruins next season. Even if Schaller does re-sign, Kuraly has shown enough poise to hop up to the third line, leaving the fourth-line center role open for the taking.
If Forsbacka Karlsson can successfully nail down a starting role this summer, look for him to make a very solid impact as the Bruins look to improve upon a stellar 2017-18 season.
Nick Godin:
The Boston Bruins have a surplus of prospects that Bruins fans should be extremely excited about for years to come. With that being said, I think that Zach Senyshyn's potential debut could surprise many people.
Most fans may not agree, as Senyshyn's productivity is already being questioned after being drafted a round (and in some cases, two rounds) earlier than anticipated. As the 15th overall pick in 2015 – fans relive the names of Jordan Caron, Zach Hamill, and other first-round busts that the Bruins have drafted in previous years. Despite that, Senyshyn has proven to have offensive upside that, if released, could have him being an integral piece in 2019.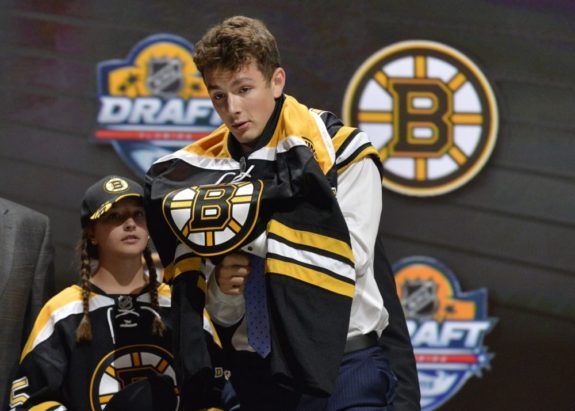 The 21-year-old right wing posted impressive numbers in the OHL, having recorded 65 points in his last two seasons with the Soo Greyhounds before making his Providence Bruins debut. In one season with Providence, Senyshyn recorded 12 goals and 26 points in 66 games – a relatively slow season, however not a big enough trial to consider the rookie a bust.
Depending on what the Bruins do with unrestricted free agents Tim Schaller, Tommy Wingels, Brian Gionta, Rick Nash, and Riley Nash, there may be an open slot for Senyshyn directly out of training camp. However, should the Bruins choose to further develop Senyshyn in Providence, he may have to wait for an injury call-up to make his debut.
Brandon Share-Cohen:
Drew had the right idea with Forsbacka Karlsson being the player to watch out for the most in 2018-19. While there's a distinct possibility that the Bruins could see contributions from Ryan Fitzgerald, Senyshyn, Jeremy Lauzon, Jakub Zboril or any other number of prospects who are ready for, at the very least, a brief audition in the NHL level, Forsbacka Karlsson just makes sense for the team right now.
When the Bruins signed Forsbacka Karlsson out of Boston University, they were making a commitment to him. While that commitment wasn't a guarantee for any ice time at the NHL level, it was a binding agreement that they would work closely with him to get him ready to play in the NHL as soon as possible whenever he's ready.
Unfortunately, Forsbacka Karlsson had a difficult battle with injuries in 2017-18 at the AHL level and missed some significant time as a result. It cut his rookie season at the professional level to only 58 games – a small sample size but one that showed the Bruins exactly what they had in Forsbacka Karlsson.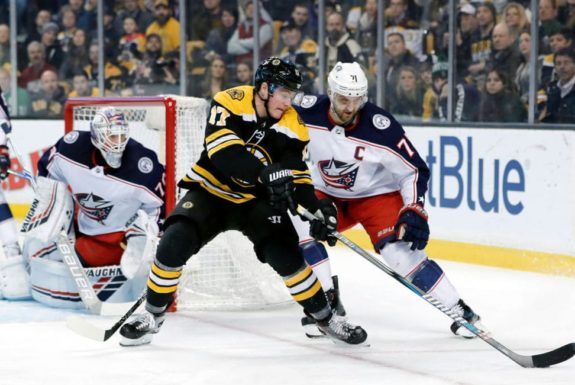 The 6-foot-1, 184-pound center proved that he could produce offense (15 goals and 32 points), play a responsible two-way game and adapt to any situation he's put in throughout a game. The Bruins have three top center prospects in Ryan Donato (a virtual lock to make the NHL roster next season), Trent Frederic (who shined as a collegiate player before playing very good hockey in 13 games in Providence) and Forsbacka Karlsson.
Forbsacka Karlsson is Defensively Accountable
Of the three prospects listed, Forsbacka Karlsson may be the one closest to playing an impact role at the center ice position. To be clear, Donato is already good enough to be an NHL regular at any of the three forward positions. What he has in offense, however, he still lacks in terms of a 200-foot game. That's fine for someone as young and inexperienced as he is, but it's also what sets Forsbacka Karlsson apart.
Related: Bruins Must Bolster Goalie Depth at Draft
In his one game of NHL action at the tail-end of the 2016-17 season, Forbacka Karlsson looked almost invisible on the ice. Because of that one performance, many soured on him quickly. It's foolish to judge any player on one game, but it might be even more foolish to judge them on their first career game at the end of a season.
Congrats to Jakob Forsbacka Karlsson on making his NHL debut! pic.twitter.com/ChBZTuG8wt

— Boston Bruins (@NHLBruins) April 8, 2017
As a 200-foot player, Forsbacka Karlsson could make an impact for the Bruins in a third-line role from the very start of the season. There are no guarantees that Donato plays at center and even if he does, he won't be relied upon in any defensive situations just yet. Forsbacka Karlsson may have to earn that trust, but he's a far more reliable defensive center than Donato or Frederic and as such, his usage will differ greatly, giving him an immediate opportunity to contribute.
Brandon Share-Cohen has covered the NHL and various professional sports for seven years. Working with The Hockey Writers, Brandon works extensively on covering the Boston Bruins in addition to his role as the News Team Lead.