The NWHL announced on May 30, 2018 that Massachusetts native Paul Mara will be the new head coach of the Boston Pride. While in the role of an assistant coach, Mara was part of the USA women's national team that won gold at the 2018 PyeongChang Winter Games. Separately, he comes to the Pack from a rather successful professional hockey career of his own. The 38-year-old retired NHL blueliner played 734 regular season games for the Tampa Bay Lightning, Arizona (Phoenix) Coyotes, Boston Bruins, New York Rangers, Montreal Canadiens, and Anaheim Ducks. His longest tenure as a player was with the Coyotes, in which he played slightly less than five NHL seasons.
BREAKING: Boston Pride name Paul Mara as new head coach. Mara was the assistant coach of the 2018 Olympic gold medal-winning Team USA.

🔗: https://t.co/W2GFeQgbQS pic.twitter.com/pJsw3gEfTx

— NWHL (@NWHL) May 30, 2018
If the Pride are to make a return run at the Isobel Cup championship, putting Mara at the helm is a step in the right direction. After the announcement that Team USA women's head coach Robb Stauber and his wife Shivaun would be the co-coaches of the NWHL's newest franchise the Minnesota Whitecaps, many speculated that the Staubers would be a direct beacon for pooling talented Olympians to Minnesota. Now with Mara running the show in Boston, do not be surprised if he naturally becomes a magnet of his own for Olympians to play in Beantown.
"To have the opportunity to coach these incredible athletes in the NWHL, and especially to do so with my hometown team, is a really exciting opportunity for me," said Mara via NWHL press release. "My experience coaching women's hockey with the national program has been so fulfilling, and I can't wait to get started at the pro level with the Pride. We'll be an up-tempo team. I want my players to be creative offensively, and we'll be responsible in our own end. I'm confident we'll have a very successful team that's also a lot of fun to play for and to watch."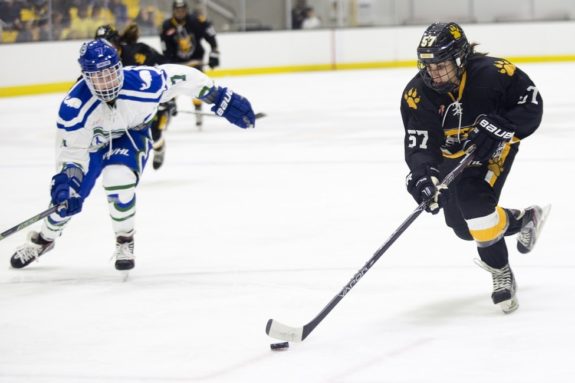 Mara will become the third head coach in team history. Bobby Jay coached the Pride for the 2015-16 and 2016-17 seasons, capturing the Isobel Cup in the first year and making a return trip to the championship in the second. After Jay stepped down, Thomas Poeck coached the team for the 2017-18 season. All three head coaches that the Pride have had once played in the NHL.
Perfect Timing for Mara at the Helm
NWHL Free Agency opens on Jun. 1, 2018, so the announcement of Mara taking over the coaching reigns could not have come at a better time. A situated head coaching position plays a big factor in where players opt to sign. The fact that it is Mara in Boston instantly makes the team an ideal destination for NWHLers.
It will be very interesting to see which players the Pride re-sign, and how quickly they do so. Veteran defender Alyssa Gagliardi already made it quite clear that she intends to be back in Boston for her fourth NWHL season.
Alyssa Gagliardi's picks for next NWHL expansion: Pittsburgh and Raleigh, NC. "It's fantastic to play in the NWHL and to be a role model for younger generations."
🔗:https://t.co/wXsVyd38gM pic.twitter.com/x9n52MButB

— NWHL (@NWHL) May 21, 2018
Gagliardi shared through an NWHL news feature released on May 21:
"I'm planning to return to Boston again next season. It's always an honor to be involved playing in great organizations and with top players, and I'm hopeful to have that chance again."
So Mara can pretty much count on having one of the team's best blueliners back into the fold. Gagliardi is not only an Isobel Cup champion for the Pride from the league's inaugural season, but she also is a CWHL Clarkson Cup champ from the 2014-15 season with the Boston Blades. Despite an early playoff exit for the Pride in 2017-18, Gagliardi had her finest offensive season this past year with two goals and six assists in 16 games. The integral leader that she has been for this team will make Mara's job easier.
What Olympians Can Mara Bring to Boston?
At least one player from the USA gold-medal winning team should end up signing with the Pride. Just from sheer mathematics alone, there is a likelihood that it will happen. Maybe it is Hilary Knight, resuming her hockey career in Boston – the city that she shined for five years between her time in the NWHL and CWHL. This might be the ideal scenario, especially for the Boston fans. While there is no clear indicator that this will happen, it would certainly be exiting should it come to fruition.
Kendall Coyne would be a very nice option. Although she is from Illinois, Coyne was a opening round selection of the Pride in the 2015 NWHL Draft, and she played her collegiate career in the Boston area at Northeastern University. She tied for third overall in team scoring at the Olympics with two goals and an assist in five games. If in any way Mara could facilitate the landing of Coyne in Boston, he would certainly be making a major statement. Coyne scored an astounding 141 goals and 108 assists for 249 points in only 133 games at Northeastern.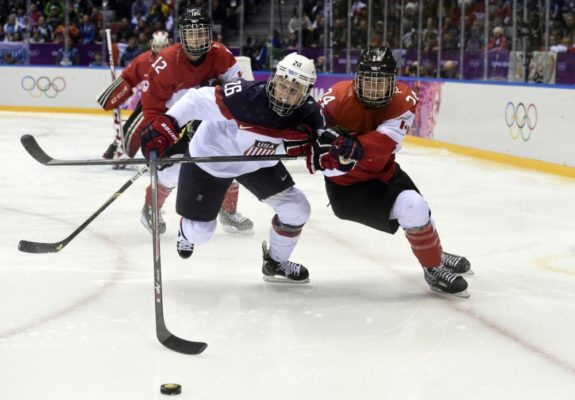 Another thing to wonder about is how much does Mara want to adjust the team's goaltending? The trio of Brittany Ott, Brianna Laing, and Madison Litchfield seemed quite sound and reliable this past season, but that does not mean that changes could not be made in net. While Olympic goaltending hero Maddie Rooney is still in college, USA goalies Nicole Hensley and Alex Rigsby might be a consideration. Neither has played in a women's professional league thus far. There is really no reason to move from Ott, who has established herself as one of the premier netminders in all of women's hockey. Laing and Litchfield are capable backups. Does Mara proceed to leave well enough alone and not mess with a good thing? Most likely yes, but anything is possible.
The first signing that the Pride make could be the biggest indicator as to how the team will ultimately be shaped. Does Mara start off quietly and bring back a player like Gagliardi or Ott, who are already expected to return to the Pack? Or does he make a statement by inking a player considered a big name – one that is indicative of the up-temp style Mara wants this team to become?
Time will tell, but with Free Agency just days away we may learn a bit more about Coach Mara's sculpting of the Boston Pride faster than we realize.
General Manager of the Buffalo Beauts (NWHL). Hockey history writer "The Hockey Writers". Credentialed media for the NHL Combine and 2018 IIHF World Junior Championships in Buffalo, NY, USA. Born and raised in Buffalo, NY. Lifelong hockey fan for over 40 years. Proponent of the women's game.