The newest NWHL team in the schoolyard – the Minnesota Whitecaps – will likely come storming into the 2018-19 season as a good team already. In fact, a very good team. Heck, even a scary good team. After it was announced that the once independent women's professional hockey team had been welcomed in as the fifth NWHL team in league history, thoughts began to arise as to which players would comprise their inaugural roster. Now with the 2018 NWHL Free Agency period fast approaching, heart rates are starting to rise in anticipation. Palms are getting sweaty, and backsides are moving to their edge of their seats. Let's get this show on the road and find out which players will be our original NWHL Whitecaps.
Hockey fans across the country are in for a treat this season 🤗 @WhitecapsHockey became the fifth pro franchise in the @NWHL on Tuesday.

If you want to know more about the @NWHL read this piece @DaniRylan wrote in the @PlayersTribune from 2015 🙌

👉 https://t.co/hoFXwQDZSI pic.twitter.com/2hKCVPuDSZ

— Minnesota Whitecaps (@WhitecapsHockey) May 17, 2018
Now that we know who Minnesota's head coaches will be, the plot thickens. Word came out on Tuesday May 22, 2018 that U.S. Olympic gold-winning women's hockey coach Robb Stauber and his wife Shivaun will be the Whitecaps co-coaches for the 2018-19 NWHL season. Having the Staubers at the helm could be instant enticement for bringing an Olympian (or two or three) from the PyeongChang team to suit up as Whitecaps. Free agency will give us a better picture.
It would not be surprising if Minnesota were to make an immediate run at the Isobel Cup, or at least to the top of the NWHL standings. First things first, let's get a finalized team assembled. Just recognize that Minnesota will likely be an immediate threat to the "Founding Four".
Here are a few ideal signings that the Whitecaps can make after June 1st hits. The right moves will ensure they are a team to be reckoned with right from the get-go.
1) Find the Right Whitecaps to Bring Back
If you take a look at the listed roster for the Whitecaps 2017-18 season, it includes a total of 38 players. NWHL rosters are limited to a total of 25, so some critical picking and choosing will need to be done to to get down to that number. Truthfully, Minnesota may wish to limit the retaining of this past season's Whitecaps to 20 players, max. That way there will be a built in buffer that can be reserved for prying current NWHLers from one of the original four teams and/or for bringing in Olympians.
Should the Whitecaps go with that mindset, then it is even more crucial that they determine which Whitecaps they wish to sign and get back into the fold. One nice player to start with is Kate Schipper. You could go as far as considering her a shoo-in to be on this team, and if she is not, then she ought to be. The 5-foot-4 forward played four years of college hockey as a Golden Gopher for the University of Minnesota. Arguably Schipper's finest season came during her junior year when she scored 14 goals and 26 assists for 40 points in exactly 40 games. She also has some familiarity with the NWHL already, as she and Whitecaps teammates Sadie Lundquist both participated in the league's 2018 All-Star Game.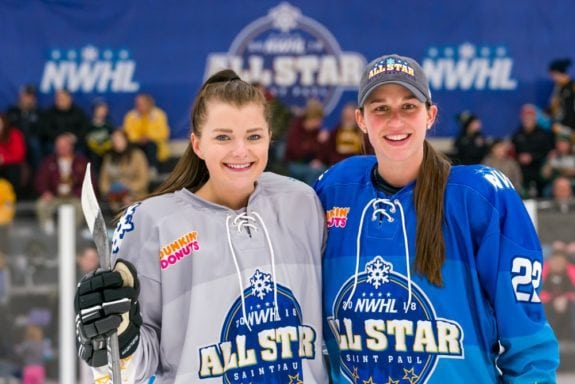 Another good bet to be signed is defender Emma Stauber. Obviously, the name should stand out – she is Robb's and and Shivaun's niece. No need to worry about nepotism though, as the 25-year-old blueliner would be a lock to make an NWHL roster all of her own accord. Stauber played the 2015-16 season with HV71 of of the Svenska damhockeyligan (SDHL); the top women's league in Sweden. There she had six goal and seven assists for 13 points in 19 games. Stauber was also team captain during her senior year at the University of Minnesota-Duluth. She played a total of 142 NCAA games across four years with the Bulldogs, potting three goals and 20 assists, while finishing as a plus-18.
One final mention of a potential returning Whitecap might be Kalli Funk. The winger played one year at Niagara University before they ceased their women's hockey program, and then she did three years at St. Cloud State University. Between the two schools, her NCAA totals ended up being 10 goals and nine assists for 19 points in 124 games. More than that though, Funk lit up Sweden's Division I league – the tier of women's hockey just below the SDHL – while playing for Göteborg HC in 2015-16. She finished second in team scoring with 11 goals and three assists in only 12 games. Come postseason, Funk put up a rather eye-popping 12 goals and five assists for 17 points in only 10 playoff games.
2) Can Whitecaps Steal an NWHL Goalie?
Two of the top goaltenders in women's hockey have ties to the Minnesota area. Might the Whitecaps be able to grab hold of one of them and make her their cornerstone? Anything is possible in free agency, and signing either netminder would immediately bolster the team's prospects.
Let us start first with Connecticut netminder Sydney Rossman. A 2016 Whale draft pick, she is originally from Excelsior, MN. Rossman was one of the NWHL's busiest goalies during the 2017-18 season as she appeared in all 16 regular season games, the club's lone playoff game, and both games of the All-Star Weekend. In turn, she assembled a record of 3-12-1 while playing 945:15 minutes in net (the second most in the league this past season). Rossman's goal against average and her save percentage came out to 3.14 and .885 respectively. At just 23 years of age, the best is yet to come for her too. Should the Whitecaps bring her back home to Minnesota, she is capable of putting a season together worthy enough of earning NWHL Best Goaltender honors. A stronger team in front of her could really bring out such a performance from Rossman.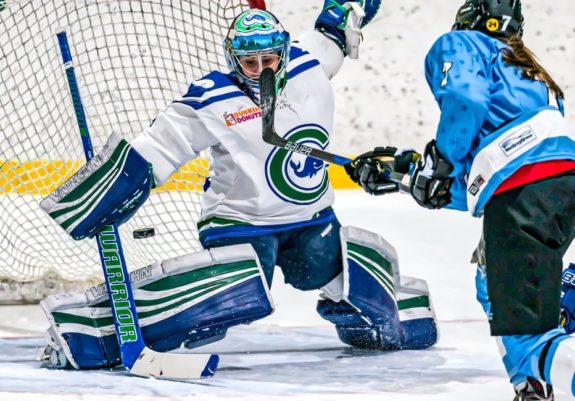 The current holder of the NWHL's Best Goaltender crown is the Buffalo Beauts' Amanda Leveille. Though hailing from Kingston, Ontario, CA, "Lev" is well-versed in the "State of Hockey". She is a three-time NCAA champion with the University of Minnesota Golden Gophers. To help welcome the Whitecaps into the league, she was present at the NWHL's press conference when the official announcement was made. Though Minnesota may not be Leveille's true home, it the locale for many of her best accomplishments in hockey. Soon to turn 24 years old only days after free agency opens, the star netminder posted a regular season record of 12-4-0 to go along with a 2.53 GAA and a .918 SV%.
If the Whitecaps can grab one of these two well-established NWHL netminders they will be riding high. Either would be a major steal indeed!
3) Talking Jalosuo out of Retirement?
One of the most decorated women's hockey players to ever play is Finnish defender Mira Jalosuo. She has earned medals at IIHF Women's World Championships and at Olympic Games, won NCAA championships with the Golden Gophers, a Finnish championship in the Naisten Liiga, an SDHL Swedish championship and a Russian championship in what is now currently the Russian Women's Hockey League (WHL) (NOTE: WHL is anglicized from Женская хоккейная лига (ЖХЛ). There is not much that this woman has not achieved in hockey. The only thing that Jalosuo has not won is a professional women's hockey championship in North America.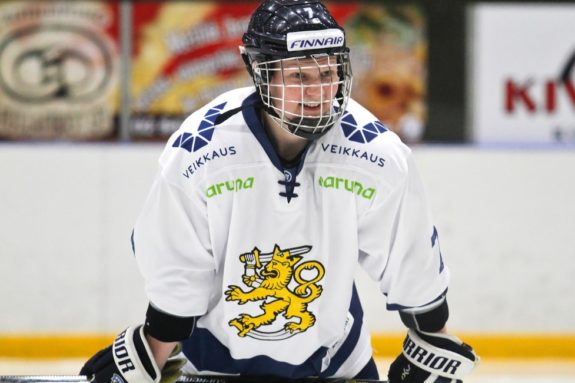 Could the opportunity to become an NWHL champion be enough to convince Jalosuo to come out of retirement? When THW spoke with her earlier this month, she explained that since the 2018 PyeongChang Winter Games came to a close, that she had officially retired as active player. However, Jalosuo was a member of the 2017-18 Whitecaps roster, and keeps herself plenty busy in the Minnesota hockey community.  As of 2017-18, she serves as a volunteer assistant coach with the Hamline University Pipers women's hockey team, a Division III NCAA program in St. Paul Minnesota. Separately, Jalosuo is the assistant coach at Wayzata High School, the director for both the Minnesota Ice Cougars AAA and the director of girls Red and Black HS league, along with being the owner of New Generation Training.
Obviously the decision to stay retired or make a return to active playing is solely Jalosuo's. She is one of the most well-respected athletes you will ever come across, and is molded of the highest integrity as a person. No pressure either way, but if the Whitecaps (and the NWHL) could land her it would be a major addition to the league and would only further emphasize their overall validity as a destination for the very best in women's hockey.
The Main Focus
The great thing about the Whitecaps being the NWHL's newest team is that they are already a well-established hockey club. They will not need to look far to get their free agency signings made. On the contrary, many players may purposely flock to playing in Minnesota.
Special Day for all of Minnesota and Women's Hockey 💙 #NWHLtoMinnesota #Whitecaps #WhitecapsHockey #HockeyFamily pic.twitter.com/FLH78SW9zY

— Minnesota Whitecaps (@WhitecapsHockey) May 15, 2018
The other excellent option that the Whitecaps pose stems solely from a geographical standpoint. They are far enough away from Buffalo, Boston, and the Connecticut and New York City/New Jersey areas that they could have an unintentional monopoly on players within the proximity of the "Land of 10,000 Lakes". In many ways, the State of Minnesota is a life-giving stream of hockey prospects, and now the NWHL is able to tap into that resource more than ever before.
Do not be surprised if the Whitecaps make a legitimate run at Isobel. The trophy could be theirs at the end of their first year in the league.
General Manager of the Buffalo Beauts (NWHL). Hockey history writer "The Hockey Writers". Credentialed media for the NHL Combine and 2018 IIHF World Junior Championships in Buffalo, NY, USA. Born and raised in Buffalo, NY. Lifelong hockey fan for over 40 years. Proponent of the women's game.