In our continued look at options for the Edmonton Oilers this season, we wonder what it might look like if the Edmonton Oilers targeted a forward like Jeff Skinner.
Edmonton's need at left wing is not as strong as it is in other areas so a deal like this might not be a priority this summer. But, if the Hurricanes are looking to shake things up and they dangle the carrot that is Skinner out there for the other 30 teams to nibble on, the Oilers might want to see what all the talk is about.
Related: Should Oilers Go for Michael Grabner?
Why Is Skinner Available?
The Carolina Hurricanes are at the center of a lot of trade rumors and innuendo. A change in management, new coaching, a less-than-stellar season and a club looking at improving in many ways means a number of names are going to get tossed around in trade ideas. Skinner is no exception. James O'Brien of NBC SPORTS believes the Hurricanes might be looking to move Skinner (or least considering it) but he also believes that would be a mistake. O'Brien suggests, for a club that desperately needs scoring, trading away their top sniper makes no sense.  "It's tough to imagine Carolina enjoying the better end of a Skinner trade, especially in the immediate future," writes O'Brien.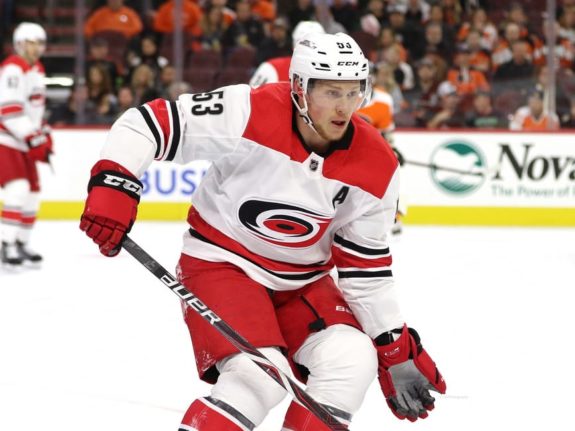 Still, there are whispers out there that Carolina might move Skinner and it would behoove the Oilers not to at least look at what it would take to get a deal done. Skinner was the Hurricanes' best forward and frankly, any team not kicking tires if he's available isn't doing their job.
How Would Skinner Help the Oilers?
Skinner is a first-line forward with the ability to score anywhere from 20-40 goals in a season. He had what many consider to be an off year in 2017-18 but in that year, he still scored 24 goals and 49 points. He has great hands, is still young and found success on a not very successful team. While he's not dynamic on the power play, he has a lot of weapons that the Oilers could use.
Last season for Skinner was oddly similar to the one of Jordan Eberle's before he was traded out of Edmonton. A player who has proven he can score, one down year with the team looking to make changes in other areas, means seeing if a deal can get done. The Oilers took the same approach and we all know how that turned out. If the Hurricanes are foolish enough to give up on Skinner, he could easily be someone else's gain. His shooting percentage was low at 8.7% but that's likely to rebound and when — not if — it does, he could be good for 30 goals.
He's not cheap, but he's not expensive by today's NHL standards either, making $5.75 million for one more season. That means he's in a contract year and likely very motivated. He would slot in on the top line next to Connor McDavid and Ryan Nugent-Hopkins and that could be a dangerous line for the Oilers.
What Would a Deal Look Like?
Skinner would be a player the Oilers would have to acquire by trade and while it seems silly to suggest his value would take a great dip, his lower shooting percentage last year would play in favor of the Oilers who would be obtaining a strong forward for less than face value. Still, it would cost the Oilers their No. 10 pick in this year's draft and there's no guarantee that Skinner extends past next season.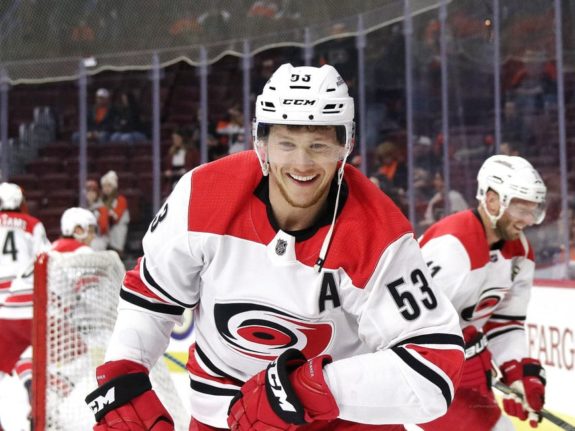 One thing to note is that Skinner has a full no-movement clause so he steers the ship on any transaction. The real question here is, does Peter Chiarelli look to make a huge deal and try to acquire Skinner and Justin Faulk in the same move? It would address a number of needs, but now we're talking the 10th overall pick, a top-four defender and a couple prospects probably.
If this trade happened, it would be the big deal of the summer for the Oilers and likely shake up the roster in a significant way. For fans who think the Oilers will rebound with a similar group, this might not be the way to go. If fans think Edmonton needs major change, this could be a good place to start.