As if it wasn't intriguing enough already, there's another layer to the Eugene Melnyk era in Ottawa. The Ottawa Senators were in the Canadian sports spotlight early this week after Daniel Alfredsson, the franchise's all-time leading scorer, sparked a fire when he told a journalist that he, like many Senators fans, hopes the team gets a new owner.
There are several cases in recent memory where Melnyk has angered his fanbase with his comments or actions, and hearing Alfredsson speak candidly about his hopes for the future of the club seemingly added fuel to the fire.
Alfredsson: 'We Hope to Get a New Owner'
A special guest at Mayor Jim Watson's campaign launch on May 27, Alfredsson spoke with former Ottawa Sun columnist Susan Sherring, who now oversees the On the City, From the Burbs blog. He explained he had been in discussions with Watson and Alfredsson said both men hope a new owner comes along for the Senators soon.
"We've talked a lot, we've talked about the future of the Senators and of its ownership and we agree," Alfredsson told Sherring. "We hope to get a new owner."
Alfredsson later claimed the comment was off the record, but Sherring said that wasn't agreed upon before the interview. Alfredsson's words echoed the sentiments of a lot of Senators fans as many of them have grown tired of the direction the team is heading in.
.@DAlfredsson11 hopes the @ottawasenators get a new owner, says @jimwatsonottawa shares that hope https://t.co/4ysuHec9nT

— Susan Sherring (@SusanSherring) May 28, 2018
Even though they made a surprising run to last year's Eastern Conference Final, they fell far below expectations this past season and finished second-to-last in the league. And with captain Erik Karlsson's future with the club in question, there doesn't appear to be a turnaround in sight.
There is some clouded history between Melnyk and Alfredsson. Five years ago, Melnyk burned the bridge with Alfredsson in his last contract negotiation that resulted in Alfredsson playing his final season in Detroit.
Spurred by his strong relationship with then-general manager Bryan Murray, Alfredsson eventually signed a one-day contract with Ottawa so he could retire as a Senator.
Fans Showing Their Disdain for Melnyk
Many fans have reached a boiling point with regards to the direction of the franchise under Melnyk's reign. A perfect example was the #MelnykOut billboards that went up at various points across Ottawa in March.
Spencer Callaghan, who started up a GoFundMe campaign to pay for those billboards in February, said on the crowdfunding page, "Eugene Melnyk has decided that he would rather tear the team down and sell it for spare parts than admit he can no longer run it effectively."
This came at a time when the team was contemplating trading Karlsson, but ultimately didn't pull the trigger, keeping the fan favourite in the nation's capital.
During the NHL 100 Classic, it didn't help his popularity when Melnyk threatened to move the franchise instead of selling it if more fans didn't show up to the arena.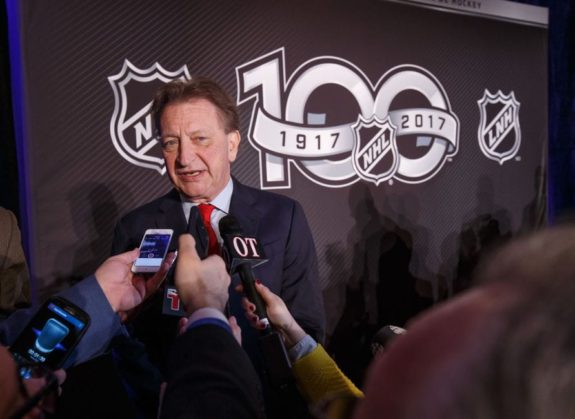 In all fairness, Melnyk has taken steps towards being more transparent with the fanbase. THW's Johannes Wheeldon delved into Melnyk's first town hall meeting with season ticket holders and how it compares to transparency measures taken by teams like the New York Rangers and Montreal Canadiens.
While the fans in attendance at that meeting appreciated the initiative, it's doesn't outweigh the heated temperament most fans have shown through the Melnyk years.
Melnyk and mayor not seeing eye to eye
It's normal for team owners and politicians to disagree every now and then, but the times Melnyk and Watson haven't seen eye to eye have been well documented because Melnyk has been quite vocal when decisions don't go his way.
Plans to build an arena in downtown Ottawa's LeBreton Flats development have stalled, and if his comments over the winter were any indication, Melnyk has been very back and forth about the project.
An Apr. 13 column from the Ottawa Citizen's Wayne Scanlan touches on a policy forbidding government employees from accepting free tickets from clients. Melnyk has understandably been frustrated about it and expressed his feelings at the NHL 100 Classic.
A move downtown would put the Senators closer to civil servants who can't take advantage of free tickets like those in the corporate sector would. The same column indicates Melnyk has said the LeBreton arena would be critical and the team "has to go forward with the arena project."
Years before the LeBreton project, Melnyk proposed to have a casino built in Kanata, but after the city denied that request in 2013 and backed the Rideau Carleton Raceway instead, Melnyk appeared on The Fan590 and was critical of Watson and others involved in the movement.
"I don't know what planet he's flown in from, but he then turns around and says, 'No, no, this is the only place we are going to do it,'" he said on The Fan.
Almost 10 years ago, Melnyk put forth a proposal for an MLS team in Ottawa and a new soccer-specific arena to go with it, but it was turned down by city council.
When speaking with the media, Watson has been diplomatic about his interactions with Melnyk. Even after Alfredsson's comments to Sherring, Watson's office told reporters the mayor "will not comment on a private conversation in which he was not involved."
The following day, Watson was asked by the Ottawa Citizen if he thinks Melnyk should sell the team and responded by saying "That's up to Mr. Melnyk."
Will Melnyk Offer Karlsson What He's Worth?
In terms of the on-ice product, it's clear signing Erik Karlsson is the top priority for the team this off-season. However, it sounds like a tall task.
At 28, he's still in his prime and is thought of as arguably the best defenceman in the league. That said, teams will be willing to offer up a fortune to acquire him. He's entering the final year of his current contract that will pay him $6.5 million per season.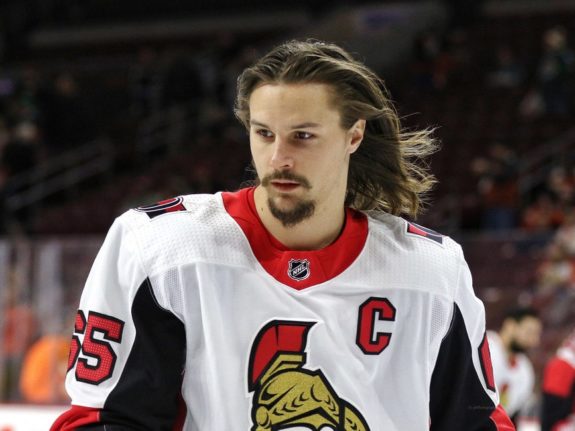 The Senators have said they will present an offer to him on July 1, the opening day of free agency, but many believe it won't be enough. Karlsson deserves top dollar, and that could be around the range of $10 million per season. Meanwhile, Melnyk has a history of spending far below the salary cap.
If they can't lock up Karlsson long term, it will be in their best interests to trade him in order to get some sort of return.
It's not the only contract the team has to worry about. Mark Stone and Cody Ceci will be restricted free agents on July 1 and Matt Duchene will be an unrestricted free agent in 2019 and is currently earning $6 million per season.
The Senators are also handcuffed by Bobby Ryan's $7.25 million-a-year contract until 2022 and had to absorb injury-plagued Marian Gaborik and his $4.875 million-a-year deal as part of the Dion Phaneuf trade to the Los Angeles Kings last season.
The cap scenario in Ottawa isn't pretty and it makes signing Karlsson long term very difficult.
Born and raised in Toronto, Iain has been a sports writer with the Mississauga News since 2010 and has been covering the OHL for Hockey Now Magazine since 2015. A graduate of the Centennial College Sports Journalism program, Iain has now signed on to provide Ottawa Senators coverage with The Hockey Writers.