Should there be a chance that all-world defenseman Erik Karlsson truly is put on the trade market by the Ottawa Senators, the New Jersey Devils should make an offer that cannot be refused. Karlsson is exactly the type of defender that the Devils need to take the next step in their progression. Word recently surfaced that the super Swede has requested a trade out of Ottawa.
A few weeks ago we wrote in this spot that the Devils should be all-in if potential free agent John Tavares becomes available, but this changes things and defense is more of a pressing need in New Jersey. If they are serious about becoming consistent contenders than they need to make a hard play for the Ottawa captain. He will make the power play more potent, his personality will help in marketing the team, and his presence on the back end will lead to more wins in the standings, which is the most important factor.
NHL Rumors: Karlsson Trade Request, Oilers Hunting & More https://t.co/u54NUJeoeV #THW #Sens #Oilers #NHL pic.twitter.com/sotUt4LWPj

— The Hockey Writers (@TheHockeyWriter) June 14, 2018
What's the Price?
Make no mistake about it, Karlsson is a superstar, a stud on the blueline, an offensive dynamo – and just the type of addition the Devils need to bolster their defense corps. Ottawa will not be just giving him away for a bunch of bottom-6 players and minor leaguers, they will want to receive a hefty package if they decide to part ways with their current captain. 
The Senators currently hold two picks in the 2018 NHL Draft (picks no. 4 and no. 22) and the Devils would likely have to surrender either their top pick from this year (no. 17 overall) or their top selection in the 2019 NHL Draft. An Ottawa rebuild can get done a lot faster with three of the first 22 picks at the draft in Dallas next week. Done.
They'll also likely want some young players in return, and the Devils have a bunch of young, talented forwards that are just scratching the surface of their NHL careers. Done. If you're New Jersey GM Ray Shero, tell your counterpart Pierre Dorion in Ottawa that you have your pick of any forward on the roster not named Nico Hischier or Taylor Hall – and then build a package from there. Jesper Bratt, Michael McLeod, Pavel Zacha, Miles Wood, John Quenneville, Joey Anderson, Jesper Boqvist – all players in the 19-22 age range, and likely the type of players that the Sens will want in return. McLeod (20-years-old) and Anderson (19) have yet to play in any NHL games yet but are expected to make their NHL debuts this upcoming season and are currently two of the Devils top forward prospects.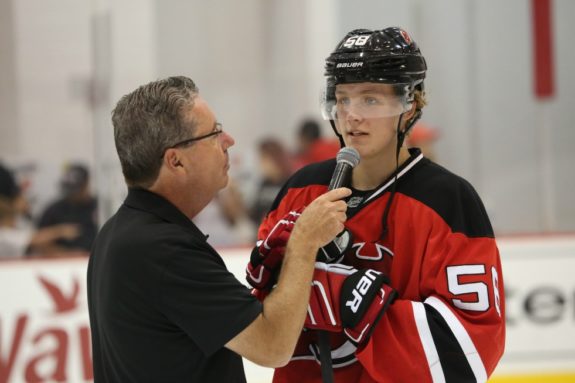 New Jersey has four defenders, all 23-years-old, that Ottawa would likely be looking at in this scenario. Damon Severson is the one blueliner of the four that is signed for the next five seasons ($4.1 million per) and has the most NHL experience. Will Butcher is the only left defenseman, played in 81 games as a rookie last season and probably has the highest upside amongst the four. Both Steven Santini and Mirco Mueller have spent the beginning of the NHL careers between the AHL and NHL, but both have shown enough promise that they can be regular contributors if they continue their progressions.
It would be damn tough to part with Butcher, especially after he specifically chose to sign in New Jersey last August when he could have signed anywhere in the NHL. You try to steer Ottawa towards another defenseman or to get them to double up on taking forwards the best you can. But in the end, if you want the ultimate, you have to be willing to pay the ultimate price. 
Show Him the Money
Karlsson will be earning $6.5 million (against the salary cap) this upcoming season and could be an unrestricted free agent in the summer of 2019, so if any trade is consummated the Devils will likely want some assurances that they can re-sign the winner of multiple Norris Trophies (2012, 2015) to a lengthy extension. Adding a player like Karlsson to a nucleus that includes Hall, Hischier, and whichever young talent isn't sacrificed in any deal is a pretty good foundation to start building your contender around. It also sends a message to the rest of the hockey world, especially the tough-as-nails Metropolitan Divison (home of the last three Stanley Cup champions) that the Devils mean business and it shows the fan base that they committed and all in it to win it.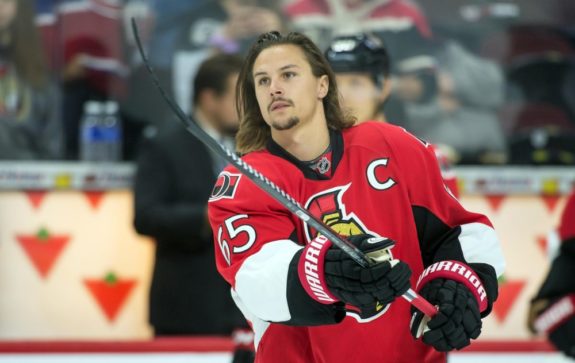 In 627 career NHL games, all with Ottawa, Karlsson has 518 points (126g-392a). The recently turned 28-year-old had 'off-year' this past season, 'only' putting up 62 points in 71 games. Anyone know the last Devils defenseman to register at least 62 points in a season? Scott Stevens. 78 points during the 1993-94 season. So yeah, it's been a while. Most of you reading this probably weren't even born yet. 
Looking Ahead
If they somehow land Karlsson in a trade let's assume it's Butcher or Severson that Ottawa wants in the deal. Next season the Devils blueline would look something like this: 
Sami Vatanen-Erik Karlsson
Andy Greene-Damon Severson/Steven Santini
Will Butcher/Ben Lovejoy-Mirco Mueller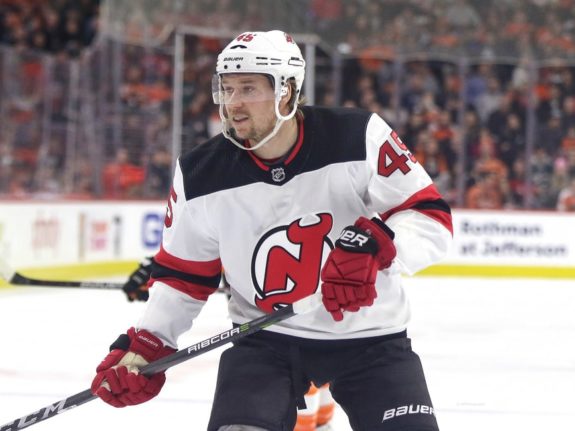 John Moore is the lone regular defenseman that played in New Jersey last season who is a UFA and could be brought back if needed to fill a void if another defender can't be had through free agency or a trade. He's serviceable enough and knows the ins and outs of John Hynes system in New Jersey. Other names on defense that will be available to sign as free agents include Mike Green (32-years-old, right-handed D), Toby Enstrom (33, left), John Carlson (28, right), Calvin de Haan (27, left), Thomas Hickey (29, left), Luke Schenn (28, right), and Michal Kempny (27, left).
Not the best defensemen free agent class ever but there are some players that could be a good fit – if the money and terms are right. Kempny, Schenn, and de Haan are intriguing enough and likely won't be pursuing mega-deals, so they could be nice options to replace Moore or anyone else who ends up leaving New Jersey via trade.
Maybe a package of a Devils first round pick, Butcher or Severson, and Bratt or Anderson is enough to get it done with Ottawa for Karlsson and say someone like Jean-Gabriel Pageau. Maybe not. Whatever ends up happening, it should be a very interesting summer in the NHL and in New Jersey.