The Minnesota Wild have had a busy offseason since being eliminated in the playoffs by the Winnipeg Jets. The team kicked things off by firing their general manager Chuck Fletcher. This move was long overdue and needed to be done if the team ever wanted to be successful. The Wild also managed to find Fletcher's successor in Paul Fenton. Fenton has spent the last twelve years as an assistant general manager for the Nashville Predators.
The Wild have made the postseason in each of the past six seasons but they've failed to live up to expectations and have not made it past the second round. The two constants during these years have been Fletcher and the core players growing together. Since the Wild have already changed one of those constants it would seem natural to make at least one significant roster move. Minnesota has the trade assets so a move could be on the horizon.
Related – Wild Thinking: Fletcher Era Finished
Nino Niederreiter
The Wild signed Nino Niederreiter to a five-year, $26.25 million deal last offseason. It would be strange to trade him so quickly but it may be in the Wild's best interest to move him while he still has value. He was coming off three consecutive 20-goal seasons when the Wild signed him. During the 2017-18 season, he only scored 18 goals and had his lowest point total since joining the team. He was hurt for part of the season and missed 19 games but he still didn't look like the player he was before he became a much richer man.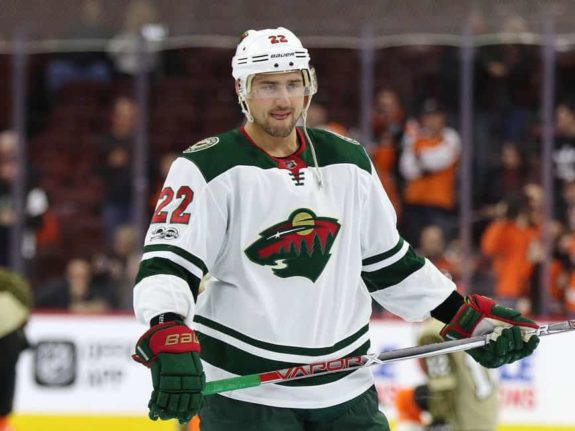 Minnesota struggles in the playoffs. Niederreiter managed zero points against the Jets this season. Last season, he only registered a single assist. This is a far cry in production from his first two postseason trips when he helped send the Wild past the Colorado Avalanche at only 21-years-old.
Niederreiter now carries a $5.25 million cap hit for the next four seasons. If he was consistent and showed up in the playoffs it would be worth it. Unfortunately, the team is stuck with a streaky player who is not the missing piece to a championship. Using that money elsewhere could benefit the team greatly and it is a trade that Fenton should look into.
Charlie Coyle
Charlie Coyle is another player that the Wild should look to move. He has two more years left on the five-year, $16 million contract he signed back in 2014. He has only had a single 20-goal season in his career and that came back in 2015-16. His 2017-18 campaign was a season to forget as he only scored 11 goals and 26 assists. Coyle managed to play in only 66 games after having three consecutive seasons with 82 games played.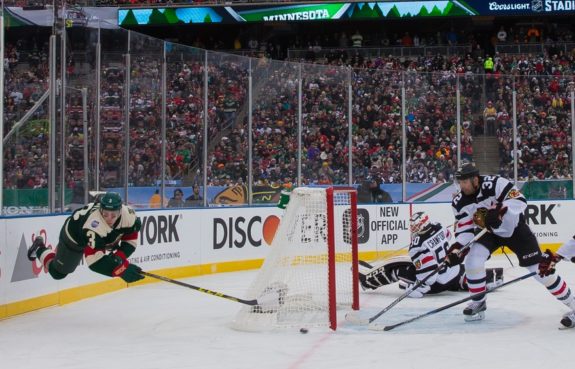 Like Niederreiter, Coyle secured zero points in the postseason and was instrumental in the Wild's elimination. He does have a low cap hit and is still only 26-years-old. His contract could be attractive to other clubs around the league since he won't be helping the Wild win a Stanley Cup anytime soon.
Jonas Brodin
The Wild are stacked on defense. They have Ryan Suter, Jared Spurgeon, Matt Dumba, and Jonas Brodin as their top four. They also have depth with many solid role players like Nick Seeler, Nate Prosser, and Ryan Murphy. The team has over $16 million invested between Suter, Spurgeon, and Brodin alone. Dumba isn't on the books as a restricted free agent, and to make matters worse he is coming off of a 50-point season.
Related: Minnesota Wild's Best Defenseman
Brodin signed a six-year, $25 million contract back in 2014. He'll be turning 25-years-old next month and that contract runs for a couple more seasons. He isn't a flashy offensive defenseman as evidenced by his 404 NHL games played with only 100 points. He does have a career plus/minus of plus-48 and he had some of his best seasons while paired with Suter on the top line. Brodin has grown into a really good defenseman who rarely finds himself out of position.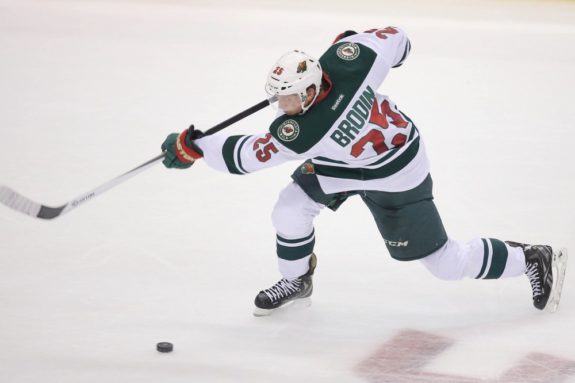 His playoff record is not as promising but that can be said about Suter as well and he remains one of the top defensemen in the NHL. The Wild will likely have to choose between Brodin and Dumba. Dumba has incredible upside and if he can be brought back on for a reasonable price, he should be the player chosen. There should be no shortage of interest in Brodin because young and relatively cheap defensemen of his skill level aren't floating around very often.